There are not many middle-ground opinions about Brutalism. Blocky concrete isn't subtle, and splits people almost immediately into opposing love-it or hate-it sides. Is it possible to look at its architectural forms with a fresh, nuanced perspective, as seen through an entirely different art form? This week, Bay Area choreographer Kristin Damrow debuted Impact, a contemporary dance at San Francisco's Yerba Buena Center for the Arts with Brutalism—the style itself, and the complicated feelings it evokes—at its heart.
Though it feels divergent, the show is actually an evolution from her last—Eames—which ran last year and delved into the relationship between mid-century modern masters Ray and Charles. Damrow is a bit of a design newbie, and was introduced to Brutalism during her research into the couple; though its stark vibe was totally distinct from the bright playfulness of their oeuvre, something about it stuck with her. "It just gives me this feeling," she says of the architecture. "It's moody, and it's dark, and futuristic—but it feels like it's lived through time."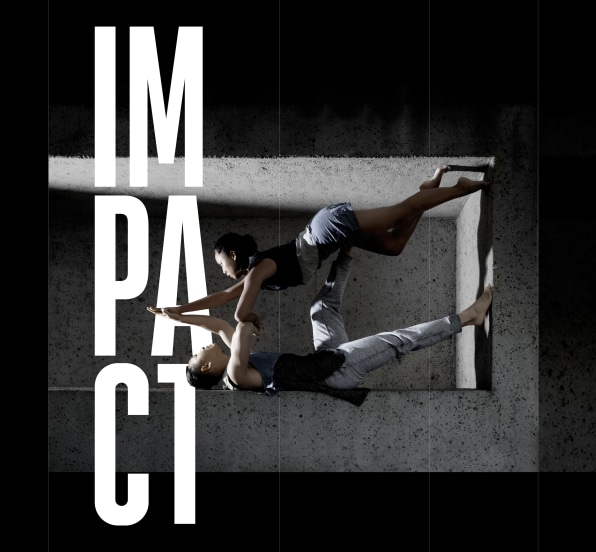 After Eames was complete, she revisited Brutalism and began to do some deep research. Massive, Expressive, Sculptural: Brutalism Now and Then became her bible as she learned more, and realized that Brutalism had, in fact, been "following" her for years: from Berkeley's iconic, Mario Ciampi-designed Art Museum, where she put on one of first Bay Area performances as a newbie in the city in 2010, to the Glen Park BART station, where she used to commute through for rehearsals.
For many people, Brutalism is impossible to ignore, primarily because of the aesthetic, which is polarizing (to put it very, very lightly). But in many ways, concrete is the ultimate populist material. It's inexpensive, incredibly durable, malleable into any shape but immovable once completed. It offers a wealth of opportunity for very little investment. Concrete is for the people! From this angle, it's slightly ironic that Brutalism's biggest supporters are architects and architecture critics, while the public the buildings serve are often passionately, vocally against the style. The most common complaint is that they're "ugly." (Our current president has apparently lobbed this very insult at Washington D.C.'s FBI headquarters.)
It can be tough to separate the structures themselves from the purposes they serve, and Damrow found these inherent tensions particularly interesting. "The buildings themselves helped to inspire the story," she says, referencing both those known and new to her, as well as their form and function. "So many of them were built to bring communities together in different ways: as transit centers, libraries, theaters, and museums. They're places for everyone to be in, or move through."
That Brutalism is culturally divisive and so many buildings have been razed was not lost on Damrow, who views their eradication as a loss of history, but also a loss of this larger sense of place. Eventually Damrow developed a loose framework for a new show.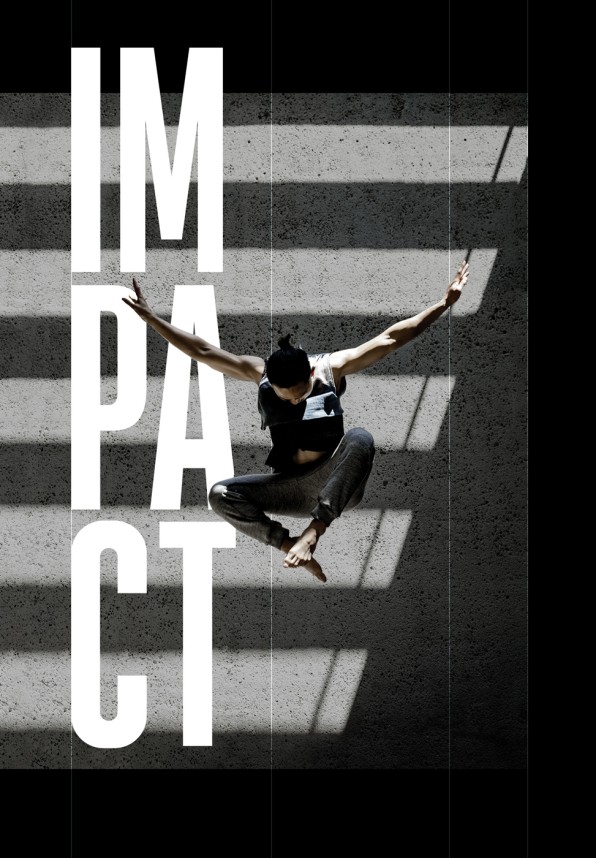 Impact's "abstract" narrative follows five individuals surviving in a dystopian future; they exist as fugitives from an oppressive ruling class—represented by 10 additional dancers—that seeks to assimilate them. As the performance progresses, their separate storylines begin to intersect, until they converge fully in the end.
Each of the five principal dancers is distinguished by their movements. As architecture is not exactly known for its flow, Damrow turned instead to what seems like an unlikely source of inspiration, given the subject matter. "Our early choreographic explorations revolved around superheroes," she says. "Like: If you were a superhero, what would your power be? Can you control other bodies? Can you fly? These kinds of questions really unlocked unique movement qualities for the dancers." Though they don't actually wield those skills in the performance, the connection becomes clearer when Damrow describes her intentions. "Brutalist buildings are larger than life. They take over a space. We wanted to figure out how we could allow movement to take over our bodies; to be really raw and physical and gritty—to become human Brutalism, in a way."
Their costumes also subtly set them apart from one another. Rather than opt for a literal interpretation of Brutalism—rigid, structural garments would inhibit movement—Damrow and costume designer Rita Parks instead incorporated motifs like repeating patterns and disparate textures by manipulating softer textiles like linen and silk. Elements like pleats and stitching and seams formed strong lines while providing dynamism and range of motion, and a muted color palette of grays, blacks, and deep blues matched the somber surroundings. After they were constructed, Damrow and Parks went about strategically deconstructing them again, distressing the garments to give them a sense of place. "We roughed them up with sandpaper and tore hems," she says. "They'll be dusted with flour before the shows. They need to look like they've got a past."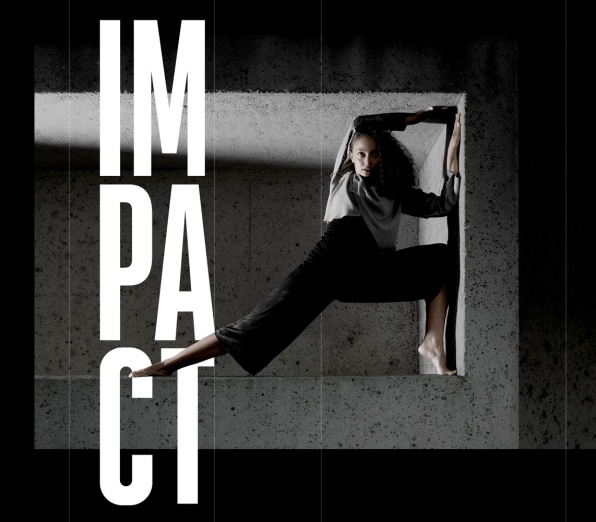 To set the scene, Damrow commissioned designer Alice Malia to translate the imposing spirit of Brutalism to a small indoor stage surrounded by an audience on three sides. Malia already had an appreciation for the austere style, having spent many years among the dramatic towers and monolithic monuments of London, and she created four angular, asymmetrical pillars to represent a once impressive area in decline. After studying the IRL textures of aging concrete, she painted each to evoke a weathered effect, complete with weeping water stains, pitting, and "beton brut" texturing. Rather than rest on the floor, however, the pieces seem to defy gravity by hanging from above. "They're like a crumbling structure suspended in mid-air," Damrow says of the effect, which is striking and slightly disconcerting, given their implied heft.
Also slightly disconcerting? The soundscape. Composer Aaron M. Gold was given free reign to "go crazy" and establish an eerie aural environment. "We talked about how air would travel through a Brutalist building," Damrow says. "How can sounds feel cold, or rough?" Gold captured some "found sounds" inside local Brutalist landmarks, and recorded an electronic score that gives each dancer their own auditory characteristics. "He's really ushering the audience along, leading the plot as much as anything else" she says.
If it all sounds a little intense: Yeah. It is. And yup, it might feel eerily familiar, given the state of the world beyond the theater walls. "Things feel really heavy right now," Damrow admits—with an upside. "This was my response. Seeing so many different communities coming together to take a stand makes me feel like there is hope [for our collective future]. Impact is not happy-go-lucky—people probably won't walk out the door high-fiving—but there is this sensation that things will be okay. That we can move on and we can keep going."
See Impact at San Francisco's Yerba Buena Center for the Arts through February 2, 2019.