Uber started as a black car service in 2009. In 2012, UberX brought us everyday vehicles that replaced cabs. UberPool, in 2014, invited us to share those cars. The company began offering bikes and scooters last year.
With every step, Uber has pursued cheaper services that can scale to a larger market. And now, in an ironic twist, Uber is offering the quick, economical travel option that was there all along: Public transit. While the company continues to lose money, it plans to solve that problem by scaling to even more modes of transit–including public.
Beginning this week in Denver–and going worldwide in the coming months–Uber's app will offer public transit alternatives like trains and buses, which it tracks in real time. You will even be able to buy transit tickets inside the app with no markup. That means while Uber is probably making a little money off of each ticket sale (more on that later), it's not all that much. And it will likely lose car rides in the short term while promoting public transit in the long run. So why do it at all?
"To make sure we we have the best one-stop shop for transportation," says Andrew Salzberg, head of transportation policy and research at Uber.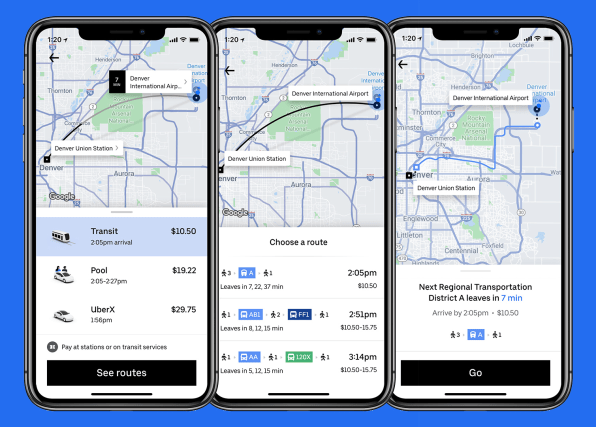 The move acknowledges a few trends. First, Ubers aren't always the best travel solution. In a city, a car can often take longer, and be more expensive, than a train. Secondly, a lot of users hop between apps like Google Maps and Uber to plan a trip. By building in public transit, Uber wants to be your trusted travel sidekick, and the default app that you use to get anywhere, anyhow–not just when you've already planned to spring for a private car.
But Uber's ambitions don't stop there. While public transit is becoming an option in the app alongside bikes or UberX today, it's easy to imagine Uber chaining together two or more modes of transit into one journey and one receipt. Perhaps you would bike to the train, then take a shared ride to your work. Uber might not make much revenue on public transit rides, but it may see an opportunity in plugging all the holes left by public transit systems.
"That's something we're thinking hard about, and you could imagine, something amazing to have in the future," says David Reich, head of transit at Uber.
Until Uber chains together its own ride-shares to public transit options within single trips, public transit options alone could still allow Uber to increase overall engagement with the app, given how the company's product plans have worked so far.
For instance, Uber released data in 2018 regarding the early days of its bike-share program. For many individual users, UberX rides declined, but those users actually engaged with the Uber app more often, renting bikes for more frequent, short rides."It was a shift of behavior," says Salzberg. "In the short run, it might create a decline in short-term revenue, but an overall growth of the product." The initiative could also help cities cut down on street congestion and increase use of public transit in general: Independent research has found that when Uber or Lyft enter a city, the use of buses and trains drop nearly 2%.
In order to incorporate public transit into the app, Uber has had to make some new friends. While it can track cars and bill fares through its own app on phones, using its algorithms to coordinate millions of riders across cities globally, it can't see if a bus is five minutes behind schedule, let alone pay the driver for your fare. For that, the company has teamed up with public transit tracker Moovit to power real-time transit updates. It's also partnering with the digital transit ticketing platform Masabi to sell tickets. (Masabi is likely giving Uber a kickback on each ticket sold. But Uber declined to disclose financial arrangements with its corporate partners.)
"We hope the UX is intuitive and simple, but gathering real-time data and routing on a global scale takes a lot of technology and experience," says Reich.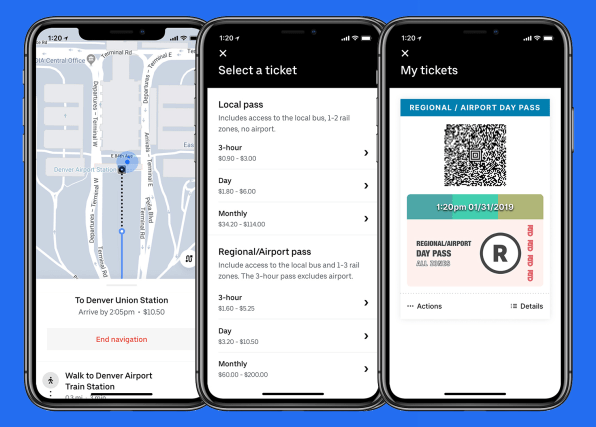 These partnerships also take the logistical weight off of Uber to ink deals with the transit authorities in over 600 cities in around the world. In the case of Denver, Masabi already has a deal to sell tickets for the city's Regional Transportation District (RTD). Uber then made a deal with Masabi so it could sell those same tickets in-app. "They have their arrangement. Our arrangement is to enable that experience through the Uber app," says Reich. "We can't get into our details with Masabi, but it's more between Masabi and the government."
But Uber–in its multi-year about-face to become a more lovable company–still insists it wants to be a good partner to cities. It's launched a new landing page, so cities that want to incorporate their public transit into the Uber app have a line to reach out to Uber. However, because it's leveraging existing government partnerships with companies like Masabi, it doesn't appear that Uber needs city permission in most cases–nor will the company necessarily wait for such permissions before launching public transit functionality.
"We have the infrastructure in place so it can be something launched globally when the time is right," says Reich.