Florence Knoll Bassett, the brilliant and influential architect, designer, and businesswoman who built the design and furniture studio Knoll into an icon of midcentury design and whom the New York Times in 1964 called "today the single most powerful figure in the field of modern design," passed away at the age of 101 on Friday.
Though she worked over a half century ago, many of the issues of Knoll's time–from gender parity to the design of the modern workplace–are still under discussion in 2019. She was an architect in a field dominated by men. She collaborated with and popularized design by the likes of Mies van der Rohe, Anni Albers, Harry Bertoia, and Eero Saarinen. She defied the idea that interior design was a lesser form of design. She was a believer in research, emerging technology, and mock-ups, and convinced some of the most powerful companies in America to invest in ideas that had their roots in the Bauhaus principles of humanism and rationality.
Her work feels particularly current today, when a new generation of technology companies are working to "optimize" every last square inch of their offices and women are, still, fighting for equity at work.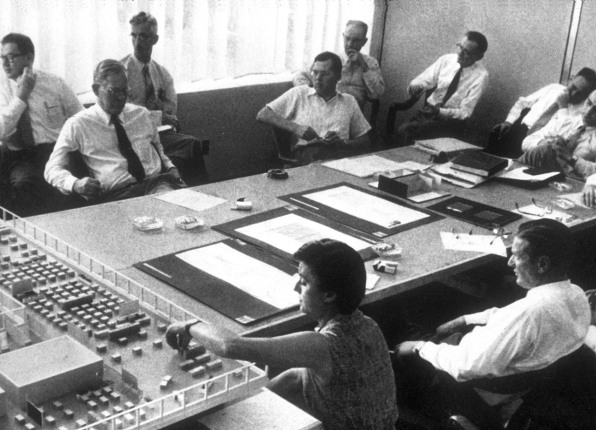 Offices for people, and "equipment for living"
Knoll is often cited as the originator of open plan offices, but that meant something very different in the 1940s than it does today. At the time, corporate offices were designed to broadcast the weight and power of their tenants: "Once upon a time virtually every big business executive thought–or whoever did his thinking for him on such matters thought–that his office had to have pale green walls and that his heavy, drawers‐to‐the‐floor desk had to be placed cater‐cornered," the New York Times recalled in the 1960s.
When she married Hans Knoll and became a partner in his fledgling furniture company in 1946, Knoll pioneered a new approach to interior design with the Knoll Planning Unit, a team of designers who applied the International Style's rationality and planning-based approach to corporate interiors. She believed that the ideas behind modernism should be applied to interior design, too: "'Interior decorators' of the time, had no knowledge of modern architecture–or, if they had, they were generally out of sympathy with it."
Knoll, on the other hand, was a working architect who had studied with and worked for modern luminaries like Mies van der Rohe and Walter Gropius. "Many of the designs that [Hans] had at that time were ones that I did not approve of. I felt they were too romantic and didn't quite fit in with my ideas," she said of joining Knoll in the 1940s. "The Planning Unit existed because of my background in architecture. It was the very first furniture company [that] ever had a planning department. This came from my special interests."
With the Planning Unit, she created flexible office spaces that were based on empirical research–unheard of at the time. "This was arrived at through a series of interviews with both executives and clerical staff, designed to evaluate a client's true needs," write Cherie and Kenneth Fehrman in Interior Design Innovators 1910-1960. "Today, this is a standard industry practice, but in the mid-1940s, it was revolutionary."
Based on that analysis, the team would produce models, prototypes, and full-scale mock-ups. Her designs often included movable walls, plenty of glass to usher natural light into the depths of large floor plates, greenery, and textiles to created visual interest and noise dampening. Unlike the warehouse-like offices commonly called "open" today, her offices were calm, efficient spaces filled with light, texture, and variation.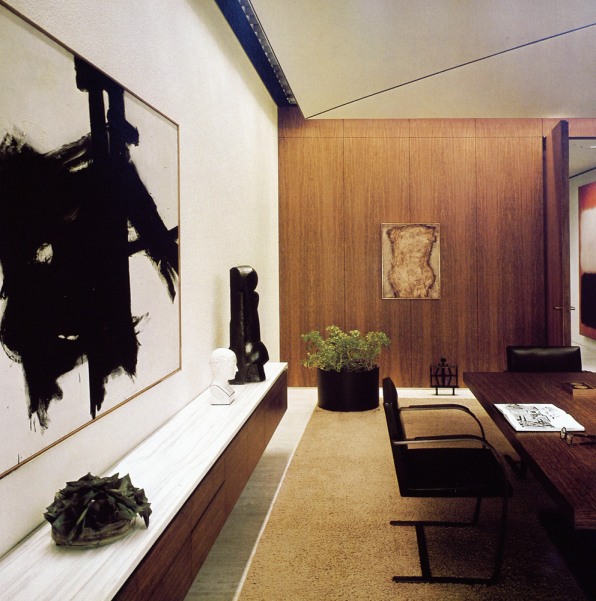 A designer who raised up her peers
When Hans was killed in a car accident in 1955, Knoll took over completely, leading office projects for companies that ranged from IBM to Heinz. She promoted many young, emerging designers and artists of the day. She had become close to the Finnish architect Eliel Saarinen and his family while attending Cranbrook's Kingswood School as a child, and over her subsequent years studying and working in architecture in Michigan, New York, and Illinois, she built a professional network of talented peers–many of whom were Bauhaus-era immigrants to the United States during and after World War II.
She regularly commissioned and licensed pieces from them, going out of her way to explore new technologies and production techniques. In the mid-1940s, she hired a team to launch Knoll Textiles, including Anni Albers, Marianne Strengell, and others. It's easy to trace many of the era's pieces back to her influence, from Eero Saarinen's Tulip series to Harry Bertoia's wire side chairs. Saarinen's now-iconic Womb chair came into being because of Knoll, as she recollected in Margot Weller's oral history of the company:
We finally found a ship builder in New Jersey and he was working in fiberglass. We got excited about it and Eero developed the Womb Chair. This was at my specific request because I was sick and tired of these chairs that held you in one position. We were just bowled over by it. We were so excited. Eero did this chair and he did this prototype. He used his own office as the research lab in Bloomfield Hills. We'd go out every weekend or as often as we could to watch him. We'd try the seating positions and experiment. I said I wanted a chair that was like a basket full of pillows. Well, it didn't quite turn out that way, but I wanted something I could curl up in. Eero Saarinen and I went out to New Jersey to beg this ship builder to make us some models. He was very skeptical. Mr. Winter was his name. We just begged him. I guess we were so young and so enthusiastic that he finally gave in and worked with us. We had lots of problems and failures until they finally got a chair that would work.
She also popularized the idea of putting art in offices, including work from Jackson Pollock, Alexander Calder, and other artists.
"Knoll was one of the few furniture companies in the United States to showcase contemporary art alongside Modern furniture in its showrooms, creating visual dialogues between unique works of art and mass- produced designs, an affirmation of the company's commitment to Modernism," Paul Makovsky writes in Metropolis.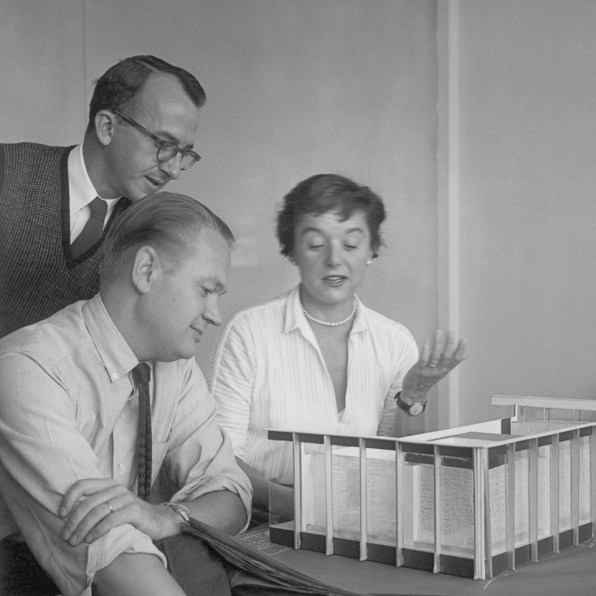 Knoll, who received a BA in architecture from Illinois Institute of Technology, came of age in an era when women in the workplace were still a rarity. In the same 1964 Times interview, the year before she retired and a decade after she became the sole leader of Knoll, she famously declared that "I am not a decorator. The only place I decorate is my own house." In the same article, the author offers this glimpse at the way successful women were still thought of and written about at that time: "Today Florence Knoll Bassett leads the kind of life that many women might dream of, if they could dream big enough and were not allergic to work."
It's a reminder of the hurdles that Knoll and her contemporaries had to face in an industry dominated by men–hurdles that still linger to this day.