In some ways, Oscar Nomination Announcement Day is more exciting than the Oscars telecast itself.
So much information rockets toward you at once, rather than glacially slaloming in between montages. You get to see what the Golden Globes got wrong, experience righteous snub-related fury, and bask in the triumph of overdue underdogs and history-makers. The disappointment around who actually won is a long way off. For now, all that exists is a sheen of sheer possibility glowing around your narrowed-down must-watch list, as you prepare for a month of endless speculation and friendly arguments.
Oh, and probably some questions. Along with the more expected nominations this year, the Academy threw a few curveballs onto the list. Perhaps you're a Hollywood insider immune to surprise, but this year's crop of films inspired a good bit of Googling at Fast Company HQ. Have a look below at the biggest burning questions to emerge out of this year's Oscar contenders.
1. Is Black Panther the first superhero movie to be nominated for Best Picture?
Yes, it is. While Marvel movies regularly rack up technical categories, Black Panther is the first costumed contender in the Best Picture category. (Previous Best Picture winner Birdman does not count.)
2. Is Roma the first Netflix movie nominated for Best Picture?
Yes, it is. Last year, Mudbound made a splash with multiple nominations, but not in Best Picture.
3. Speaking of Netflix movies, what exactly is the Best Adapted Screenplay-nominated Coen Brothers' anthology film, Ballad of Buster Scruggs, an adaptation of?
Apparently, two of the vignettes in the film are adapted from pre-existing material. According to Awards Circuit: ""All Gold Canyon' features Tom Waits as an older prospector. Jack London wrote a story of the same name and plot in 1904. We are unsure which of the other stories falls under adaptation, but our money points towards 'Meal Ticket.' While the overall story of a traveling thespian and his driver was original, most of the dialogue used comes from pre-existing material. In this case, Percy Shelly's poem 'Ozymandias,' Shakespeare's 'Sonnet 29,' and Lincoln's Gettysburg Address are all texts lifted word for word."
4. Has Spike Lee ever been nominated for Best Picture or Best Director before?
No, he has not. The veteran director with a long and distinguished catalog has only been nominated for Best Documentary (4 Little Girls) and Best Original Screenplay (Do the Right Thing) in previous years, though he did win an honorary Oscar in 2016.
5. Is Lady Gaga the first performer nominated both for Best Actress and Best Song in the same year?
Yes, she is. Barbra Streisand was only nominated for either Best Actress or Best Song for the movies to which she contributed both (including her 1977 iteration of A Star is Born), and Mary J. Blige in 2018 was nominated for Best Song and Best Supporting Actress, a narrow distinction.
6. What the hell is Best Director-nominated Cold War?
Cold War, which edged out a lot of hotly tipped possibilities for the fifth Best Director slot, is an Amazon Studios-produced black-and-white romance set in Poland during (you guessed it) the Cold War.
7. Speaking of Cold War and the Best Director nominees, is this the first year in modern history that two of Best Director-nominated films are black-and-white foreign language films?
Yes, it is. (The other one, of course, is Roma.)
8. So, wait, if Roma, which is nominated for both Best Picture and Best Foreign Language Film, wins Best Picture but loses Best Foreign Language Film, does that mean the Best Picture is, de facto, whichever film wins BestForeign Language Film?
I mean, probably not?
9. Can the Oscars still have a diversity problem, even if two films with the word 'Black' in the title are nominated for Best Picture?
Yes, they can. In a year with lauded new films from directors like Karyn Kusama and Marielle Heller (the latter of who's film Can You Ever Forgive Me? was nominated for multiple awards), it's disappointing to see not a single woman among the Best Director nominees. Also, BlacKkKlansman star John David Washington's absence from Best Actor is pretty conspicuous, considering that film's stature and the Supporting Actor nomination for caucasoid costar Adam Driver. Also, considering what a well-reviewed box office hit Crazy Rich Asians ended up being, it should have been nominated for . . . something? There were encouraging signs this year–three films with Asian creators and/or characters are up for Best Animated Short Film ("Bao," "One Small Step," and "Weekends"), and Hannah Beachler is the first African-American nominated for Best Production Design (for Black Panther). But Hollywood still has a long way to go.
10. What does it mean that neither Green Book nor A Star Is Born received a Best Director nomination?
It means that neither film previously tipped as the Best Picture front-runner may end up taking it after all, making for a much more exciting Oscar race.
11. If Beale Street Could Talk, what would it say?
It would say, "Why am I not nominated for Best Picture?"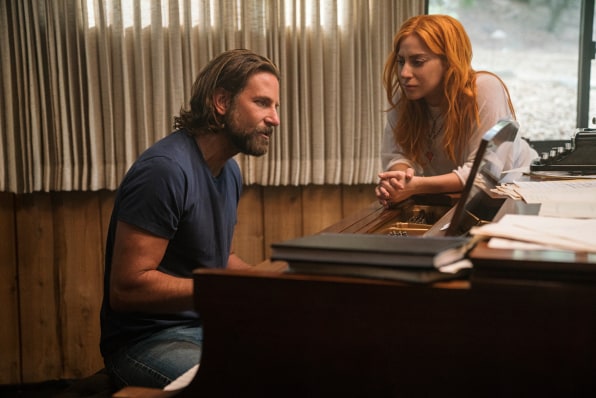 Have a look at the complete list of nominations below:
Best Picture
Black Panther
BlacKkKlansman
Bohemian Rhapsody
The Favourite
Green Book
Roma
A Star Is Born
Vice
Lead Actor
Christian Bale, Vice
Bradley Cooper, A Star Is Born
Willem Dafoe, At Eternity's Gate
Rami Malek, Bohemian Rhapsody
Viggo Mortensen, Green Book
Lead Actress
Yalitza Aparicio, Roma
Glenn Close, The Wife
Olivia Colman, The Favourite
Lady Gaga, A Star Is Born
Melissa McCarthy, Can You Ever Forgive Me?
Supporting Actor
Mahershala Ali, Green Book
Adam Driver, BlacKkKlansman
Sam Elliott, A Star Is Born
Richard E. Grant, Can You Ever Forgive Me?
Sam Rockwell, Vice
Supporting Actress
Amy Adams, Vice
Marina de Tavira, Roma
Regina King, If Beale Street Could Talk
Emma Stone, The Favourite
Rachel Weisz, The Favourite
Director
Spike Lee, BlacKkKlansman
Pawel Pawlikowski, Cold War
Yorgos Lanthimos, The Favourite
Alfonso Cuarón, Roma
Adam McKay, Vice
Animated Feature
Incredibles 2, Brad Bird
Isle of Dogs, Wes Anderson
Mirai, Mamoru Hosoda
Ralph Breaks the Internet, Rich Moore, Phil Johnston
Spider-Man: Into the Spider-Verse, Bob Persichetti, Peter Ramsey, Rodney Rothman
Animated Short
Animal Behaviour, Alison Snowden, David Fine
Bao, Domee Shi
Late Afternoon, Louise Bagnall
One Small Step, Andrew Chesworth, Bobby Pontillas
Weekends, Trevor Jimenez
Adapted Screenplay
The Ballad of Buster Scruggs, Joel Coen , Ethan Coen
BlacKkKlansman, Charlie Wachtel, David Rabinowitz, Kevin Willmott, Spike Lee
Can You Ever Forgive Me?, Nicole Holofcener and Jeff Whitty
If Beale Street Could Talk, Barry Jenkins
A Star Is Born, Eric Roth, Bradley Cooper, Will Fetters
Original Screenplay
The Favourite, Deborah Davis, Tony McNamara
First Reformed, Paul Schrader
Green Book, Nick Vallelonga, Brian Currie, Peter Farrelly
Roma, Alfonso Cuarón
Vice, Adam McKay
Cinematography
Cold War, Lukasz Zal
The Favourite, Robbie Ryan
Never Look Away, Caleb Deschanel
Roma, Alfonso Cuarón
A Star Is Born, Matthew Libatique
Best Documentary Feature
Free Solo, Jimmy Chin, Elizabeth Chai Vasarhelyi
Hale County This Morning, This Evening, RaMell Ross
Minding the Gap, Bing Liu
Of Fathers and Sons, Talal Derki
RBG, Betsy West, Julie Cohen
Best Documentary Short Subject
Black Sheep, Ed Perkins
End Game, Rob Epstein, Jeffrey Friedman
Lifeboat, Skye Fitzgerald
A Night at the Garden, Marshall Curry
Period. End of Sentence., Rayka Zehtabchi
Best Live Action Short Film
Detainment, Vincent Lambe
Fauve, Jeremy Comte
Marguerite, Marianne Farley
Mother, Rodrigo Sorogoyen
Skin, Guy Nattiv
Best Foreign Language Film
Capernaum (Lebanon)
Cold War (Poland)
Never Look Away (Germany)
Roma (Mexico)
Shoplifters (Japan)
Film Editing
BlacKkKlansman, Barry Alexander Brown
Bohemian Rhapsody, John Ottman
Green Book, Patrick J. Don Vito
The Favourite, Yorgos Mavropsaridis
Vice, Hank Corwin
Sound Editing
Black Panther, Benjamin A. Burtt, Steve Boeddeker
Bohemian Rhapsody, John Warhurst
First Man, Ai-Ling Lee, Mildred Iatrou Morgan
A Quiet Place, Ethan Van der Ryn, Erik Aadahl
Roma, Sergio Diaz, Skip Lievsay
Sound Mixing
Black Panther
Bohemian Rhapsody
First Man
Roma
A Star Is Born
Production Design
Black Panther, Hannah Beachler
First Man, Nathan Crowley, Kathy Lucas
The Favourite, Fiona Crombie, Alice Felton
Mary Poppins Returns, John Myhre, Gordon Sim
Roma, Eugenio Caballero, Bárbara Enrı́quez
Original Score
BlacKkKlansman, Terence Blanchard
Black Panther, Ludwig Goransson
If Beale Street Could Talk, Nicholas Britell
Isle of Dogs, Alexandre Desplat
Mary Poppins Returns, Marc Shaiman, Scott Wittman
Original Song
"All The Stars" from Black Panther by Kendrick Lamar, SZA
"I'll Fight" from RBG by Diane Warren, Jennifer Hudson
"The Place Where Lost Things Go" from Mary Poppins Returns by Marc Shaiman, Scott Wittman
"Shallow" from A Star Is Born by Lady Gaga, Mark Ronson, Anthony Rossomando, Andrew Wyatt, and Benjamin Rice
"When A Cowboy Trades His Spurs For Wings" from The Ballad of Buster Scruggs by Willie Watson, Tim Blake Nelson
Makeup and Hair
Border
Mary Queen of Scots
Vice
Costume Design
Ballad of Buster Scruggs, Mary Zophres
Black Panther, Ruth E. Carter
The Favourite, Sandy Powell
Mary Poppins Returns, Sandy Powell
Mary Queen of Scots, Alexandra Byrne
Visual Effects
Avengers: Infinity War
Christopher Robin
First Man
Ready Player One
Solo: A Star Wars Story