With consumers spending $70 billion a year on pets, one startup is finding success in a trend that was more recently confined to their human owners: healthy eating. The Farmer's Dog, a direct-to-consumer startup that delivers crafted fresh pet food to one's door, just closed $39 million in Series B financing. It now boasts total funding of $49 million.
The latest round was led by Insight Venture Partners (HelloFresh, Delivery Hero) and includes participation from previous investors such as Shasta Ventures and Forerunner Ventures (Hims/Hers, Dollar Shave Club).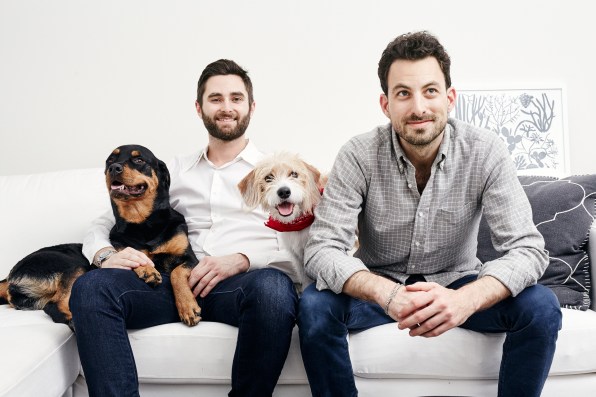 Cofounders Brett Podolsky and Jonathan Regev launched the subscription service in 2015 to disrupt an industry that mostly relies on food-shelf stable, preservative-heavy dry food. Regev, who also serves as CEO, explains that kibble varieties don't necessarily rob pets of nutrients, but do potentially impact a number of different health concerns, including obesity, lethargy, diabetes, and cancer. Currently, 56% of dogs are classified as obese and canine diabetes increased by 79% since 2006.
"When you look at human food, it's pretty apparent to us that processed food causes health issues," Regev tells Fast Company. "But our processed food is typically found in snacks, and now that's becoming a problem. When you look at pet food, this processed food is being fed to them every single day, every single meal, for their entire life."
The Farmer's Dog markets view fresh dog food delivery not as a luxury, but more like common sense, albeit with a personalized touch. The company offers various food plans via a customized profile for each dog based on breed, size, activity level, and sensitivities. Fresh food is then sent in pre-portioned packages within just days of preparation. Weekly subscription prices vary on dog size, but on average, small dogs average $3 a day.
The actual food, which includes whole chunks of fresh ingredients like carrots, turkey, parsnips, chickpeas, broccoli, and spinach, has been tested on humans and is actually safe for owner consumption (if a human should be so inclined). While there is no study showing a direct correlation between traditional dry food and pet medical issues, research has shown that starchy foods cooked at extremely high temperatures produce acrylamide, a chemical that increases risk of cancer.
Meanwhile, a 2002 Purdue University study found that servings of fresh vegetables at least three times a week slowed, and in many cases prevented, the development of certain types of cancer in dogs. Researchers at the University of Illinois concluded that fresh and raw diets do demonstrate a number of pet health benefits.
"Our problem [with dried food] is that it's being sold as healthy food it's not," stresses Regev.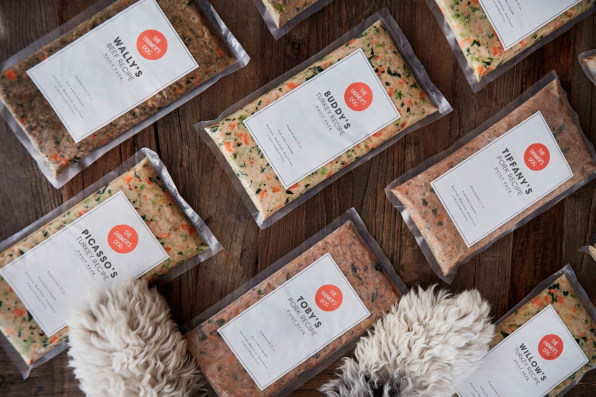 The Farmer's Dog doesn't have any hard stats to prove its product radically affects canine health; Regev instead relies on customer anecdotes about dogs finding new energy or moving with more agility. A strong portion of owners say the food cures a strong "doggie smell" odor and that digestions issues quickly fade away.
"If you can imagine being fed dry food shelf-stable food all your life and finally are having fresh food–it would make sense there would be some changes," says Regev," adding, "we don't really make any claims necessarily."
The Farmer's Dog now has thousands of customers across the country. The brand originally thought it would resonate more with health-conscious millennials, but even older age groups want to invest in better pet nutrition. That echoes nationwide pet ownership trends: Roughly 85 million families–68% percent of U.S. households–have a pet, according to the 2017-2018 National Pet Owners Survey. Of those, 55% say they worry about filler ingredients in pet food, with obesity topping concerns.
As Fast Company previously reported, consumer concern with pet well-being is fueling an entire "alternative" dog food category dedicated to all-natural, premium, or otherwise superior foods. Between 2007-2016, pet food spending increased 36%, driven by sales of premium brands. Dog food brands with raw claims saw a 68% increase in dollar sales, reports Nielsen.
The Farmer's Dog has a leg up on many of its competitors by virtue of its fresh food. No matter how "organic" or "natural" dried food claims to be, it's still processed food aging on a shelf. Then there are the number of pet food recalls and tainted food fiascos that have led many to distrust big kibble brands altogether.
"I really see us as one of the few companies out there that is using direct-to-consumer and the subscription [model] not for the business itself but to create the product that we're after," says Regev. "We really could not make this kind of product if it were in retail stores … It would have to be further processed or the food would have to be made six months before it hits customers' hands."
With the latest round of funding, The Farmer's Dog intends to grow its team, with an emphasis on technology, customer service, and infrastructure. A high priority will also be put to marketing and brand awareness. Regev suggests the company is also looking at other products that might benefit from its model.
"Pets used to really be for the kids. Now pets are becoming the kids in a whole new way. Therefore, their place in the household is sort of unprecedented," Gabby Slome, cofounder and chief experience officer of pet wellness brand Ollie, said in an earlier report on dog food.
Regev agrees that a trend of humanization has taken root in the pet industry, but he doesn't think it has anything to do with people loving their pets more: Owners have always loved their pets. Now they're just simply up to date on how best care for their furry friends: "They have more access to information," he says. "There is a lot more attention paid to health and food has certainly been a part of that."