Google's nonprofit division Google.org has long committed to donating 1% of the company's total equity and profits to charity. Based on the $1 billion pledge it made in October 2017, the company has focused on causes like education, economic opportunity, and inclusion. Some groups receiving funding just so happen to also make the online world more accessible, informative, and safe for users. This week, Google extended its humanitarian efforts with Google.org Fellowships, a program that allows its own employees to embed for up to six months at nonprofits with special projects that need the help of experts in computer engineering, data analysis, and artificial intelligence.
Its first formal collaboration will be with workplace development organization Goodwill Industries International. Starting January 15, seven Google employees will spend three months at Goodwill offices in different cities. Those workers represent the first of between five and 10 fellowship classes or about 40 to 60 people that will be deployed this year.
The move comes after a successful six-month pilot program that just wrapped with Thorn, a nonprofit that builds technology to fight online child sexual abuse. (Its high-profile cofounders include Ashton Kutcher and Demi Moore.) The organization works with over 8,000 law enforcement agents across 30 countries to stop online sex trafficking sales and the spread of child pornography. Over the last four years, Thorn has helped identify 30,000 victims of human trafficking, including 10,000 children.
Google has offered its brainpower to nonprofits in a number of different ways in the past: GoogleServe, an annual monthlong period that encourages employees to participate in community service. Although the exact work time allocated for that effort is unclear, the effort involved 25,000 people and 900 nonprofits in 2018. Most Google.org grants also come with some level of additional volunteer support as groups figure out how best to deploy that money. Last year, Google tested several kinds of immersive programs, including shorter-term embeds of one to four weeks. It discovered that many organizations liked the idea of even longer engagements.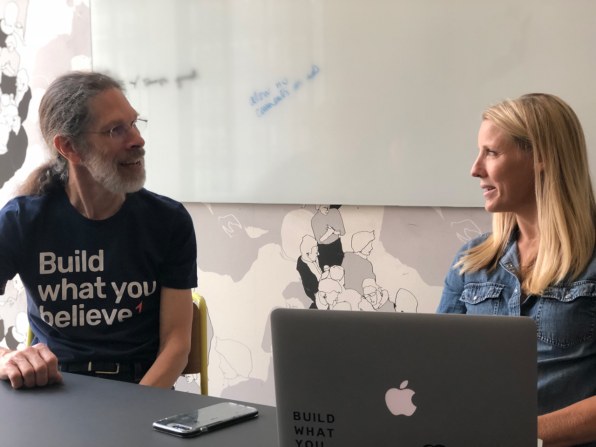 "Funding is always nice for cash-strapped nonprofits, but we've been pretty surprised to hear consistently that access to technical talent and Googlers has been really valuable for them as well," says Lacy Caruthers, the director of employee engagement at Google.org. At the same time, Google has found that workers feel especially satisfied when given the chance to work in ways that improve the community. "This felt like a natural evolution . . . to bring those two things together."
In a way, Google's fellowships operate similarly to the larger paid time-off program at IBM. In addition to donating large sums of cash and technology to groups working to solve major societal issues, IBM often fields small teams of coders, engineers, and even business development experts for monthlong projects alongside whatever nonprofit, governmental agency, or social entrepreneur has an idea that could use immediate acceleration. (How to make chemotherapy drugs cheaper, more readily available, and easier to administer in sub-Saharan Africa, for instance.) Executives there have found the effort both improves the world and serves as a training ground for nimble future leaders.
All told, the 40 to 60 workers that make up Google's 2019 class of fellows should contribute 50,000 hours of dedicated employee time at nonprofits this year, and expand to other cause areas like criminal justice and poverty. With stints between three and six months (the two timeframes they've shared so far), that's a doable metric with pretty standard workweeks. While it's not clear yet how fast the fellows program will grow, the organization wants to expand internationally and eventually include its non-tech workers.
The fellowship at Thorn involved five Googlers, including experts in data visualization, machine learning, and artificial intelligence. That team worked on ways to help law enforcement identify potential trafficking activities faster, in part by looking for patterns among the phone numbers, images, and text of online advertisements.
For Thorn, the partnership builds on an already successful collaboration. Since it launched in 2009, the group has been advised by Google, and received several million dollars in contributions. While it has a strong in-house engineering team, it also has a limited time and resources. "While [Google] gave us a view of a path forward, our engineering team was able to maintain and develop the current products that are in market," says Thorn CEO Julie Cordua. "[We] never would have had that time to look ahead and say, 'How could we approach this in an entirely new way?'"
Goodwill, known for its neighborhood stores that collect and and resell used goods, is the largest workforce development nonprofit in the country. In 2017, nearly 39 million people used its job training, educational, financial management, and career advancement services to get ahead or overcome some barrier in their job field. At least 288,000 people who were out of work gained employment, according the the group's annual report. Goodwill also offers supplemental support services including English classes, transportation assistance, and childcare.
In 2016, Google awarded the group $10 million to continue to expand and optimize its offerings. Included in that was a commitment for Google to provide volunteers that could enhance digital skills training. "They do a lot of work behind the scenes to help people in local communities gain digital literacy," says Chelsea Seabron, another manager at Google.org.
The Google.org Fellowship, however, has a different mission: Goodwill operates on a federated model, allowing local chapters control over their own programs. That makes it hard to track and replicate what is working elsewhere. "They have lots of local organizations on the ground running programs and collecting data on those programs in sort of a siloed way," Caruthers says. "So what our fellows will be doing is working with the national headquarters to develop a unified data strategy, so Goodwill can make more informed decisions about what programs are most effective."
The fellows will be working across a total of 10 pilot cities. One of them is Chris Ackerman, a mid-career data scientist who direct efforts from Goodwill's headquarters in Rockville, Maryland. Ackerman has spent the last seven years at Google and currently works on educational offerings in its cloud division. He applied for the fellowship because he's personally passionate about Goodwill's mission. "In the changing economy, a lot of people are left behind or fall out for various reasons," he says. Providing them access to new skills and opportunity appeals to him. But re-gearing Goodwill's own internal operations seems especially important because it can increase the group's impact for years to come.
To apply for each fellowship, Google employees must complete an internal volunteer profile page, which Google uses to share or recruit for various service opportunities. Each person must complete a questionnaire about why they're specifically motivated to apply, and what they hope to gain from the field experience. There is also an interview that covers both general and technical questions. The company declined to specify exactly how the final decision gets made.
The fellowship program may potentially improve aid work and build employee loyalty, but Caruthers hopes for one more takeaway. "Our hypothesis is that these experiences will allow Googlers to come back [to work] with this new perspective that will allow them to build better and more inclusive products going forward," she says.
Although the sample size is limited, it may already be working. At Thorn, Cordua says that exiting fellows expressed "a significant change in their thinking about how technology can positively impact the world." The new team, fast-paced project, and very human cost of failure puts the average workday in perspective. "I am now more confident approaching harder problems that I would've shied away from in the past," says Julian Bharadwaj, one of the Google fellows that worked at Thorn.