Bozoma Saint John, who has risen to business celebrity status thanks to her work for PepsiCo, Beats, Apple, Uber, and Endeavor, is now burnishing her personal brand.
The marketing star, who's currently CMO of the global media conglomerate Endeavor, will host and produce the upcoming documentary series Bozoma: Being Badass on the Starz network.
Saint John describes the show as a cross between Anthony Bourdain: No Reservations, Mister Rogers, and The Oprah Winfrey Show, telling Fast Company that it will bring a sense of "purposefulness" to a range of topics that span her personal and professional life, from her love of fashion to the challenges of being a single, working mother and widow. (The show comes by the Bourdain comparison honestly: No Reservations' Alex Lowry is an executive producer on Bozoma. Anjula Acharia is also exec producing.)
The show will follow Saint John through both professional and personal environments, interspersed with her interviewing individuals on the theme of each particular episode. For instance, after discussing the "life-altering" experience of losing her husband (he lost his battle with cancer five years ago), she'll talk to others who have been through a similar experience, trying to discover "how they thrive," she says. "How do they move through life carrying that case of grief? How do their kids feel? I think there are big lessons for all of us."
The series' underlying message is "to show up wholly as ourselves," says Saint John. "Especially for anyone who feels 'other-ed' and that you don't have the allowance to be fully yourself. I've had a lot of great feedback from different types of people who have said they appreciate that I'm able to be exactly who I am in all these spaces, even if I'm the one and only."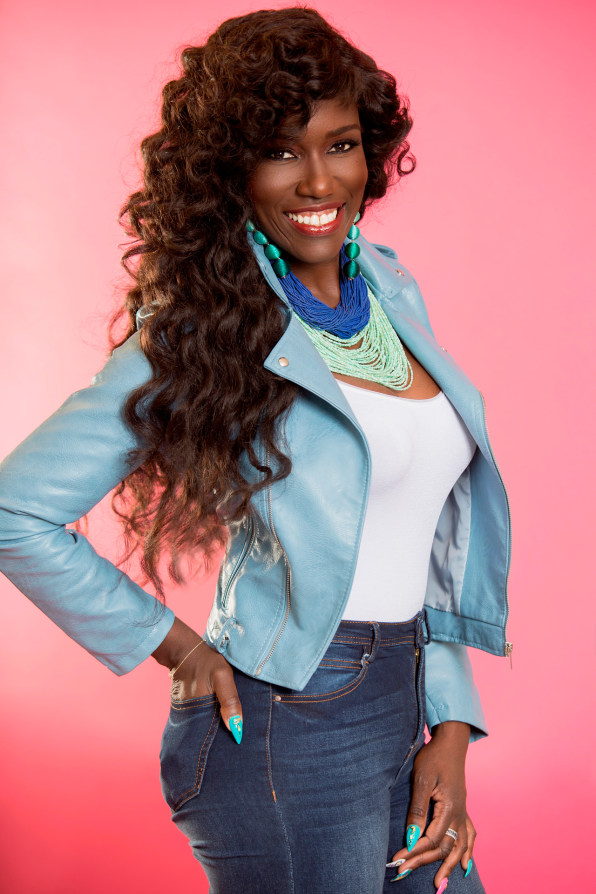 She says her own sense of otherness comes from being "the multi-hyphenate that I am. Being black, being the child of immigrants [her parents came to the United States from Ghana], being a widow, a mother. All of those things that make up who I am. That's what's so beautiful about the human experience. None of us are one-dimensional." 
In addition to this personal exploration, Saint John also wants to examine innovative ideas like flying vehicles, which she says she first started thinking about when she worked at Uber. Other topics on the show include professional bull-riding (her current employer owns the Professional Bull Riders league), as well as one her big passions: fashion. "I love fashion, I can't lie about that," Saint John says. "Interestingly enough, it has been a really big conversation as part of my corporate journey, too. The fact that I'm able to show up in sequins on Tuesday–people have a lot of questions about that. I want to explore the non-boundaries of what it means to look like a corporate executive in a way that is not traditional. How do other people do it? In other spaces, other industries? How do you express the fullness of yourself unapologetically through fashion?" 
Chris Albrecht, president and CEO of Starz, says, "There is so much more to Bozoma than what you have read in the headlines. Boz is an incredibly dynamic woman with an undeniable spirit that she infuses into every aspect of her life. She brings a wholly new perspective to television." 
Saint John has already established herself as "talent," famously strutting onstage at Apple's Worldwide Developers Conference in 2016 to unveil an Apple Music overhaul and getting the mostly white, male crowd to jam out to "Rapper's Delight." Other marketing coups include coming up with popular ad campaigns for Apple Music, such as the commercial starring Mary J. Blige, Kerry Washington, and Taraji P. Henson. At Pepsi, she orchestrated the halftime show that Pepsi sponsored at the Super Bowl featuring Beyoncé.   
Test shoots for the show have already started, and production will begin next year. Saint John says being in front of the camera has felt natural, given that she is "naturally curious" and that the conversations she's having with people "are the conversations I'd be having anyway."
As for mining emotional subjects like the loss of her husband, she says, "I don't mind exploring difficult portions of life. I don't mind crying. I don't mind getting mad, either."  
But the bigger takeaway from the show will be more uplifting, with an emphasis on embracing your differences and inner badassness no matter what environment you're in. "I don't agree with the line that says you walk into an office and you leave yourself outside," she says. "I hope this show inspires people to celebrate all the parts of themselves that perhaps are rough around the edges. There's something we can learn from each other, even if we've been though some things that are tough, or we love things that we think are frivolous. All those things are worthy of celebration and exploration."