If you've searched for "Bullet Journal" or "BuJo" online, you may have seen the elaborately illustrated interpretations people have created. They're gorgeous–motivating to some, but intimidating to many others. People assume they can't Bullet Journal because they're not artists or because their handwriting is too sloppy. Allow me to lay those concerns to rest. The only thing that matters in BuJo is the content, not the presentation. If you can elevate both, then my hat's off to you. But the only artistic skill required is the ability to draw straightish lines. If you can manage that, then you'll be fine.
The goal when designing Collections–notes and tasks organized under a specific theme–is to maximize their functionality, legibility, and sustainability. Here's how.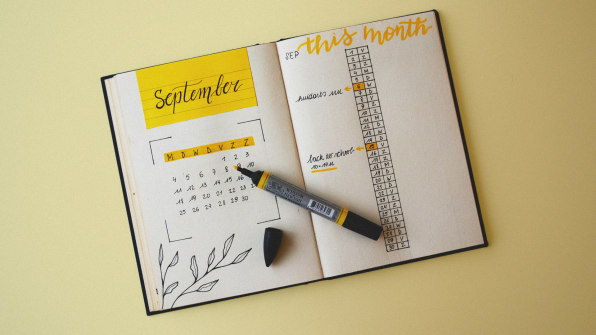 Functionality
Dieter Rams, the industrial designer behind some of the most iconic radios, shavers, and numerous other household objects (some of which are rumored to have inspired the design of the original iPod), used to say "wenniger aber besser," which loosely translates into "less, but better." It's one of the guiding principles underlying the Bullet Journal method, and it's reflected in the design. Form should never obscure function. Distill your design down to the essential so that you're only focusing on what is meaningful. If you find beautifying your notebook is essential to maintaining your motivation and productivity, then have at it. Just remember, Collections are tools that are meant to help you progress toward your goals, not stand in their way.
This is not only true for the design of the templates, but also for the information they contain, like weight, time, distance, names, and events. Habit trackers, for example, are Collections designed to help form new behaviors by tracking progress for things like reading, meditating, exercise, water consumed throughout the day, and so on. Because there are so many things we could be doing better, there's a temptation to get a little overenthusiastic at first, taking on way too much at a time. Try to avoid tracking six habits simultaneously. This can quickly become overwhelming, burdensome, and demotivating. It will take a lot of time to maintain, and the probability of failing to form a half dozen new habits at the same time is high. Track only the habits that you feel most strongly about now. Be cool. Be selective. As Herr Rams suggests: Start with less, but do it better. You can always add more later. Keep the content of your Collections focused on your priorities.
Another solid measure of a Collection's functionality is how future-proof it is. A well-designed Collection will remain informative long after it has served its purpose. I've created a lot of Collections that made sense at the time, but looking back on them, I couldn't follow my thinking anymore. A great exercise to ensure the longevity of your layout is to design your templates in a way that a stranger could easily understand what they're looking at. To be clear, I'm not suggesting that you share your journal with someone else! It's just that our future selves may want to repurpose an effective Collection one day, so let's make it as easy as we can for them to remember how and why it worked.
Every new iteration of your templates should undergo some scrutiny. What worked? What didn't? What little thing can I change to make this work better for me? By keeping your templates lean, it becomes easier to identify opportunities for functional improvement. Keep it simple. Keep it focused. Keep it relevant.
Legibility
Our handwriting is a uniquely revealing form of self-expression, often reflecting our inner state. It swells with joy and deteriorates with stress, sometimes to a point where it becomes hard to decipher. Perhaps it was never great to begin with. We take it for granted that we're stuck with the cards we're dealt, but even something as ingrained as our handwriting can greatly benefit from a little attention.
If you struggle with legibility, try experimenting with alternate types of lettering and/or writing instruments. You may be surprised at how well your handwriting responds to even the subtlest of changes. For example, I found that writing in all caps with fine-liner pens solved two legibility problems: It forced me to be more deliberate in shaping letters and to be more economical with my word choices. Though awkward at first, this intentional change ended up pardoning many a passable idea formerly condemned to my cursive hieroglyphics.
Use this as an excuse to dip your toe into the pen and ink world. It's rich with elegance, heritage, and history, bringing to bear hundreds of years of knowledge of how to lay ink onto paper. From fountain to felt-tip pens, there is a lot to explore. Chances are, you'll find something that will help improve your skill or, at the very least, your appreciation for handwriting. Just be careful not to let your quest for the perfect pen or paper get in the way of your writing. Your pen is not a wand, it's just a tool. It's you who brings the magic to the page.
Legibility is not just about what we put on the page, it's also about what we leave off. Claude Debussy once said that music is the space between notes. In graphic design, that space is imaginatively referred to as "white space." It's not an afterthought; it's a very deliberate element used to increase focus, structure, and clarity. Give your designs room to breathe. In order for your templates to remain legible, they should tend away from density. Play with scale, add more space–or padding–to text, table cells, or list items. Sometimes that means less fits on a page. That's fine. How we frame our information will go a long way toward increasing legibility, comprehension, and our sanity. We only make room for what matters.
Sustainability
Maintaining Collections takes time and energy, so it's important to make sure they're worth the commitment. It shouldn't feel like a chore. Most accounts of people falling off the Bullet Journal wagon turn out to be people who spent too much time decorating their pages. There's nothing wrong with decoration–unless it becomes a drag. That means the balance is off; if you don't feel the reward is worth the effort, simplify.
The good news is that you'll naturally be able to weed out unsustainable Collections during your Monthly or Yearly Migration–a method for evaluating, and ditching, old tasks. If you haven't updated a given Collection, you'll know that it's not adding much value to your life. It's okay to let it go. It's not a failure; it's a valuable lesson that can be applied to future template designs. You need to learn how something doesn't work in order to design something that will. Be sure your frustration or disappointment doesn't rob you of that opportunity.
Evaluating your Collections during Migration quickly reveals what kinds of things actually hold your attention and what you struggle with. You can learn a lot by how frequently you update a Collection. This is not only true for your actions, but also for the way you organize your thoughts. Over time, you'll figure out what layouts help you think more clearly, be more focused, and allow you to make meaningful progress. Not only are you becoming more intentional about what you're doing, but also how you're doing it. This is how you learn to design your own tools for continual improvement.