2018 is coming to a close, which means it's time to start planning your travel for next year. But where should you go? It's a tough question with so many options to choose from. A new interactive built by MIT's Senseable City Lab helps you answer it by mapping how much flights cost from your hometown to any other destination in the world, in a single handy interface.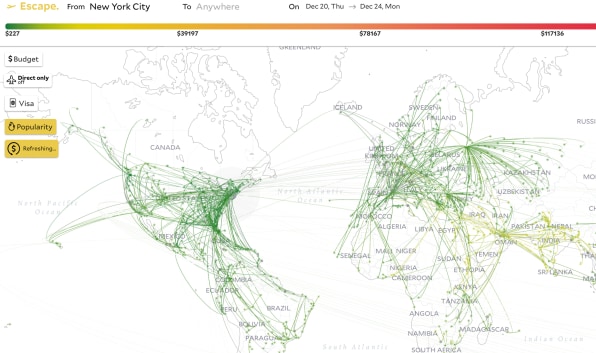 The interactive map, called Escape, asks that you enter in your origin city and your dates. Then it will show you how much it costs to fly anywhere, color coded from green (the cheapest) to red (the most expensive). Hover over any city, and Escape visualizes the price of the cheapest flight and how many stops it will involve. Click further, and you can see a list of specific flight times and prices. You can also filter the map by your budget, destination popularity, whether you'd need a visa to visit, and if you want direct flights only.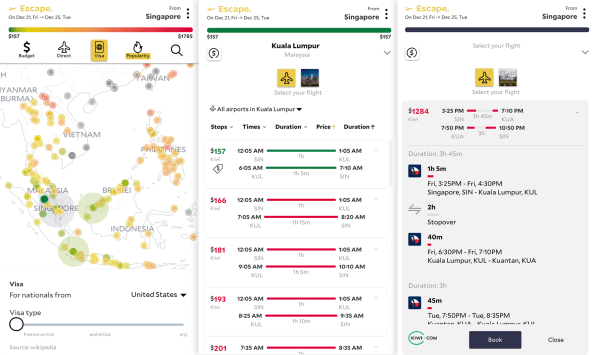 The design is meant to help narrow down countless destinations as you plan your next getaway. Let's say I want to plan a trip from New York City to somewhere in Europe the third week of March. I can see almost instantly that it's cheapest to fly to Paris, with one stop through Zurich–only $375. Barcelona is another option, also with a stop through Zurich, at only $385. I can also expand my search to all flights below $500, which shows a greater array of destinations, from Malta and Milan to Berlin and Vienna. I might want to take Ibiza, Spain, off the table, though–flights there cost over $700 already. Or perhaps I'm planning for a big trip to Southeast Asia over Memorial Day in May, but I don't want to pay more than $1,000 for my round trip ticket. A quick search reveals that I can fly to India, the Philippines, Singapore, or Thailand–but not Cambodia or Vietnam.
While the tool isn't going to make the decision for me, its clever information design will certainly narrow down the options (or let me know that I'm going to need to save more money to make such a big trip). You can check out the interactive and start planning your next trip here.