Mercedes Martinez has cleaned homes in the New York City area for around 20 years, and has almost never taken a sick day. She is 55, and her husband recently passed away. She has two children whom she works to support. "It's impossible to miss a single day because I need that money," she tells Fast Company through a translator. When she once got the flu and couldn't work for three days, she fell behind on bills. She's also never been able to take a real vacation–every Thanksgiving, for instance, she works.
This year, though, that changed. Martinez was one of a handful of cleaners participating in the pilot launch of Alia, a new benefits platform for cleaners that the National Domestic Workers Alliance launched to the public on December 11. The platform is designed so that cleaners will be able to gather additional financial support from their clients that they can use to access benefits like paid time off and sick leave, as well as benefits like life insurance, critical illness insurance, and disability or injury.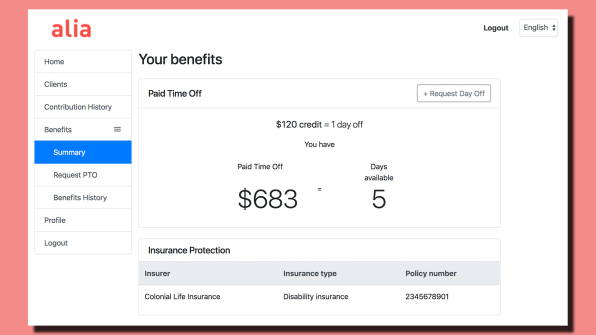 For both cleaners and workers, the platform is very simple. A cleaner can sign up and list all of her clients and their contact information: She can either send invitations to her clients to join Alia via the website, or give them an informational pamphlet during her shift. The platform is available in both English and Spanish, to help bridge language barriers that exist for many cleaners. For clients, when they sign up for Alia, they're able to begin contributing a set amount per cleaning into a benefits fund for their cleaner. The suggested amount per cleaning is around $5.
A cleaner who works for around 10 clients–the national average–will receive an average of $150 per month. The monthly stipend is enough to fund around seven days off per year, and one or two insurance products of the cleaners' choosing. The main focus, for now, is on paid time off, which NDWA learned is the most urgent demand. Martinez, for instance, says that she's fallen behind on annual doctor's visits because she hasn't been able to get a break to go, and is looking forward to doing so now. As the platform evolves, Palak Shah, NDWA's social innovations director and her team are looking out for ways to support general health insurance and other types of benefits.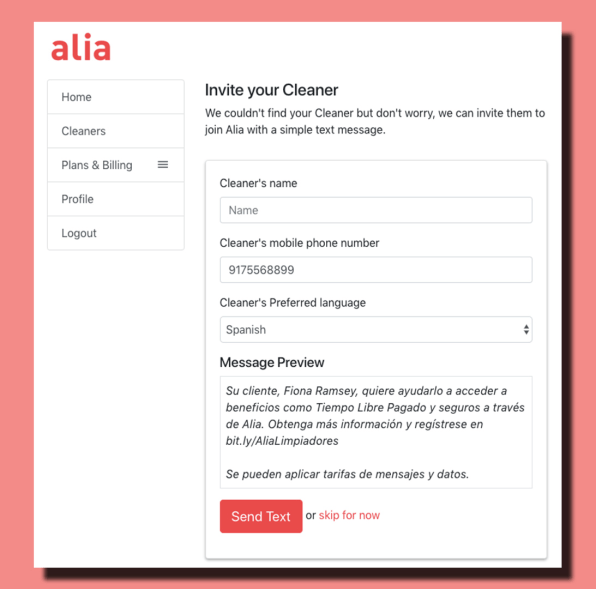 How the money in a cleaner's benefits fund is used is entirely up to the worker. The funds accumulate as a worker's Alia Benefits Credits, which they're able to manage on the digital platform. If a worker needs to take a day off, they can alert Alia, which will deliver them a prepaid Visa card loaded with $120 to cover the day's wages. Additionally, they can purchase affordable insurance products from Colonial Life, which NDWA partnered with for the program. Right now, the insurance options are only available to workers in California and New York, but more states will be included soon. By keeping the benefits payments from employers in a specific fund dedicated to benefits products on Alia, workers can easily track and manage their benefits funding separate from their other income.
Around 2.5 million women in the U.S. are employed as domestic workers, and their jobs are some of the most important in the economy, says NDWA executive director Ai-jen Poo. "We call their work the work that makes all other work possible, because it makes it possible for millions of families to go out and do what they do every day" she says. But because domestic workers are employed independently and paid hourly, there's no way for them to receive a traditional, employer-sponsored benefits package; often, they're also not paid enough to be able to purchase benefits or sponsor their own time off.
The advent of digital platforms like Handy, through which people can book house cleanings, have made the services of domestic workers more readily available and accessible in one place, but that hasn't translated into better or more equitable conditions for workers. Alia aims to mimic the ease of digital platforms, but to deliver tangible benefits for workers.
Now that the pilot–which was available to a small cohort in the New York City area, and mainly on a word-of-mouth basis–has successfully wrapped, Alia will be available to clients and cleaners nationwide. It's free for anyone to sign up and make an account, and NDWA expects that word about it will quickly spread. "This is a referral-based industry," Shah says, and circles of workers and clients tend to overlap and inform one another. NDWA will also be doing targeted outreach through public forums like libraries, as well as running marketing campaigns on more client-centric spaces like messaging boards and social platforms.
Part of what makes Alia work is that many people who employ cleaners are aware of the systemic inequities they face and want to help amend them. "Most employers want to do the right thing–they just haven't had a really easy way to do it," Shah says. During the pilot run of Alia, it was often clients who were encouraging people who clean their homes to sign up for the platform. For domestic workers like Martinez, asking their employers to sign up for Alia felt daunting, as their employment situations still feel tenuous. "The power differential between domestic workers and their employers is real," Shah says. But the clients' enthusiasm to pay into benefits for their workers was encouraging, Shah says, and also guided the NDWA to focus on the the client side of their network when launching their marketing campaign.
"Domestic workers need benefits," Shah says. "They have been unprotected for generations, and haven't had the kind of benefits or other economically stabilizing things that we think of that come with a job." While Alia asks a fairly minimal financial commitment from people who employ domestic workers, it does ask them to consider the ways in which their employment has, so far, failed to protect the people that support their households. And for workers like Martinez, who began receiving benefits payments just a couple months ago, it means being able to take her first Thanksgiving off, and having peace of mind that her work will continue to be valued should she need to take time for her own health or family.
And ultimately, Shah feels that if Alia can succeed in delivering benefits for domestic workers, that should pave the way for other initiatives to provide benefits to workers–from farm laborers to delivery workers to freelance journalists–who also have lacked them for far too long.