In 2018, chances are pretty good that you visited a major city that had been overtaken by electric scooters. Bird. Lime. Skip. Spin. With a few taps on an app, these services enable anyone to hop on an overpowered skateboard and zip through the streets.
Electric scooters have been positioned as a woke solution to many urban transportation woes, like traffic, pollution, and few reliable ways to travel short distances–what urban planners often refer to as "the last-mile problem." And I can do the math. An electric scooter takes up less room on the street than a Toyota Corolla. It doesn't blow exhaust directly into the atmosphere. It's faster than walking on your own two feet.
But scooters simply haven't been designed well enough to get people around safely, legally, or in an environmentally sound way. That includes the industrial design, all the way up to the larger experience design of how scooters inhabit cities. Scooters are an entirely new species of transportation dropped into the middle of vibrant urban habitats, full of people, cars, trucks, bikes, and more. But little thought has gone into how they will coexist. In this sense, scooters represent the toxic combination of Silicon Valley's hubris and gross incompetence, driven by the pursuit of "disruption," no matter the cost.
Flimsy industrial design
Let's begin with the less-than-inspired industrial design. These things are basically the same old Razor that was sold to every 8-year-old for Christmas in 2001, fitted with batteries, an electric motor, and cell-phone guts for connectivity. Some have wider foot platforms. Some are painted red! All place your center of gravity strangely high, are near impossible to turn tightly, and make you look like–I'm sorry but it's true–a grown man who moonlights collecting L.O.L. Surprise! dolls.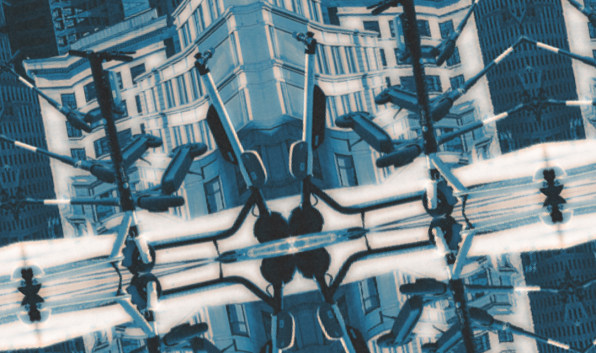 Riding a Scoot for 20 seconds down an alley in San Francisco started as exhilarating, but feeling the frame nervously shutter at the slightest bump in the road, I knew the question wasn't if, but when, the scooter would inflict upon me some mangling injury–or perhaps better put, the city streets themselves would decide to attack the scooter like the visigoths.
This rigid design just can't handle imperfect urban terrain that you'll find in nearly every city. And the consequences are clear: ER doctors across Los Angeles; Scottsdale, Arizona; Denver; Indianapolis; and Austin have all cited an influx of scooter-related injuries like concussions and knocked-out teeth. The Centers for Disease Control just announced its first formal inquiry into the matter.
Legally in most areas, you're supposed to wear a helmet to ride a scooter. And you should. And of course the services tell you that. And of course few people do. But let's not blame the victim here: A helmet isn't going to add 20 inches of diameter to the tires, or let you balance on anything but your tippy toes.
The environmental question
What they lack in safety, perhaps they make up in environmental friendliness? They are green compared to cars, right? In fact, scooters at companies like Bird only last a maximum of two to three months, according to The Information–which will be unsurprising to anyone who has encountered a scooter's tattered corpse on the street.
That two-to-three-month life span may in fact be the best-case scenario, however. One analyst points out that many scooters might not actually recoup their cost before breaking–even though scooters only need to last two to three weeks to recoup that cost. Which is to say: Scooters may not be lasting more than a few weeks. It's hard to know the exact environmental cost of such disposable technology, but it can't be good. Even smartphones, which are wreaking havoc on the environment, have a longer shelf life.
Stealing the worst habits of the ride-share industry
Equally little thought went into designing how scooters might inhabit cities already grappling with disparate modes of transportation. Typically, they just appear overnight, dropped onto sidewalks, often without inquiring whatsoever with city officials or the community as to whether it is legal, practical, or even wanted. This has happened in more than 100 U.S. cities. Three scooter services hit San Francisco alone during the same week in March. As a result, scooters literally piled up on the sidewalk.
It's familiar strategy in Silicon Valley. Companies like Airbnb and Uber built loyal followings of people who enjoyed using and profiting off of their services, policy be damned, to create a groundswell of public support. That (and some tenacious lawyering) helped turned these blitzkrieg salesmen into legitimate businesses.
Scooters borrow that digital model of disruption, but add in a physical product. Instead of distributing code, they rain near disposable, overpowered toddler mobiles everywhere. It's the next-level evolution of tech companies overstepping their bounds, the latest iteration of what happens when Valley bro DNA is spliced with hundreds of millions in VC funding. They're intruding on our physical space. Our real world. Say what you will about Facebook, but I've never tripped over my News Feed.
Now look, I do–kind of–get the scooter's appeal. Cruising down Santa Monica's boardwalk one November morning, the wind in my hair, I felt the momentary exhilaration of having this convenient vehicle I could hop on and ditch at a moment's notice, turning 15 free minutes during a workday into a short vacation. But there's a gap between "ride as amusing tourist distraction" and "ride as the future of urban transport." How well does an electric scooter work in the rain? Snow? For the elderly? For the sad sack who just had his phone stolen and suddenly has no way to ride home on a scooter sitting right in front of him?
Electric scooters are meant to build a user base and conquer markets just like Uber and Airbnb. But they are not solving the problems of urban transportation, at least not with their current design. And I fear they have become so ubiquitous, so quickly, that they've already elbowed out the chance we all deserve to get something better than a skateboard on a stick.