Robyn is still processing an abusive sexual encounter she had over three years ago; Akilah is dealing with her sister's mental instability while trying to keep her own life sane; Timothy is attempting to come to grips with his most recent breakup. These all sound like plot points in a human-driven TV drama—but they're all real things that happened that I learned about by reading all three's therapy transcripts.
Before you call the cops on me, it's not because I was snooping through their medical records. Robyn Kanner, Akilah Hughes, and Timothy Goodman are all friends—as well as writers and creators—who decided last year to try out texting therapy services and then publish their experiences with them. The fruits of their labor are being released this week under the name Friends With Secrets. It's a website that offers the back-and-forth text conversations that each person had with their therapists. Every day, a new session is uploaded. Friends With Secrets intends to release five sessions that span their experiences during the first few months of 2018.
Kanner describes the project to me as an exercise in radical vulnerability. The three came up with the concept in 2017, when they were all feeling generally bad. "We were all going through a difficult time," Kanner says. The idea was, "You know what—what if we can just, straight up, say, 'Here is our heart'? How vulnerable is that?" So all three made the pact to start doing text-based therapy for four months—and they stuck to it.
Though not a perfect substitute for in-person sessions, digital therapy services have been on the rise. A handful of companies like Talkspace and Betterhelp offer online-based counseling at a better price point than many practices. Some have questioned these services' efficacy, as well as their potential regulatory and ethical pitfalls. At the same time, it's become a popular way for people to more easily seek help. For Friends With Secrets, the online and text elements provided an easy onramp for the three to participate. "We wanted to follow through and do the actual process of going through therapy for four months and documenting that," explains Goodman.
And that's exactly what Friends With Secrets is—part diary, part script, part mental health manifesto. The reading experience is especially unique; it's both voyeuristic and intimate. None of the creators hold back when talking to the therapists. They name names and talk about the murky and extremely tenuous elements of human relationships. That was a necessity for the project, says Kanner. "I got more comfortable [with the idea] that people were going to read this and see it." In fact, that became one of the points of pride. "This is my life," she proclaims. "I'm going to talk about a trans woman who had a relationship and it went south."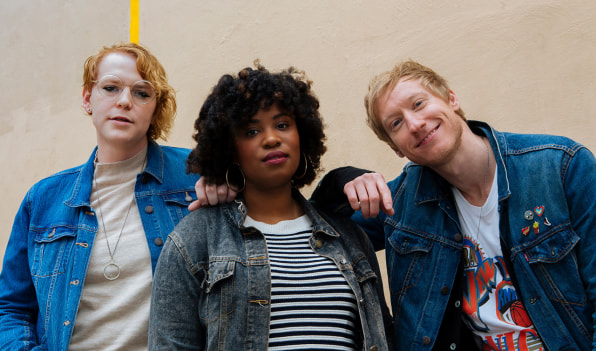 Still, for the three, this project wasn't just about baring their souls to a (hopefully medically licensed) stranger via an app, but also what happens after. Hughes describes its beginnings as feeling like a joint dare. "I had to come to terms [with the fact] that maybe the problem in my life is simply that I don't want to let anyone down because I don't want to share the truth," she says. Essentially, the fact that potentially thousands of people are reading these transcripts is part of Hughes's exploration of her own vulnerability.
Friends With Secrets talks about delicate private issues and extremely heavy material (drug abuse, self harm, mental illness, etc.), and its colloquial tone is sometimes reminiscent of diary-like personal essays of the mid-2000s. I ask them about how they approached these topics while avoiding the self-confessional blog-post trap. As Kanner points out, the fact that it's dialogic in form makes the final product something entirely different (she's right, too). "The only way to give it enough nuance was for it to be a conversation," she says. "It would be impossible if this were a one-off personal essay on xoJane." This allows for a different type of reader engagement, she adds: "You can see me process it in the exact moment, but not ask for your sympathy or empathy."
Hughes takes this idea a bit further. "My intention was not, 'Look at my pain'," she says. That sort of pain porn content engenders a kind of voyeuristic fascination with another person's (usually someone who's non-white, non-male) personal experience. They generate clicks and therefore advertising revenue. Friends With Secrets is something categorically different. (An important addendum is that the creators aren't being bankrolled by a large media conglomerate.)
Kanner, Hughes, and Goodman believe the Friends With Secrets project to be a way of destigmatizing certain topics and making people feel more comfortable with discussing mental health. "By processing and sharing these traumas, it helps me and can help you," says Goodman. "The greatest stories are the ones that kind of act as activism." He goes on to say that if a reader finds the website and considers seeking mental health help, "That's only a positive in my book."
For Hughes, she's just proud that she was able to finish the project and speak her truth. "I feel like I succeeded in the dare," she jokes.
As Kanner sees it, Friends With Secrets became one way to retain personal and psychic autonomy in an ever messed-up world. "It's 2018," she says. "This is the most radical thing I can do."