Walking down a sidewalk in many cities, you're bound to see–and possibly get mowed down by–motorized electric scooters. Bird, Lime, Skip, and Spin have all descended en masse this year, all with the same business model: cheap-to-use e-scooters that can be picked up and abandoned anywhere in town. You only pay a small amount to rent the scooter (typically $1) and then an even smaller amount per mile (typically 15¢).
While the business model of each company is similar, who will win the "scooter wars" in each city is up for debate. One thing that isn't the same from company to company: the scooters themselves. In a city with multiple companies competing for riders, you'll see everything from small toy-like scooters to sturdier models.
If you ask Superpedestrian CEO Assaf Biderman, the winner will be whoever deploys his scooters. His company just unveiled a new industrial-grade e-scooter, which he says tackles a number of the pain points for current operators. Rather than drop the scooters on the street itself, Superpedestrian plans to sell its scooters to operators that can add them to their current fleet starting next year.
"If you look at the business model of the operator, there are major issues there," says Biderman. "Basically, the vehicles that they're using are ill-equipped for sharing. The economics don't work out. It's a major problem that prevents the industry from scaling."
Biderman claims that his $500 scooters are priced on par with the models already deployed by operators, most of which are made overseas. He also says his are more durable than the competition and have a longer battery life.
They also come with AI technology out of the box that will help operators diagnose problems quickly, allowing a scooter "to sustain itself out in the wild as long as possible," Biderman says.
Those are tough claims to verify, in part because Superpedestrian's scooters won't be officially available until next year, and also because existing scooter operators have been tight-lipped about everything from how much their scooters actually cost to how they handle maintenance and service requests. (According to an Axios report, Lime's pitch deck to investors puts the cost of each scooter at $493, about the price that Biderman references as typical.)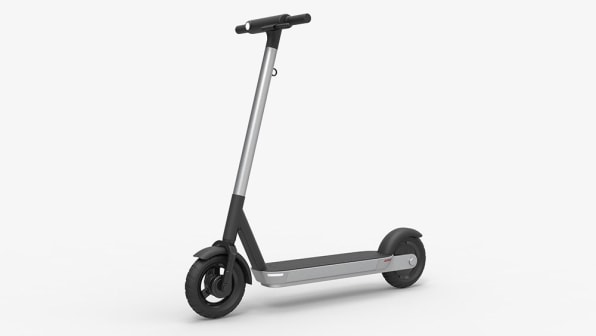 Stable is good
During a brief test drive in downtown San Francisco, I did find that a Superpedestrian scooter felt more robust than the experience I've found on smaller scooters. That toughness could make taking the scooters off the sidewalk into the bike lane a more reasonable proposition, simply because you feel a bit more stable than you might on a flimsier model.
Biderman says that his scooters should last from 9 to 18 months on the street. He claims that existing models being used by operators require replacement "every 30 to 90 days."
During the demo, Biderman–much braver than I–was able to pop the curb and run over potholes thanks to the scooter's large wheels. Neither are tricks I would personally try, but he accomplished them with ease.
When you do crash on one of Superpedestrian's scooters, the fleet operator is notified of the collision. The scooters also self-diagnose issues, and when they run into problems like an overheated battery or sensor issue that will impact their operation, the scooter can notify the fleet operator not only that it's broken, but which part is busted. Biderman claims that currently operators have to rely on users reporting issues and must even dismantle scooters to diagnose their woes.
"We identified over a hundred issues that are common as failures to hardware in fleets of micro vehicles, and we built a system that can automatically detect them in real time and apply software protection, so that the rider isn't harmed and so that the vehicle isn't harmed," Biderman says. In theory, Superpedestrian's self-diagnosis will streamline that process and get the scooter back on the road faster.
Another thing that should help to keep these scooters on the road: a large-capacity battery. Right now, many scooter operators work with individuals to keep their scooters charged, something Biderman says sucks up 50% of a company's revenue. Similar to how Uber pairs private drivers with those looking for a ride, individuals are given access to an app they can use to find scooters on the street in need of some juice and then get paid to charge them.
For Lime, those people are called "juicers." Each Lime-approved juicer can earn between $9-$12 per scooter they charge, depending on how much of a charge the device needs, making it a popular job for teenagers and others looking for a side gig, Vox reported in September.
With Superpedestrian's offering, charging might be handled a bit differently. Biderman says that its scooter's battery capacity coupled with an "efficient motor design" will allow its scooters to be on the streets for three to seven days on a single charge, compared to the daily charging he says is common with today's fleets.
Superpedestrian's scooters are also capable of adjusting on-the-fly to city regulatory changes. According to Biderman, when a city passes a new rule, such as a lower speed limit, scooter operators currently have to take their scooters out of commission in order to adjust their settings. With Superpedestrian's offering, fleet operators can do things like adjust the speed limit remotely on the entire fleet. They can also automatically make changes on a scooter when crossing city or state lines to ensure it meets local requirements, not just the requirements of the city it came from.
As for when we'll see the new scooters on the road, Biderman says that the company has already partnered with several scooter operators, but declined to name any of them or say where they're located.