As Facebook struggles with one piece of bad news after another, Instagram has been–relatively speaking–a peaceable domain within a troubled organization. The company seems to have its mind on making sure that the imagery-sharing service stays that way. It recently took steps to discourage the use of bots that aim to boost an Instagram user's profile through fake follows, likes, and comments. And now it's launching a new feature that could help keep its popular Stories feature feeling authentic rather than devolving into a form of status-seeking broadcasting.
Called "Close Friends," the new option lets you specify a group of people who are, well, close to you. From then on, you can choose to share any given Story only with those folks, potentially allowing you to be more open than you'd be if they were visible to the teeming masses.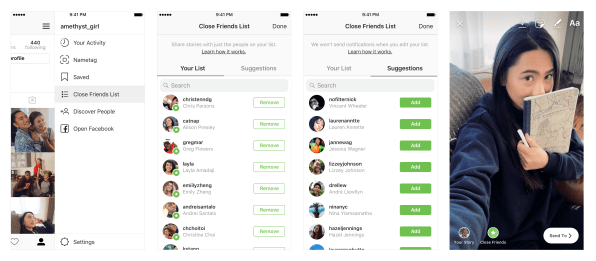 It's not a new idea–Facebook itself also lets you maintain a list of Close Friends, as well as ones for other sorts of acquaintances–but Instagram's take on the concept is a bit more public than some. While only you can see a list of the people you've deemed to be Close Friends, those folks will see a green ring around your avatar in the Stories tray, as well as a special badge when they view your Stories. Which means that if you don't see these indicators for a certain friend, that person has not deemed you worthy of Close Friendhood.