Delta Air Lines promised it would open the country's first all-biometric terminal before the end of the year, and it has delivered. Starting December 1, customers flying Delta through the Atlanta airport's Terminal F will be able to use facial recognition technology "from curb to gate" as a way to make it easier to fly through the airport.
For the biometric terminal, Delta worked with the Customs and Border Protection and the Transportation Security Administration to let travelers check in, drop bags, pass through TSA checkpoints, and board their flights–all using facial recognition systems powered by in-terminal cameras to verify their identity. The airline already lets some customers use their fingerprint as a boarding pass.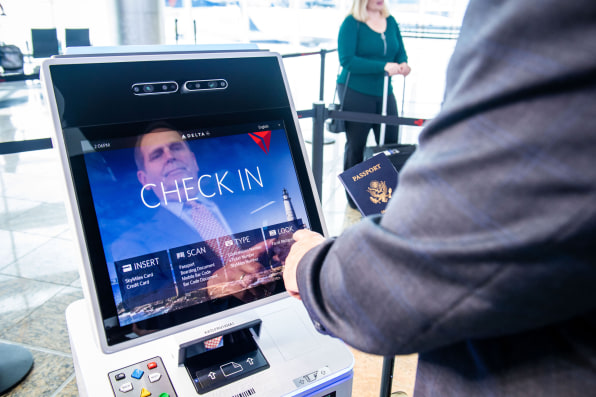 Customers will use one of Delta's automated kiosks, click "look" on the screen, and breeze through once the green checkmark flashes on the screen. International travelers have the additional step of adding passport data in advance or at the airport (and, of course, at border patrol on the other end of the trip).
"We're removing the need for a customer checking a bag to present their passport up to four times per departure–which means we're giving customers the option of moving through the airport with one less thing to worry about, while empowering our employees with more time for meaningful interactions with customers," Gil West, Delta's COO, said in a statement promoting the airline's effort.
The airline estimates that passengers could save nine minutes per flight with the new technology. While that's not a lot of time, nine minutes behind someone in a TSA line as they slowly remove their shoes or guzzle an entire bottle of cognac instead of throwing it in the bin, can feel like a lot. The option will be available to international passengers flying nonstop from Atlanta on Delta's partner airlines Aeromexico, Air France-KLM, or Virgin Atlantic, and they are already planning to expand the service to their hub in Detroit in 2019.
Of course, passengers can still check in the old-fashioned way if they prefer, but what's a little friendly government biometric monitoring if it makes getting through the airport a little easier?
Correction: An earlier version of this story misstated that Clear powered the technology at the terminal.