But this week's employee statement against Google's "Dragonfly" project to provide a censored, snooping search app to China stands out for one huge reason: The signatories–about 380 at last count–have gone public.
This involves a lot more risk to employees, activist tech workers have told me over several months of covering their efforts. "I can't talk about things that relate specifically to Google's…product decisions, in that those are things that could potentially get me fired," said Google staff developer advocate Liz Fong Jones when I asked her about the Project Maven controversy.
Yet on Tuesday, she put her name to the anti-Dragonfly letter. What's more, she and at least one other Googler pledged to quit if the company doesn't enact some key reforms. Fong-Jones's ethical focus has been on diversity and inclusion at Google, issues for which her outspokenness is legally protected (although she has faced severe online harassment).
Now she's come out as a critic on those touchy discussions about how the tech giants' products are used–forming another wave in a growing tide of dissent that hit peak visibility in the global walkout protest of at least 20,000 employees on November 1.
"It's so encouraging to see tech workers recognize their influence within their organization and recognize that they can choose to say no to things that they think are unethical," says security engineer and entrepreneur Leigh Honeywell. In December 2016, she spearheaded the Never Again pledge, in which tech workers vowed to never develop databases for the U.S. government that identify Americans by race, religion, or national origin. (Fong-Jones provided technical support to the effort.)
---
Related: How tech workers became activists
---
In that effort, their names were also public, prompting some concerns. "There was a career [damage] question," says Honeywell. "There was [also] the question of online harassment. Are red-hat, MAGA people going to start harassing you online because your name is on this petition?"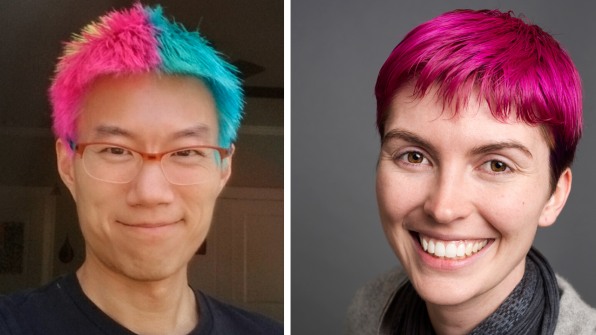 But Never Again soon found safety in numbers, she says. 2,843 engineers, designers, and other tech workers signed up in just a week, before Honeywell and the other overwhelmed organizers closed the sign-on process. (So far, about 30 names appearing on the Never Again pledge also appear on the Dragonfly letter.)
The long list of names "made it harder for the jerks to pick anyone off individually, and I think there's a parallel to be made with what the Google engineers are doing," says Honeywell. Employer retaliation also seems less likely. "It would be catastrophic for Google to go and fire 300 people," she says.
The 60-some people who initially signed Never Again and the dozen who first signed the Dragonfly letter were taking the biggest risk–charging up the hill, not knowing if others would follow. Nevertheless joining a public statement–potentially an ultimatum–against your own employer is a courageous act no matter how many names precede yours.
And at least some of them are risking the loss of their jobs–whether or not Google fires them. A readiness to resign was also a key element of Never Again. "If push comes to shove…and there's no other way to stop them…there's the commitment in the pledge to make the ultimate decision to resign rather than being complicit," said Ka-Ping Yee, a former Googler and co-organizer of Never Again.
Employees have left Google in protest before. For instance, earlier this year, about a dozen resigned over the Project Maven contract (which management subsequently chose to wind down). And they've generally found lucrative new jobs easily–since engineers are in extremely high demand. They may not be starving, but they are certainly sacrificing. Those workers pledging to leave in protest say that they could lose hundreds of thousand dollars in Google stock by quitting now.
How many people would give up so much to defend their principles?