As New York readies itself for the arrival of Jeff Bezos's personal helipad, Fast Company asked the New York-based Architecture Research Office (ARO)–the American Institute of Architects' New York State firm of the year– to imagine what Bezos's New York will look like. Their answer? A city turned into a giant fulfillment center.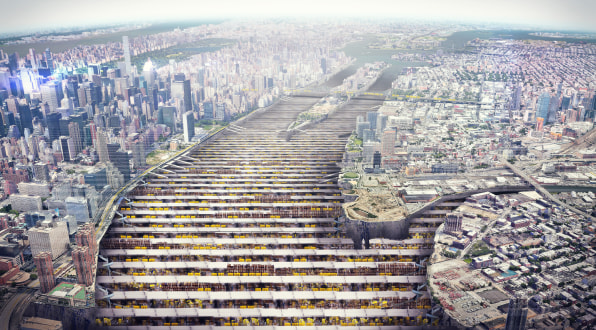 One of ARO's two concepts shows a huge white building emblazoned with the Amazon logo. The building stretches from Manhattan into Queens and then so far into the distance that it disappears over the horizon. It's a never-ending fulfillment center that the architects dub "Continuous Fulfillment." According to ARO principals Adam Yarinsky and Stephen Cassell, the idea is an homage to a 1969 concept from the Italian radical architecture firm Superstudio called "The Continuous Monument." The idea posits that technology will render the built environment uniform, turning buildings into white monoliths. In the air above Amazon's never-ending warehouse, swarms of drones hover ominously–a startling vision of Amazon's quest to develop delivery drones.
The second concept is even more dystopian: The East River between Manhattan and Queens has been drained to make way for a fulfillment center. "New York City was founded with the river as the center of commerce," Cassell says. "This is a complete logical next step for that."
While the concepts are obviously satirical, there's some unnerving truth to the world they portray, where Amazon has taken over to such an extent that the company's warehouses take up more space than housing. Amazon's choice of location for its headquarters will eliminate 1,500 affordable housing units–and the city and state have promised to provide billions in tax cuts for the privilege. Throughout the process, the state didn't consult local elected officials who focus on land use in New York. It's almost like dystopia is already here.
This story is part of Co.Design's conceptual design series Provocation. Previously I've written about a modern vision for a cubicle. Check out the rest of the series as it's published here.