The Hanukkah menorah generally conjures up an image of a golden candelabra, complete with intricate, detailed carvings reminiscent of Beauty and the Beast's Lumiere. It's undoubtedly regal and beautiful, but, for some, a little much alongside modern tableware or a Le Creuset.
In recent years, designers have reimagined the religious lamp used to celebrate Hanukkah, many of them playing with materials such as clay, marble, glass, even plastic. Some of them restructure it entirely. Designer Jonathan Adler, for example, refashioned the whole thing into a ceramic dachshund. These creators aren't looking to replace the traditional designs of Jewish heritage; rather the goal is to add to Judaism's rich history of design.
But beware: Not every design constitutes a legitimate menorah. There are rules–designs laws, if you will, that go all the way back to the Bible. A menorah must meet certain requirements to be considered viable for ritual use. Not everyone know this. (Many a retailer learned the hard way.) In fact, Jewish communities refer to legitimates menorahs as "kosher," which is a term that extends far beyond hot dogs.
The rules
The Book of Exodus goes into great detail about the blueprint, structure, and materials (nearly 100 pounds of pure hammered gold) for the seven-branched menorah used during the time of Moses and in the Holy Temple of Jerusalem. The God of the Bible is very specific: There are to be this many almond petal-style embellishments, that many decorative cups, this precise height of each branch and stem, etc.
The design rules were later ratified by the Jewish sages following the second century B.C. story of Hanukkah, in which a one-day supply of oil was said to miraculously last eight days in the menorah. In the holiday's honor, Jews now light a menorah with nine branches. That's two more branches than the ancient Hebrews' menorah.
According to rabbinic law, a modern menorah can be made of anything, as long as it includes the following: eight separate oil or candle holders (sorry, electric lights) on equal level footing and in a straight line. It's to be accompanied by a separate branch where the "helper" lighter candle sits on a higher or lower plane, but not equal to the eight. No pure gold necessary.
You'll oftentimes find styles claiming to be menorahs, but that fail to follow design law. Sometimes the lighter candle is on the exact same level as all the other candles. Others will assemble candles in a curved or nonlinear design. Those are considered illegitimate menorahs–a distinction taken quite seriously by modern rabbis.
But don't worry, there are plenty that are just as kosher as they are beautiful:
Get lit
Puebla Marble Menorah Set
The dark richness of the matte marble adds an unexpected twist to the traditional Hanukkah menorah. Better yet, this sculptural gem is hand-carved by master artisans in Puebla, Mexico, in a fair-trade environment.
$275,  The Citizenry
Clear Menorah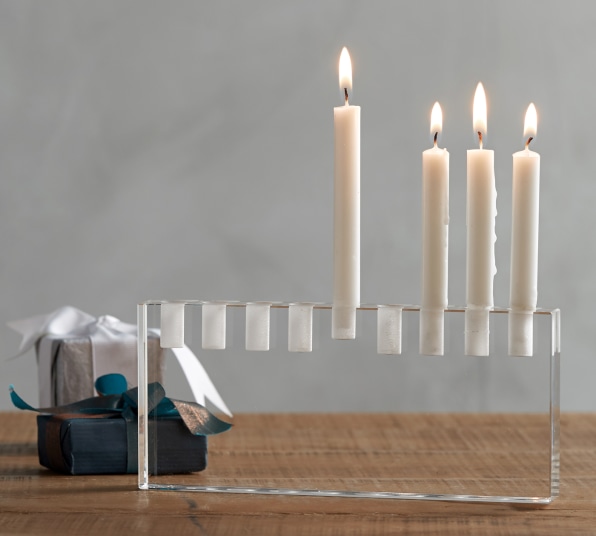 Pottery Barn's menorah is only seven inches long, but it packs a punch with its sleek crystal glass. It's unlikely this minimalist rendition will clash with any of your dinnerware or vases–and it cleans up with just a splash of Windex.
$39.50, Pottery Barn
White Glazed Ceramic Menorah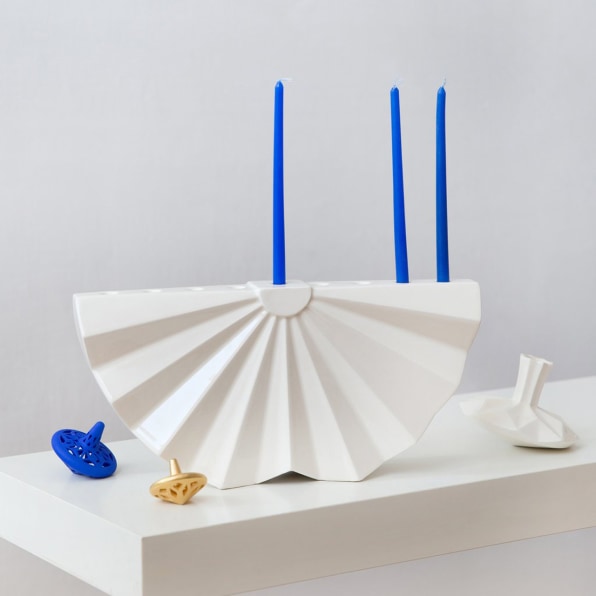 Studio Armadillo is an Israeli product design studio devoted to contemporary Judaica. To celebrate the festival of lights, female cofounders Anat Stein and Hadas Kruk were inspired by the ancient art of origami. Their delightful candelabra incorporates origami paper folds in a way that's both fresh and reminiscent of the menorah's traditional curves.
$169, Studio Armadillo

Intersecting Arts Menorah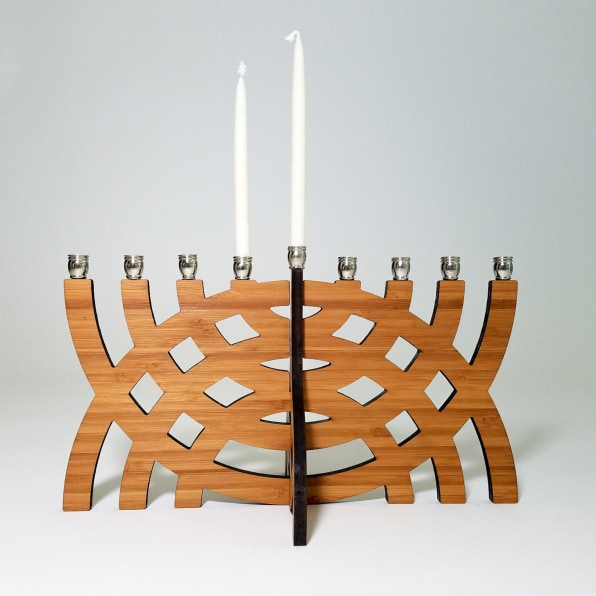 In a more playful nod, twin sisters Jessica and Monica Giovachino envision the holiday staple as a foldable DIY kit than mimics the menorah's reaching branches. Made from eco-friendly amber bamboo and finished with linseed oil, this menorah easily slots together and comes apart to store flat.
$112.50, GioGio Design
Wood Menorah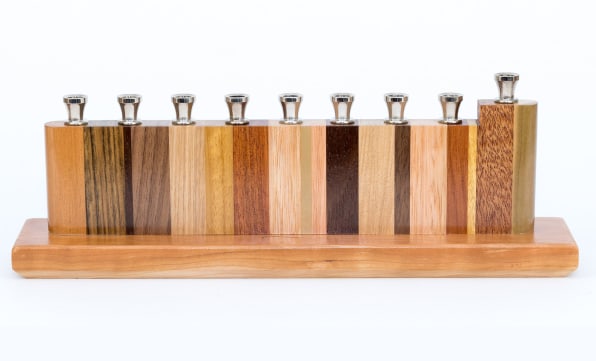 Eli Ben Moshe handcrafts objects from high-quality wood via local lumber mills in his native Atlanta. The artist is particularly inspired by wood's rich colors, texture, and grain, which he gives equal attention to in his unique Judaica. This specific menorah comes in various wood species, including African mahogany, red gum, maple, Rainbow Poplar, Bubinga, Paduak, cherry, and walnut.
$59, Judaica Arts Studio
Oak Street Menorah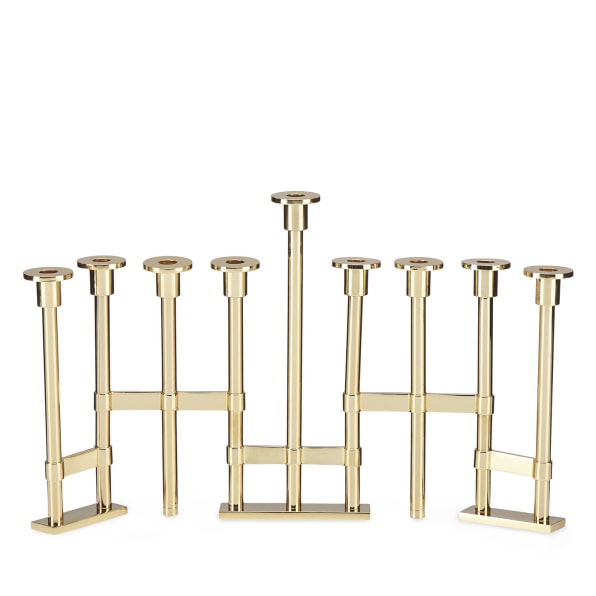 The Kate Spade brand adds an elegant and contemporary touch by way of sleek gold-plated silver. It's simple, yet adds a celebratory touch to the holiday. This might just stay on your dinner table year-round.
$200, Bloomingdales
Industrial Chic Menorah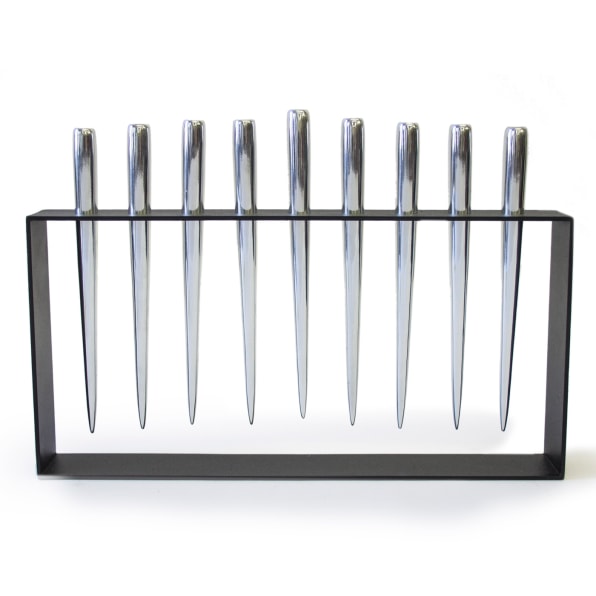 If your downtown loft needs something far less glittery and a bit more brutalist, consider this thoroughly modern style from Quest Collection. Its candle holders are suspended in the air from its rectangular base, making for a truly unique (yet kosher) menorah.
$179.55, Quest Collection
Art Nouveau Menorah
Made of laser-cut stainless steel, this menorah exudes sophistication, albeit with a gothic touch. Artist Valerie Atkisson honed her hand-cut pattern craft to create beautifully understated objects, including this impressive Washington, D.C., skyline menorah.
$328, Modern Tribe
19th-Century Morocco Menorah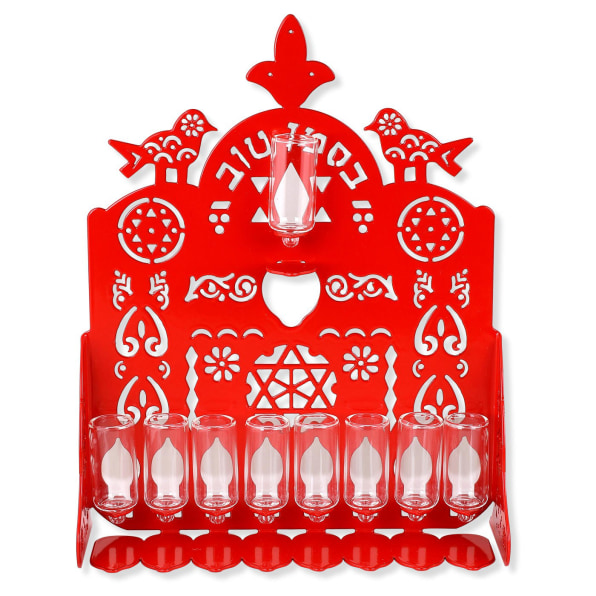 Candles are most commonly used nowadays, but back in the day, it was all about the oil. This decorative menorah is adapted from a late 19th-century antique brass design discovered in Larache, Morocco. The Israel Museum gives it a fresh makeover with a range of colors, including lavender, fuchsia, yellow, green, and orange.
$119, The Israel Museum Shop