Rebecca Sugar had a puzzle she needed to crack: Why did animated TV shows and films make her feel so alienated as a child?
All the fairytales and ponies marketed to her gender failed to spark any sense of magic or wonder. And that disconnect was something Sugar, now 31, still felt in her adulthood when she became a cartoonist and animator herself. So Sugar decided to channel those self-analytical questions into her art.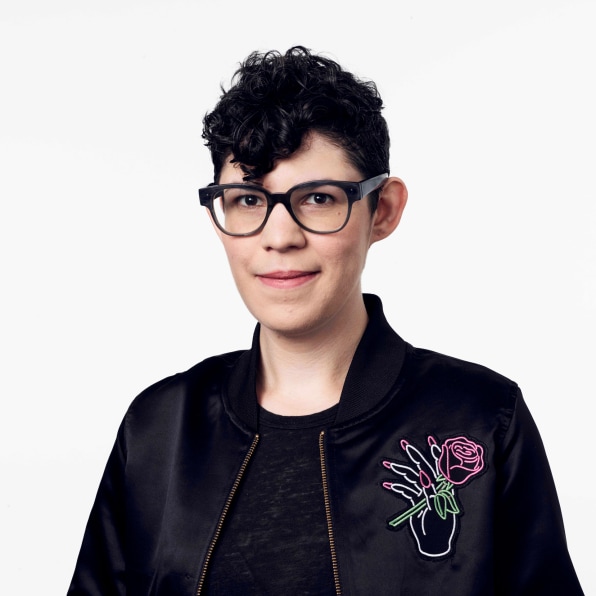 "I've always liked to start projects around something I didn't fully understand about myself yet," Sugar says in a recent interview with Fast Company. "I felt a huge amount of guilt for liking cartoons for boys. I'd never really been able to connect to cartoons that were supposed to be for girls, and I wanted to unpack that."
That process led Sugar to create Steven Universe. Since its premiere in 2013, Steven Universe has become one of Cartoon Network's most critically acclaimed series, earning three Emmy nominations. From January to September of this year, the series' five seasons have attracted nearly 230 million viewers across linear TV and all of Cartoon Network's platforms. The show has also spawned a New York Times bestselling children's book and a Billboard chart-topping soundtrack. Steven Universe's popularity has pushed Sugar to define her voice as a showrunner and songwriter–even if it means getting "dangerously personal."
Steven Universe is an emotionally nuanced action-adventure-musical animated series that follows its titular character, a Pollyannaish teen who's sworn to protect his idyllic hometown from a militant group of aliens bent on sucking Earth of its resources. Steven lives and fights alongside the Crystal Gems, a group of aliens who defected and settled on Earth eons ago after an intergalactic civil war. Steven Universe hits on classic themes for animated kids shows, including the importance of teamwork and friendship. But it also goes much deeper than that, exploring and deconstructing gender norms.
Since the Gems are aliens, they have no human gender constructs. But they're all female-presenting and use "her" and "she" pronouns, which creates several scenarios of same-sex relationships. One of the most touching story arcs involves Ruby and Sapphire, two Gems who accidentally fuse together on their native planet, Homeworld, and become a new Gem called Garnet. Until then, fusion was unheard of and deemed an abomination, which forced Ruby and Sapphire to flee to Earth. Knowing they're meant to be together, they join the growing resistance of other expat Gems who've banded together against Homeworld's oppressive regime. Their relationship culminates in a wedding in season five.
In addition to its Emmy nominations, Steven Universe has also received two GLAAD Media Award nominations, sparked a global partnership with Dove to promote inclusivity and empowerment, and helped earn Sugar recognition in Variety's 2017 Inclusion Impact Report. However, the accolades came after Sugar drew her lines in the sand with network execs who initially expressed concerns about the show's subject matter.
"It's the hill you're willing to die on. My hill was Ruby and Sapphire. I would compromise on a lot of details, but I would never compromise on love," she says. "And that kept me very focused through everything. In general, it's the nature of the job. When you care about something, you have to fight for it."
Part of the reason Sugar cared so much was the fact that she was coming to terms with her own sexuality, coming out as bisexual two years ago. When she thought about that puzzle she needed to crack–the alienated feeling she had watching cartoons as a kid–she realized while developing Steven Universe that the stories from her childhood didn't resonate because they didn't feel authentic to her.
"When you think of Disney princess movies, when you think of classic animation for girls, women weren't making them," Sugar says. "We see a lot of stories about marginalized people but not by them. And when they start to be by them, it's going to be very different. It's going to be about the experience of feeling pushed to the margins. And it's going to be about wanting to express yourself."
Sugar started figuring out how much of herself she was comfortable expressing in her work when she was a writer and storyboard artists for another wildly popular Cartoon Network show, Adventure Time, the fantasy-adventure series about a teenage boy fighting evil alongside his magical pet dog. There, through the encouragement of the show's creators, she learned how to translate parts of her personal life into a mainstream kids show, primarily through one of the breakout characters, Marceline, an edgy vampire queen with a passion for playing the bass and a very complicated relationship with her dad.
"I was writing on was the [first] Marceline episode and I really connected with her," Sugar says. "She deals with a lot of self-doubt and a lot of self-hate. The first time I saw her as a character, I thought, Nobody this cool isn't suffering. And I wanted to explore that. I started doing things that were a lot more personal within Adventure Time."
"Seeing that I could do that in this medium and that it was reaching people around the world, it was amazing," she continues. "And when I got my own show, I felt like I couldn't back down. All of the characters in Steven Universe are dangerously personal to me."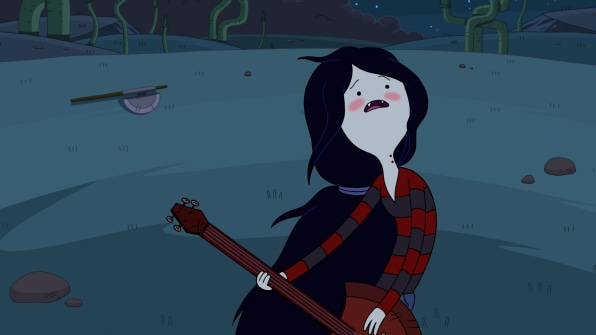 With Steven Universe, Sugar wanted to explore not only gender and identity, but also emotional sensitivity for boys. So she drew from her own childhood–specifically her relationship with her younger brother, Steven. "I really believe in having a conversation about feminism with young boys, and I don't appreciate that it's always directed solely at girls," she says. Sugar embodied aspects of herself as a big sister in the three main Crystal Gems who are Steven's mentors: Pearl (the know-it-all), Amethyst (the recklessly fun one), and Garnet (the leader and role model).
By tapping into her personal life, Sugar was able unpack her own issues and create a series that has resonated with millions of kids and adults.
"I honestly didn't know that the show would be received and understood in the way that it was. I feel very seen and it's the most wonderful and the most terrifying thing that I've ever experienced," Sugar says. "But I've realized over the course of working on the show that I have something very different to say and I don't want to be afraid of that anymore."
New episodes of Steven Universe air December 17 on Cartoon Network.