If you need an example of something that is unequivocally bad for the environment, here's a suggestion: plastic water bottles. One million are sold each minute across the world, and though they're technically recyclable, only 7% of tossed bottles become new ones. The rest end up in landfills and waterways.
Some companies are trying to mitigate this industry's harm. Evian, for example, has pledged to create all of its plastic bottles from recycled plastic by 2025. And in recent years, the apparel industry has stepped up to make an impact by integrating recycled plastic bottles into supply chains. Adidas is integrating recycled plastic into its shoes, and the clothing startup Aday has developed a jacket spun from 41 reconstituted water bottles.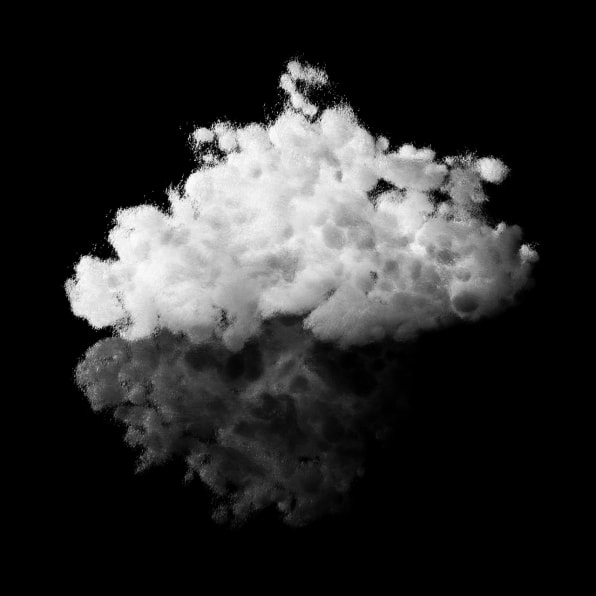 One of the sectors for which incorporating recycled plastic makes the most sense is outdoor gear. That industry began gravitating toward synthetic materials like polyester and acrylic because they were cheap to produce, and performed well in extreme conditions. But manufacturing synthetic threads is as detrimental to the environment as making plastic bottles is. They both, after all, originate as crude oils, and not only are the processes water and energy intensive, they also require the use of chemicals that contaminate the environment.
Companies like The North Face recognize that their use of synthetic materials is at odds with their sustainability goals–but also crucial for delivering their outdoorsy customers the high performance gear they expect. The ThermoBall, for instance, is one of the brand's signature jackets. It's got a quilted look as a result of its design, which features clusters of synthetic insulation designed to trap heat.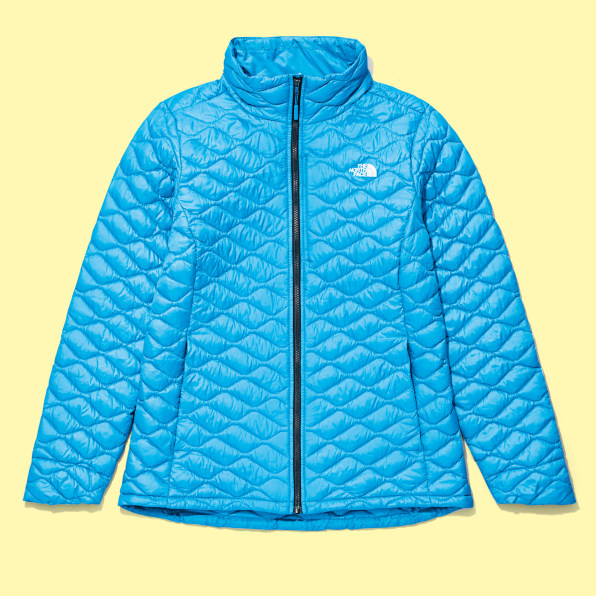 This fall, The North Face rolled out an updated version of the ThermoBall, called the ThermoBall Eco, which is made from recycled materials. The shell is made from recycled polyester, and the insulation includes at least five plastic bottles that otherwise would've ended up in landfill.
"Sustainable business practices are a part of our DNA," says Tim Bantle, general manager for The North Face's urban exploration and mountain lifestyle divisions. In 2017, the company introduced a "climate beneficial" beanie made with wool sourced from a sheep farm that sequesters carbon, and earlier this year, launched a collection of shirts and sweatshirts made from plastic collected from Yosemite, Grand Teton, and Great Smoky Mountains National Parks.
The ThermoBall, Bantle says, is one of The North Face's largest product collections, and being able to convert the whole line is a testament to how much materials innovation has evolved. "There are so many areas across our products where we could switch to more sustainable practices, but sometimes the technology or science hasn't caught up," he says. "In this case, everything lined up."
What's also happening now is that some brands, like Aday, are launching amid all of these advances and incorporating them from the get-go. The Seattle-based company Arvin Goods is still new–it launched in 2017–and from the beginning, it's been committed to creating basics like socks and underwear from recycled materials.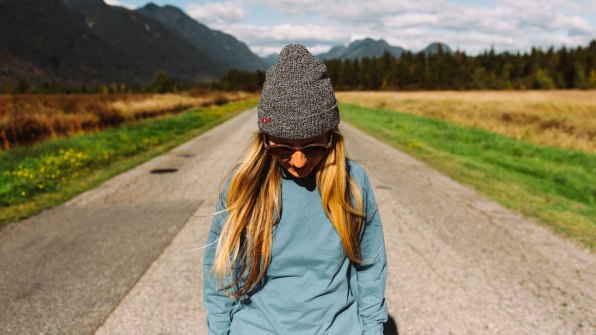 Just this week, it rolled out its latest product line: A beanie made from a material called Polylana. Developed by a global organization called The Movement, which is working to push the fashion industry in a more sustainable direction, Polylana is essentially an alternative to 100% acrylic threads. The thread is formed from a combination of proprietary pellets created to mix seamlessly with recycled polyethylene terephtalate flakes–or in regular English, ground-up plastic bottles. In contrast to 100% acrylic, Polylana threads use 76% less energy, 85% less water, and result in 76% less waste.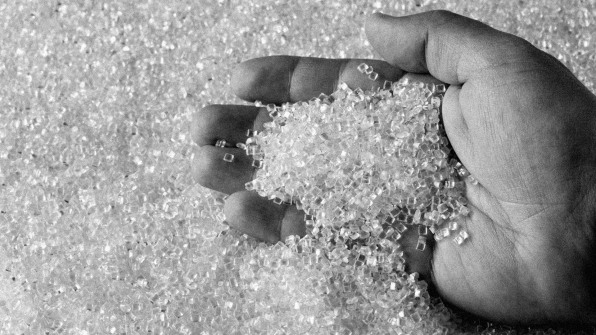 For Arvin Goods, working with Polylana threads made sense when rolling out a beanie line. Most beanies are made from 100% acrylic because it's cheaper than wool, the other commonly used material, and less scratchy. "Acrylic is nasty, chemically," says Arvin Goods cofounder Dustin Winegardner. "It uses a lot of water and energy." By sourcing yarn for its beanies from Polylana, Arvin Goods can reduce acrylic use by 60%. (Polylana still has to be mixed with 40% acrylic to retain the "loft," or slightly fluffy quality to the yarn that people expect in beanies, but ideally that could be switched out for a more sustainable material eventually.) "We say that our beanie is a reduced-impact choice," Winegardner says.
What's most promising about these developments is the partnerships that brought them about. The North Face sources its insulation from PrimaLoft, a company that also supplies Patagonia (which has been incorporating plastic bottles in gear for several years) and other outdoor apparel companies. Polylana also supplies yarn to retailers like Esprit and Dorothy Perkins, neither of which are particularly upscale or environmentally conscious brands. These partnerships show that incorporating plastic bottles into supply chains is not only the right move, from an environmental standpoint–it's also economically feasible for a variety of brands. And soon, for consumers, wearing plastic bottles may become the norm, not the exception.