Without a doubt, even from the vantage of today, 2016 will go down as one of the saddest sack years in recent history. A reality show billionaire was elected president. Prince and Bowie died. And, on a perhaps far lesser but also important plane of societal loss, Apple ditched the 3.5 mm headphone jack in the iPhone 7 for a Lightning connector.
In an industry where a CEO can't order a quinoa bowl without checking how Apple did it first, the 3.5 mm jack disappeared from mid-tier and high-end smartphones almost overnight. Google ditched it. HTC ditched it. Motorola ditched it. Huawei ditched it. Xiaomi ditched it. Sony ditched it. Nokia (they're still kinda around, yeah!) ditched it. To this day, LG and Samsung are the only two sizable companies to stand their ground and keep the technology around–but rumor has it even Samsung will abandon the 3.5 mm jack in the upcoming Galaxy Note 10, too.
Most of us assumed that we'd get used to it. Like a frog gets used to slowly boiling water. Or a kid gets used to skim milk. But no! Two years after losing the headphone jack, I'm here to remind everyone that life is still terrible without it.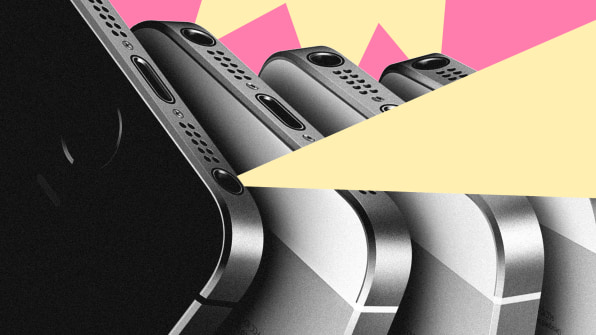 In the old days (and by that I mean anytime before October 2016), the right pair of headphones was the pair of headphones in front of you, or in your pocket, or mangled at the bottom of your bag. It didn't matter. Now, whenever I need to make a call, I find myself frantically searching for the one pair of USB-C earbuds that came with the Pixel. If I can't find them? Panic. Then I have to search for the 2-inch dongle–yes, that little appendage that plugs into your phone to give you back a headphone jack–and an old pair of headphones.
Where is that adapter? Is it plugged into my computer? Is it stuck to an old pair of headphones? Where is the socially responsible adult place to store this rubbery appendix? Has Martha Stewart made some reclaimed barnwood USB-C-to-3.5-mm-dongle-holder that I should know about? What would Marie Kondo recommend? Throw out the adapter, or just throw out my phone? (Note: Do NOT throw out the adapter. It's like $10 to replace 10¢ of wire.)
My daily 3.5 mm grind continues in the car, where I have both USB-C dongles and Lightning dongles, because iPhones and Android phones have different ports. In these moments as I search for the right adapter among dehydrated McDonald's fries and other unmentionables in the console of my car, I find myself wishing–if only there was one universal audio port they both could use . . . like . . . I don't know . . . some time-honored plug that's been around for more than a century . . . that's probably in a trillion cords worldwide . . . that would play Spotify through my mid-tier car stereo just as well as this newfangled stuff. What a world that would be!
That isn't even the worst of it. The absolute crappiest environment to lose that 3.5 mm jack is on a plane. There you are, sitting on the tarmac, delayed two hours, trying to tune out the hell-canister of recycled toilet fumes that is commercial air travel, and you see your battery is at 30%. Not bad, but not good either. You still need enough battery to call a Lyft and make your way to the hotel without getting lost.
But with a Lightning connector or USB-C, you can't listen and charge at the same time. You have to choose. Your only alternative is to pull out one of the few, glorious remaining pieces of technology in your life with a 3.5 mm headphone jack, your 15-inch Macbook Pro, and sacrifice any hope of long-term knee health just so you can silently mouth the words to Taylor Swift's "Delicate." But wait. All you've got with you is your Lightning or USB-C headphones. Do those new headphones work on your computer? Nope!
I know, I know, you're probably reading this while AutoPiloting your Tesla with your AirBuds in, sipping on 145-degree coffee from your Ember mug. "Why doesn't he just get some Bluetooth headphones?" you wonder. I won't start about how many times I've tried to use wireless headphones only to find them dead, because anything wireless is just another battery to worry about.
Look. Workarounds aren't really the point, because workarounds shouldn't have to exist in the first place. Good design isn't meant to operate this way. Technology should always bend to the user, not vice versa. And no human's life is measurably better since Apple had the "courage" to remove the 3.5 mm jack. But a lot of our lives are just a little worse.