Netflix's House of Cards was notable for being the streaming giant's first foray into original programming, but the winding political satire didn't exactly go out with a bang.
According to new data from Nielsen's SVOD Content Ratings, viewership for the show's final season declined significantly throughout its eight episodes, a sign that audiences lost interest in the series after the novelty of seeing how the writers would handle the ouster of disgraced actor Kevin Spacey played out. The first episode of House of Cards Season 6 averaged 2.9 million U.S. viewers within its first seven days of availability, Nielsen reports. By the fifth episode, that number had fallen to 1.2 million, and it continued to fall through the finale, which averaged only 901,000 viewers.
That's still a decent audience size when compared to those of Netflix's cable-TV rivals, but it's a notable drop-off from the previous season, Nielsen says.
The entire final season of House of Cards was made available for streaming on November 2. The show was overhauled after its former star was outed as an alleged sexual predator with a habit of using his power in show business for nefarious aims. Robin Wright, who played the wife of Spacey's underhanded Frank Underwood, took the lead in the final season.
Interestingly, Nielsen's data shows the demographic makeup of the final season's audience differed from the previous season in two ways: It skewed older and more female. While 18- to 34-year-olds made up 35% of the audience for Season 5, that number declined to 22% for the last season, as the percentage of people over 65 more than doubled to 21%. Conversely, only 44% of Season 5 viewers were female, while that number jumped to 54% for the last season.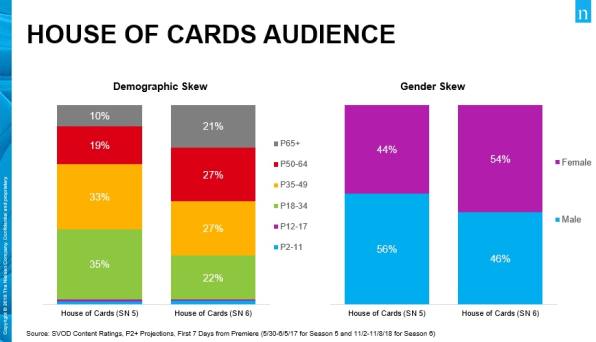 Nielsen launched its SVOD ratings offering last year in an effort to peel back the veil of secrecy around streaming-based content viewing, which is more challenging to measure than conventional television. Netflix, in particular, is notorious for keeping its own internal data close to the vest. Left to its own devices, the company would basically tell us nothing about how many people watch its shows.