A few minutes before intermission of the Cirque du Soleil's wonderful new show, Volta, the audience is treated to a nostalgic remembrance of the formative years of Waz, the main character. Called "Daydreaming," the segment reveals Waz's memories of his childhood and mother. As the adult Waz sits and gazes off into the distance watching old home movies, we see those moments displayed large and in brilliant color on the outer walls of the room in which he's sitting.
One of the magical things about Cirque du Soleil is that, for 35 years, show after show, the Montreal-based company has transfixed audiences worldwide without revealing the many layers of technology and automation going on behind the scenes as acrobats soar, jugglers wow, and clowns amuse. The idea is that the audience needn't think about it. And here, too, even as we see Waz's teen years unfold, our minds aren't on the technology enabling it.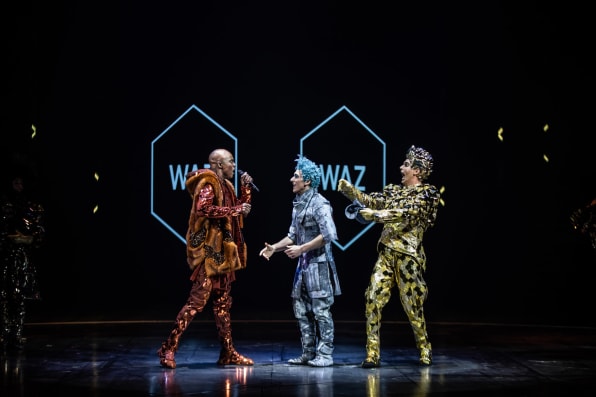 But with Volta, Cirwue has raised its own personal bar when it comes to technology–and the result is right there, front and center, for all to see.
There are currently 20 Cirque shows spread around the world. Volta, the newest, made its San Francisco premiere last week, marking 30 years that the Cirque has been coming to town. Throughout the two-hour show, scene after scene takes place in and around a large movable cube. Moments like "Daydreaming" are played out on the inside, where Waz sits amid mementos and ponders his past, while the video montage of his childhood is played out in gorgeous, high-resolution video on the outside.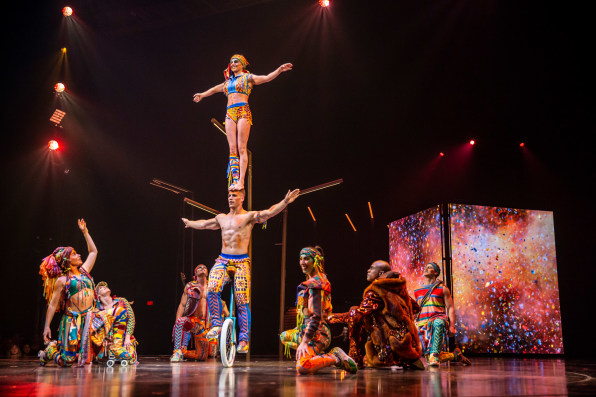 Comprised of two walls of 42 individual direct-view LED panels, the 13,000-pound cube is both Waz's refuge and an expression of his ambition to evolve from someone who loved and was great at action sports like BMX–which is represented in Volta's joyous and exuberant final scene–to more grownup pursuits, like contemporary dance.
Throughout the show, we see stunning high-quality visuals on the cube's side, sometimes no more than boisterous explosions of color, and sometimes melancholic musings on Waz's past.
The cube is reminiscent of a similar prop in Needles & Opium, a 2017 play from Robert Lepage, himself a theatrical wunderkind from Quebec. In that show, the cube is also used as a center of the story and as a canvas for lighting effects, although using projection, not LEDs.
Volta's cube is reflective of the Cirque's desire to use technological advances to further its storytelling goals. For example, with its 2016 show, Luzia, the company incorporated water in a third of the acts, making it by far the largest traveling water show in its history. And with Crystal, which began touring this year, Cirque built a show on ice for the first time. Similarly, in Volta, the idea was that LEDs would become a vital component of advancing the narrative.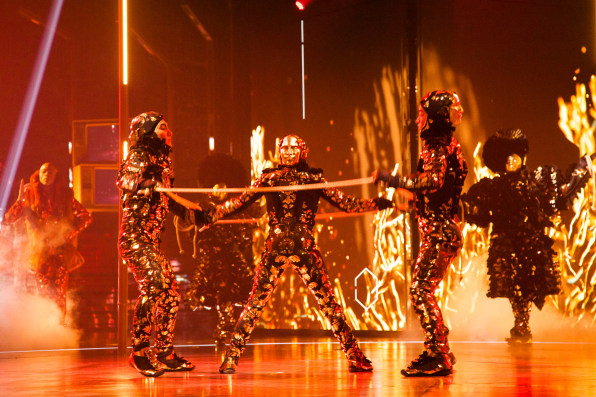 Perhaps the most impressive use of technology in Cirque's recent history is its experiment this year, along with neuroscientist Beau Lotto and his company Lab of Misfits, to see if it is possible to measure and quantify the emotion of awe. In that project, conducted in April in Las Vegas, several dozen people watched O, the Cirque's permanent water show, while hooked up to EEG equipment and answering questions about awe and wonder on iPads as the show progressed. The idea was to see if correlations could be found between people's emotions and specific moments in the show. The Cirque hoped to use the results of the study for artistic and marketing purposes.
The results, which were released earlier this month, demonstrated that "awe packs enough disruptive punch to pull show-goers into a shared experience that makes audience members feel more emotionally connected to the people around them, turning the performances into a form of spectacular 'group hug,' rather than an isolated, individually experienced entertainment moment."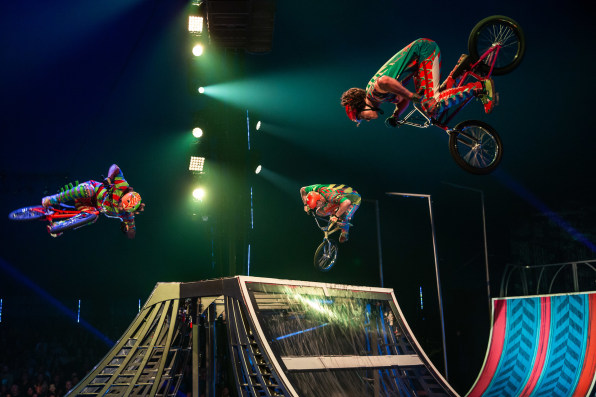 The study also found that awe leads us to feel more creative; live more fully in the moment; boosts our willingness to try new experiences; increases our tolerance for risk; and shifts our brains into a state of bliss.
But back under the big top in San Francisco where Volta is playing through February 3, none of that is on the audience's mind as more than 2,000 people watch one of the best new Cirque shows in years. Filled with acts featuring juggling, jump-rope skipping, acrobats on ladders, extravagant trampolining, and even a performer suspended from above by her hair, Volta feels both faithful to the Cirque's roots and eager to break new ground. With the show's spotlight on action sports such as BMX–featuring performers flying up ramps on bikes and bouncing off walls–Cirque is signaling it wants to move forward. It may do so one small step at a time, but there's no doubt this isn't your parents' Cirque.