Babies do not, in fact, need shoes. They don't generally walk until they are a year old. But this is just a technicality.
You don't want your mini-me to be any old run-of-the-mill infant. You want your baby to be hip, stylish, and cool—the envy of the other babies in daycare. And Koio, a sneaker startup, is here to make all your baby sartorial dreams come true with tiny leather kicks.
The brand has just released $78 sneakers that are just as beautiful and well-made as the adult shoes within the collection. In fact, they are just tiny versions of the classic Koio high-tops and low-tops, so if you really wanted, you and your baby could wear matching shoes.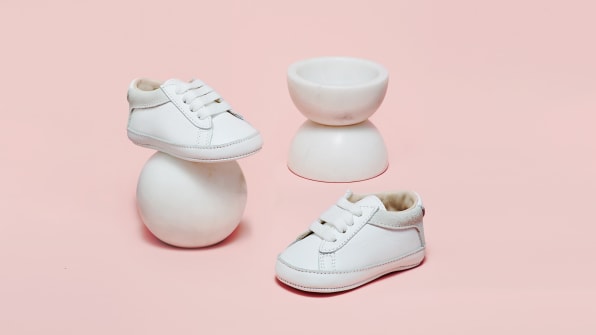 The shoes are made in a factory in Le Marche, a region of Italy known for its sneaker production. This particular manufacturer specializes in baby shoes, which need to be ergonomically designed to accommodate the shape of the child's foot, which is different than an adult's.
Selling a $78 baby shoe is not as crazy as it seems. After all, baby brand Freshly Picked created a thriving business from selling $60 leather moccasins. And for Koio, this launch makes sense. Many of the brand's initial customers are starting families, so this product will resonate with its audience.
The tiny shoes are dropping in time for the holidays, so expect to see many holiday Instagram posts of small feet wearing sneakers nicer than yours.