The search giant has released its annual Thanksgiving trends report, which this year uses Google Maps data from Thanksgiving week 2017 to show you the best time to hit the roads, no matter if it's traveling to a relative's house the day before Thanksgiving or going out to a movie on Black Friday night.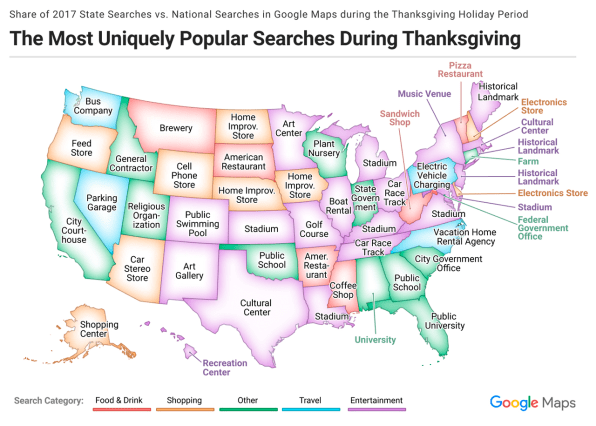 Google's Maps data found that during the Thanksgiving holiday week traffic is much worse than on a typical Wednesday night as people are on the move to relatives' houses.
Interestingly, Black Friday morning traffic is no heavier than that of a typical Friday morning commute.
As for the Sunday after Thanksgiving, evening travelers will see slightly heavier traffic than a normal Sunday.
The company also revealed its top "uniquely popular" Maps search terms for Thanksgiving day and the Wednesday and Friday before and after. These are terms that are outside of the norm during the rest of the year. The Wednesday before Thanksgiving sees "outlet mall" as the top unique Maps search term, while Thanksgiving day itself sees "tree farm" as the top unique search term in Maps. As for Black Friday, last year the top unique Maps search term was "scenic overlook." Nationally, however, "department store" is the top Maps search term during Thanksgiving week.