Earlier this month, the European Commission named Athens, Greece, its annual capital of innovation, in part because of an online platform called SynAthina, which lets citizens and groups submit city-changing ideas and connect with the officials, nonprofits, or businesses that can help make them happen.
Around the same time, Guadalajara, Mexico, earned that country's national transparency award for creatively battling corruption for an online platform called Visor Urbano, which allows business owners to submit permit requests and construction licenses through an automated processing system, and makes basic compliance information publicly accessible. And in Providence, Rhode Island, a program to measure and increase how many words young low-income kids are exposed to recently received a positive evaluation from Brown University. Those involved are now hearing over 50% more words as they develop, something that seems to be crucial for later academic success.
The commonality: All of these efforts were developed during past iterations of the Mayors Challenge, a multimillion-dollar competition run by Bloomberg Philanthropies that asks city leaders to submit bold solutions to a broader societal concern they're facing. Bloomberg then funds the top projects with the idea that if they are successful, they'll be adopted elsewhere.
Since 2013, Bloomberg Philanthropies has held four such competitions: The first was in the U.S., and helped jump-start Providence's education program. The following time, it sourced ideas from Europe, then Latin America.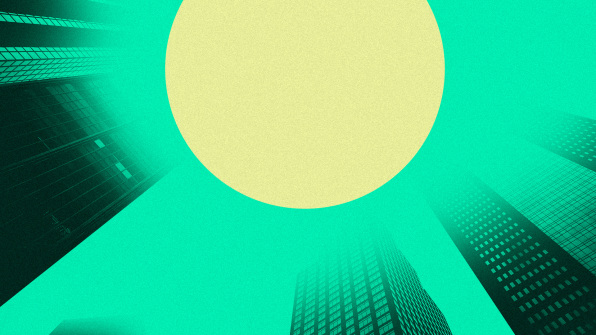 This year, Bloomberg Philanthropies again looked to U.S. mayors for ideas, and the nine winners of this challenge round were announced in October. They include metros like Denver, which launched an initiative that aims to improve air quality by mounting and monitoring pollution sensors around schools. Georgetown, Texas, is 10 times smaller but hopes to become the first energy independent community in the U.S. by encouraging people there to mount solar panels and install rechargeable storage batteries in their homes. Other winners are Los Angeles, with a novel plan to tackle affordable housing and homelessness, and Huntington, West Virginia, which will continue battling the opioid epidemic. (Find a full list of winners here.)
Given how well previous Mayors Challenge-supported ideas have fared, Bloomberg Philanthropies' investment in city-generated ideas appears to be working. "We're making some good bets and the cities are really proving out their innovations in a powerful way," says James Anderson, Bloomberg's head of government innovation.
"Cities are being asked to tackle every issue under the sun, and they need support in developing innovative new proposals," he adds. "We need better public solutions across the board. And Mike Bloomberg believes that philanthropy has a critical role to play in affording the public sector risk capital to test new ideas, to see if these ideas work, and to prove them out."
This year's Mayors Challenge was the largest ever, with 325 cities entering and a total of $17 million funding and support at stake. Unlike in previous competitions, however, Bloomberg Philanthropies got involved in coaching cities before they ever submitted their concepts. "Albert Einstein has this very famous quotation which is, you know, if I had one hour to solve a problem, I'd spend 55 minutes understanding the problem and five minutes focused on solutions," Anderson says. The funder tried to simulate that through boot camps, where the first 300 cities to sign up were able to meet with available coaches and experts about how to best define the problems they might want to tackle.
In February, Bloomberg Philanthropies narrowed the field to 35 Champion Cities, which also received a new kind of windfall: $100,000 each and technical assistance to build and test prototypes of their concepts and the assumptions behind them. These city leaders also engaged specifically with people in their communities who were directly impacted by the issues they were trying to solve, and sourced from them candid feedback on their solutions.
"I think this was some of the best money that we could have spent," Anderson says. "It showed us which teams have the capacity to take their ideas off of paper and put them into action. It gave those cities incredibly valuable data about whether their ideas would get traction, and how to improve them," he says. "And perhaps most importantly, it generated a ton of local enthusiasm: Nearly $19 million dollars were committed by businesses, other levels of government, and local funders around those 35 ideas simply as a result of having the testing phase before any of those ideas had been designated winners."
Bloomberg planned to award $5 million dollars to the best project, and four $1 million prizes to the best runner-ups. But the range of promising projects grew wide enough that it altered the stakes. Ultimately, Bloomberg awarded nine $1 million prizes to a wider range of cities instead.
As Anderson sees it, the competition now has two major themes: Mayors in places of all sizes are increasingly confident that they can dream up the next city-based solution to a national or even worldwide problem. And they're becoming ever more excited to involve their citizens early and often to get that right. "This reduces risk and increases the likelihood that when you launch your project, your product, or your new service, that it's going to hit its mark."