You've probably read a fair amount about cryptocurrency mining but have never thought about doing it. I, for one, would not know where to begin. The process is highly technical–and, for popular coins, it requires spending more on computing energy than what you actually mine. And who even has access to such heavyweight computing hardware?
A new company called Coinmine wants to make the process easier. The startup–which is backed by Coinbase Ventures along with some other well-known investors–launched its first device today: the Coinmine One. It does exactly what you think, which is mine cryptocurrencies.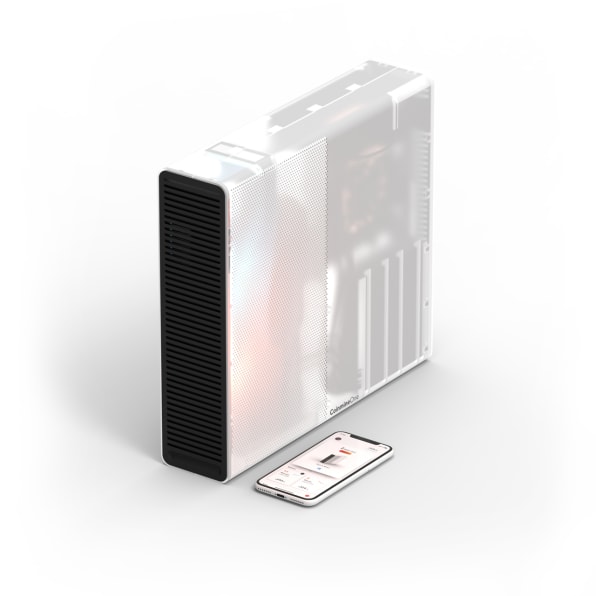 The Coinmine One looks like a slightly large external hard drive. It connects to personal computers to more easily automate the mining the process and is controlled by a mobile app. The device supposedly uses less power than a PlayStation and currently costs $799.
The general idea behind Coinmine is to make a more accessible entry point into the world of cryptocurrency. People can read about the industry in every financial publication, but few have participated in it beyond perhaps buying a few bitcoin or Ethereum.
Because bitcoin has become so ubiquitous (which is why it is literally destroying the earth), the Coinmine One isn't powerful enough to mine it. But it is able to mine other popular cryptocurrencies, including Ethereum, Ethereum Classic, Monero, and Z-Cash. Coinmine also built an operating system that made it possible for others to add new cryptocurrency networks. Essentially, this is an easier way for users to mine new ones that may come out in the future. But don't expect it to help you get rich off of any already-popular coins.
According to Fortune, the catch is that the device stores what is mined on its own servers–and then takes a 5% cut. For the die-hard cryptocurrency fanatics, that probably will not fly. But the device isn't made for them. It's more for the person who wants to dip their toe in the burgeoning cryptocurrency world for the first time, so a device doing some of the heavy lifting and taking a cut might not bother them.
Coinmine is currently taking preorders. You can learn more about it here.