In the wake of the Camp Fire in California–the deadliest in the state's history, with at least 42 people killed, more than 200 missing, and thousands of homes destroyed in the tiny town of Paradise–some residents say that they want to return and rebuild. Thousands of miles away, in a massive wind tunnel in South Carolina, researchers are testing what makes houses more likely to burn–and how towns like Paradise can prepare now to reduce the chance of another tragedy in a world where fires are increasing in frequency and intensity.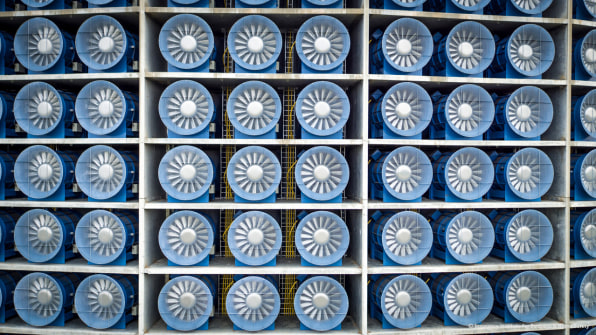 Wildfires are an inevitable part of the ecosystem in places like California, but better design can make it more likely that houses on the edge of wild areas don't burn. "Wildfires will happen," says Dan Gorham, research engineer for the Insurance Institute for Business & Home Safety, the organization that runs the South Carolina lab, which also runs tests with hurricane-force winds and hail for the insurance industry. "But what can we do to the built environment so that wildfires have less of an impact?"
In the organization's lab, machines fling embers onto a full-sized house. It's a re-creation of the way many wildfires destroy neighborhoods: The fire might still be a mile away, but an ember, carried by the wind, lands on a house and ignites it. A photo taken after the Angora Fire in 2007, a fire near Lake Tahoe that destroyed 242 homes, illustrates that pattern. The ashes of a house are surrounded by green trees that were apparently untouched by the flames.
Small details in a home's design, it turns out, matter a lot. If a roof is made of metal or clay instead of wood shingles, a flaming ember is less likely to ignite. A gutter can be designed to shed pine needles that would otherwise dry out and serve as tinder. A deck could use paving stones instead of wood. Screens can block embers from getting inside a vent. And if a house can avoid igniting, that can also protect it from spreading a fire to the rest of the block.
"If you are in a community, then this whole effort has to be a community-wide approach, and pretty much people have to be all-in in the community, because I can be the cause of your home igniting if I don't do what I need to do," says Steve Quarles, a consultant for the organization and its former chief wildfire scientist.
In rural areas, the design of a house and the land around it can also help determine whether it survives. In the rolling hills of Sonoma County, one recently built house made it through the devastating fires of 2017. In that case, the fire nearly reached the house, but the architects credit stone walkways that buffered the home from the burning native grasses surrounding it.
The house isn't fireproof, the architects say, and that might not be possible or desirable. "You don't want to design a concrete bunker," says Robert Edmonds, partner at Edmonds + Lee Architects, who designed the house. "Nobody really wants that. And in fact, the reason why people want homes in nature is to be in nature, and not to remind them that they're in some kind of indestructible fortress."
Field Architecture takes a similar approach. The firm's designs "provide for increased resilience, but at the same time, still provide a connection for the inhabitants with the natural environment around them," says architect Jess Field. The designers work to create homes that are part of the natural cycle of the land, but look for every opportunity to thwart potential ignition from embers. They're also careful with the placement of a house; siting a home next to irrigated fields, for example, can also help stop a wildfire before it reaches the building.
Other houses are a little more fortress-like. In Australia, a house designed for a firefighter in a eucalyptus forest (eucalyptus is exceptionally flammable)–and made to last through an extreme bushfire–has metal and concrete walls and metal screens that can roll down over sliding glass doors to protect the glass from heat in a fire. The walls are lined with fireproof fabric similar to firefighting gear.
A prefab house called the Gigahouse, designed by the Las Vegas-based manufacturer GigaCrete, uses a steel frame and super-insulated, fire-resistant walls. "A typical home has about 93% combustible materials, where we have about 7%," says GigaCrete CEO Michael Johnson. A small house can be erected, LEGO-like, in a day. It's also affordable, at around $100 to $125 per square foot, depending on the cost of local labor.
The design of a neighborhood also makes a difference. In less populated areas, that might mean placing houses far enough apart that one burning house can't ignite the neighbors. In new developments, it might mean placing a green soccer field between a set of homes and dry native fields, so fire is less likely to reach the houses. (Irrigated fields, however, can raise other problems in a state that struggles with drought.)
Many factors influence how much of a disaster a fire becomes. Since fires are sometimes sparked by power lines, taking the expensive step of burying power lines underground would help. And suppressing natural wildfires has filled forests with more dead wood, making fires worse when they do happen.
Location also matters: Just as some flood zones may be increasingly unsuitable for rebuilding, some areas particularly prone to wildfires might also not be the best places to build new houses. "We're building ourselves into more disasters," says Susan Millerick, public affairs director for the Insurance Institute for Business & Home Safety.
But many communities already exist in at-risk places–and as climate change leads to more drought and heat waves, it's also increasing the risk of fires in areas that have been very populated for decades. No one expected Santa Rosa to burn in 2017, or the southern California city of Ventura. Fires are also becoming more destructive; the Tubbs Fire, which destroyed more than 5,600 properties and killed 22 people, was the worst in California's history until the Camp Fire in Paradise, which destroyed more than 6,400 homes. More than 200 people are still missing.
In some cases, that destruction may be unavoidable. But changing design can help, and it's something that fire-prone communities should consider. "Because of climate change, we're probably going to be experiencing, unfortunately, more and more of these types of things," says Edmonds. "I think it's the type of thing that the architects and the public at large will be talking about and looking at more and more."