Remember the caravan? You know, that horde of drug dealers, sex traffickers, MS-13 gang members, and possible ISIS terrorists that was speeding across the plains of Mexico and about to invade the U.S.?
It was all the rage on Fox News and conservative radio for weeks–until the midterm elections on Tuesday. On Monday, the term "caravan" was mentioned 86 times on Fox News and Fox Business Network shows, according to transcripts on Nexis. By election day, that number had dropped in half to 42. And yesterday, it was only mentioned 23 times on both networks–even less, if you don't count the four clips of CNN reporter Jim Acosta's question about the caravan for President Trump during their heated exchange at his press conference.
In addition, Trump seems to have lost interest in the caravan, only mentioning it once at yesterday's 81-minute-long press conference. But on Sunday and Monday, he mentioned it 24 times in campaign rallies. Not to mention the innumerable times he cited the caravan in tweets and speeches and interviews over the last few weeks.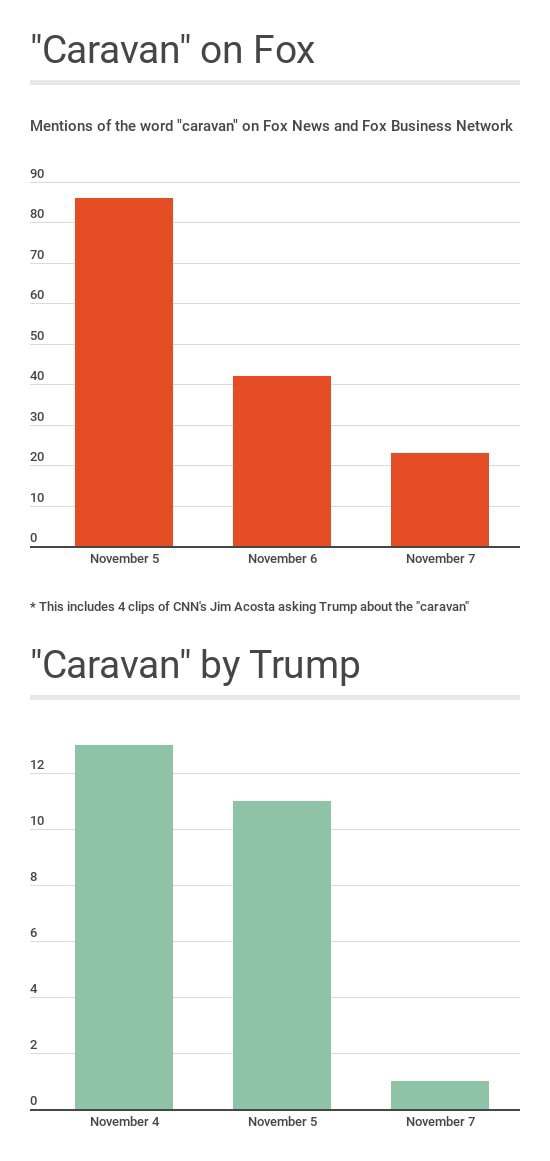 The disparity was noted this morning by the team on MSNBC's Morning Joe, who pointed out that over the last few weeks, Fox News has sent reporters down to the border and to Central America for constant coverage of migrants in the caravan, spreading conspiracy theories about the danger posed by the group of desperate refugees fleeing their violence-torn homelands. Fox News anchor Martha MacCallum even interviewed DHS Secretary Kirstjen Nielsen at the border, in a dramatic interview to discuss her fears about the coming migrants.
MSNBC's Joe Scarborough joked this morning about the sudden lack of interest in the subject on Fox News on the day after the election: "Were they at the border?" And cohost Mika Brzezinski sarcastically exclaimed, "But they thought it was such a big story!" To which Scarborough responded: "Did Hannity talk about smallpox coming to the country? This was an invasion that was going to threaten our way of life!"
Obviously, the obsessive coverage seems like it was designed to reinforce President Trump's fearmongering about the caravan to scare voters into voting for Republicans in the hotly contested midterm elections. Needless to say, previous caravans in March and April of this year and in 2017 received far less coverage on Fox News and Fox Business Network.