You know the old adage: It's not what you say, but how you say it? Well, that goes for handwriting, too, especially when you're writing something to your boss—and doubly so when your boss happens to be the president of the United States.
Today's case study in curious calligraphy comes from Attorney General Jeff Sessions, who handed in his resignation letter "at the president's request," less than 24 hours after polls closed in the midterm elections. Careful observers in one of our Slack channels noticed that Sessions's letter appeared to be signed with a Sharpie, making his signature look like an extra-chunky load of passive-aggressiveness on paper.
NEW: Sessions' full resignation letter pic.twitter.com/q56vvZT5PS

— Betsy Woodruff (@woodruffbets) November 7, 2018
Interestingly enough, Sharpie does not appear to be Sessions's typical writing utensil of choice. A simple Google search reveals plenty of examples of his signature in regular pen, including here, here, and here.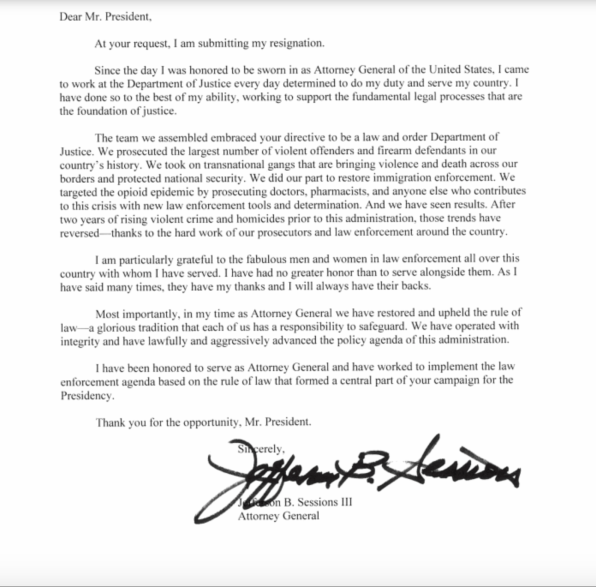 Not for nothing, but resigning at the request of your boss is basically the same as getting fired, and so Sessions probably signed this letter under some degree of duress, and most certainly with a tinge of acrimony. It's also worth noting that Trump's love of Sharpies is the stuff of legend in graphology circles.
What to make of this John Hancock-themed drama? We'll let you decide.