On the night of the midterm elections, I found myself a in dark lobby at NBC Studios in midtown Manhattan, scrolling through Twitter and waiting for a network spokesperson to retrieve me as a man vacuumed yellow leaves off the black carpet.
By then, Beyonce had donned a black-and-white baseball hat emblazoned with the name "Beto." At around 7:30 p.m., the American Civil Liberties Union tweeted that it was asking for a U.S. Department of Justice investigation into a crowd-control exercise near a Latino district in Texas, while many more people were tweeting about broken voting machines and unyielding queues outside poll stations as closing time loomed.
Voter suppression was the topic on everyone's lips.
But attitudes upstairs, at MSNBC's studios, were more cautious. Much of the focus was on Steve Kornacki as he tapped around his "big board," a large interactive map of the U.S. where he factored together stats on various candidates, past races, census data, and rolling election results. This year the big board got a big update. It can now look at individual voter districts, and it has a new feature called, "What If." The latter is a magical algorithm that allows Kornacki to project possible outcomes based on single seat changes. Rather than making one big prediction about which way the election will go, Kornacki can give lots of little possibilities. These tools are meant to give nuance to local races, thereby painting a more refined portrait of the overall political landscape.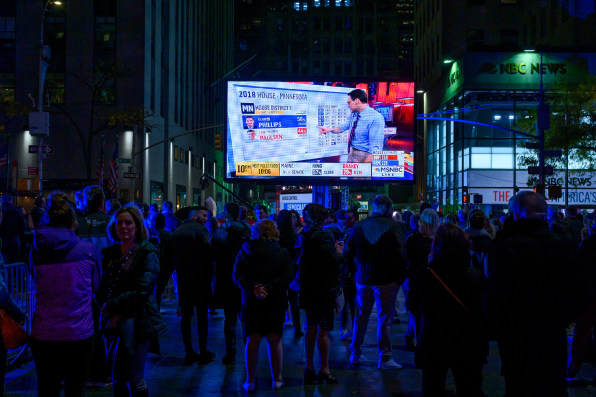 This level of granularity also means anchors can stick to more conservative observations and pull back on the kinds of poll-reliant close calls that led pundits to make the wrong call in 2016. Notably, during this year's election, Fox News was the first network to announce that the House would go to the Democrats, while NBC and others waited for more definitive final results.
This investment into sure answers it isn't just going into technology. NBC sent out 30 reporters to jaunt around small towns, mingle with the electorate, and peak into the particulars of district races, an unusual choice for a midterm race.
"We felt very strongly that we needed to cover this race from the ground and not layer in national analysis onto it," said Janelle Rodriguez, senior VP of NBC News Editorial, sitting at a petite conference table in her office as a grid of screens silently flashed pie charts and bar graphs featuring exit-poll data from the top news networks. It was important, she said, to get the details. "Polls in midterms don't give you as much visibility as they do in the national races because you're talking district by district and small polling samples," she said.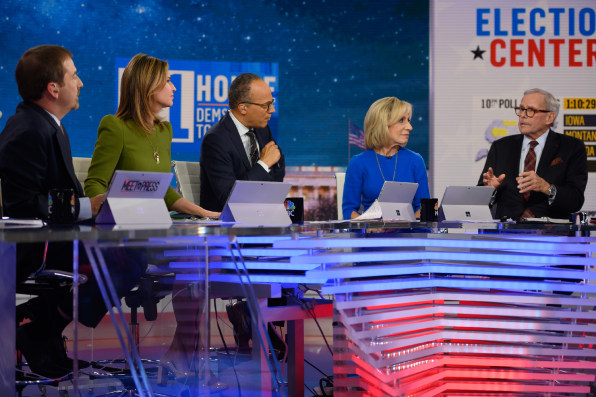 Reporters on the ground can look into long lines at the polls, faulty voter machines, and myriad election day hiccups. That includes the circus surrounding Georgia gubernatorial candidate Brian Kemp, who was also Georgia's secretary of state and presided over the state's elections. (He's since stepped down.) Kemp has been accused of suppressing votes, and is the subject of an injunction from a group called Project Democracy, which seeks to prevent him from further overseeing the election process. Kemp not withstanding, in most cases, Rodriguez said, the reasons for many elections issues were benign, or at least not unexpected. "Some of the line things—you have record turnouts," she shrugged.
On the contrary, Rodriguez contends that the country faces far more menacing adversaries. "Our biggest threat to the democracy is disinformation," she said, leaning back in her chair.
As an example, she cites a viral Twitter story about a particular polling location in Atlanta, which people complained was abruptly relocated without notice. "Well, when we tracked it down, they had actually announced that they were moving it, because that polling place, the physical location was going under renovations," Rodriguez said. "They announced it a year ago."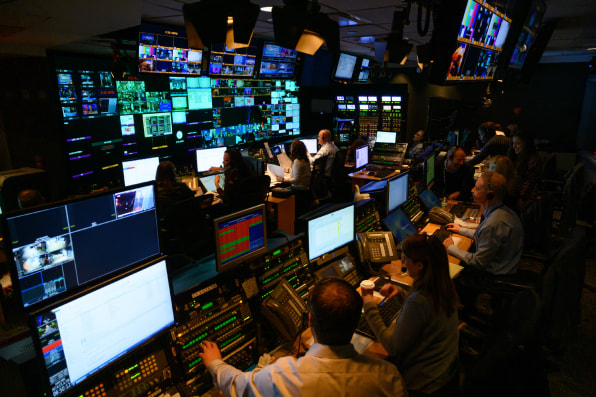 "They sent repeated mailers to people," she added. "But that particular person showed up and thought this was a nefarious action. They put it out on Twitter, on Facebook. And their friends put it out, and their friends put it out, and their friends put it out. And that lives in some people's minds," she pauses. "You think they went to NBCNews.com to see that we spent hours looking it up [to debunk it]?"
The battle against fake news is, of course, not NBC's to fight alone. Misinformation permeates all social platforms, the digital and the real, whether it's planted by foreign governments or not. The new environment has news organizations like NBC News attempting to stamp out every conspiracy theory. What that's meant during the election cycle is using streams, special websites, Facebook pages, and, yes, big-go-go-gadget boards to attract and keep viewers' attention.
As a strategy for attention capture, it seems to be working. NBC had the biggest audience of the broadcast networks on election night and, combined with MSNBC together, drew 10.4 million viewers.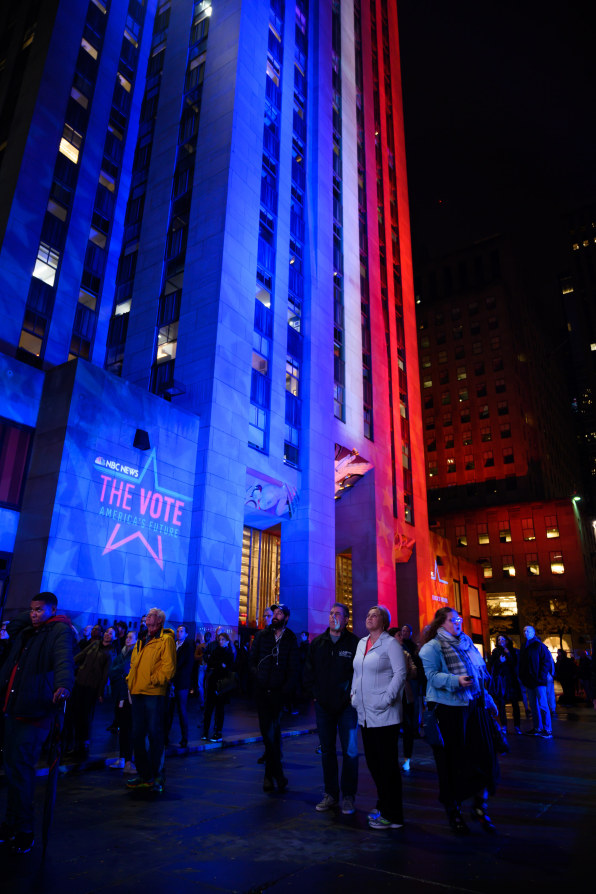 But of course, it can't catch all the conspiracy theories, in part because you can't track what you can't see. Misinformation isn't only traded on public forums; it scrabbles through tunnels in private chats, invite-only boards, and word of mouth. Information channels in 2018 are simply too numerous, and the reception is fuzzy across them all. At a time when the president of the United States tells the people that they cannot trust the U.S. news media, it is hard to ignore that quiet voice nagging at one's consciousness: Who is telling the truth?
At one point in NBC's control room, I watched as Tom Brokaw mildly opined that a steadily upticking economy was the reason that the Blue Wave wasn't reaching its full crest. On my phone, however, people had their own explanations for what was going on. For instance, one person was tweeting about the amount of money two super PACs had spent on Facebook ads in relation to two defeated propositions on California's ballot—one that would have capped profits on dialysis treatments, and another that would give the government leeway to enact rent control. Another person bemoaned gerrymandering in Georgia. Suffice it to say, it was a long night.
When I returned home that evening, my husband was muddled in a different deception, unrelated to the election. He was fuming about a band called Greta Van Fleet. He turned on his speakers, and a high-pitched acid whine spilled out of them. The guitar riffs were reminiscent of certain '60s rock bands. "If you didn't know any better, you would think this is a Led Zeppelin deep cut," he huffed. He had read that not only was Greta Van Fleet a sonic clone, it was algorithmically designed to be recommended to Led Zeppelin fans just by sounding similar enough to the band in question. My husband, irate, shook his head. "This is fake news."