Shortly after Donald Trump's election, women led the charge to protect values that seemed threatened by donating to nonprofits. Turns out, it wasn't alongside men but generally in spite of them.
During the week after the election, the top earning cause groups that received funds through nonprofit evaluator Charity Navigator recieved an average of $3,900 more per day from women than men, according to a new report from the Women's Philanthropy Institute at Indiana University. For women giving to specifically progressive groups, the uptick in donations rose sharply from about $1,700 overall in the week before the election to more than $16,000 contributed during the week after.
The top earning individual nonprofits for progressive causes received about $190 more from women than men in the week before the election; that difference jumped 600%–to roughly $1,100 more in the week after. The surge kicked off an era of so-called "rage philanthropy" that has included outsized gifts and marches to protect values that appeared threatened by the new administration.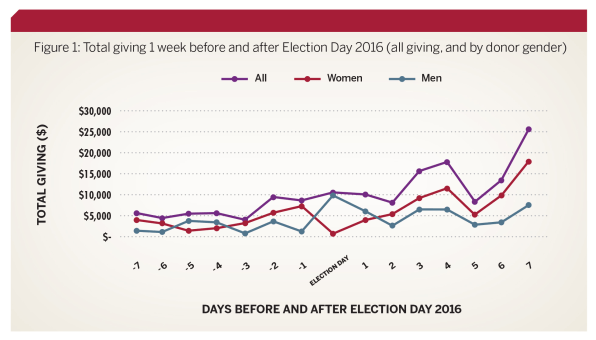 The same thing might happen again this week, if the Democrats don't fufill predictions that they make major gains in the midterm elections. "We might see a surge in [female-led] donations after this election as well," says Debra Mesch, the executive director at WPI. "I can't predict that, but even though it's not a presidential election, the political climate hasn't changed in many ways. It may have even gotten more polarized."
Trying times, says Mesch, may lead women to act more generously because they think about charity differently than men. "Women are much more likely to be motivated by empathy and altruism—helping others—and men tend to focus more on the benefits that they receive from that giving," she says.
Of course, WPI's analysis is limited: It only tracked donations made through Charity Navigator's online portal. Researchers measured 131 groups, a composite of the 100 groups with either the highest gift totals or transaction volume during that time. Because it focused on just daily and weekly giving totals, and not the total number of givers, the report can't shed light on just how many individual women participated.
Among progressive groups, much of the money that WPI tracked went to organizations trying to protect immigration, preserve women's health rights, and battle climate change. Those nonprofits that received funds included issue-oriented groups like Planned Parenthood, the ACLU, the National Immigration Law Center, and Southern Poverty Law Center.
Post-election, the weekly giving total was actually lower than during the same time period in 2015 or 2017. That's because men became comparatively non-engaged, even as women donated more. In terms of gender and generosity, Mesch says that they've found that men's charitable calculus often includes whether there is increased prestige or status around some donation, a big enough tax break, or some gain that helps everyone (including themselves), like backing a program that might eventually led to lower taxes on the related issue. "So how can it personally benefit me?" she says.
Women, she says, operate differently, traditionally supporting nonprofits that align with both their political and philosophical values, which may be informed by often being a mother or family caretaker. They also have fewer trust issues. "[W]omen are more confident in the ability of charitable organizations to solve problems," she says.
The real question may be whether conservative women still feel as passionate about their own camp's agenda if their leaders are ultimately displaced. "If the shoe were on the other foot and you saw a lot of progressive candidates winning, you might see a push or a greater increase in giving to more conservative causes," she adds. Given the right combination of values, upset, and motivation: "I have no reason to believe that it wouldn't work the other way around."