The domestic robot of the future was supposed to look like Rosie from The Jetsons. It was supposed to wear an apron and quip while scrambling us up some space eggs. But chances are, they will be much more mundane.
Case in point, the Cambridge-based company Ori wants to ship you a shape-shifting walk-in closet, powered by robotics. The cost? A few thousand dollars.
Dubbed the Ori Pocket Closet, it's a product more than half a decade in the making. Its origins began back in 2014, as a research project from MIT called CityHome. It was a robotic apartment in a box, a Rubik's cube full of hidden compartments in your living room, that promised to transform 200 square feet into triple the usable footprint.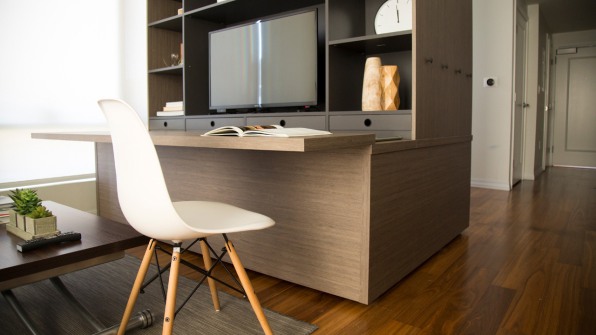 The research was a response to the fact that homes are shrinking worldwide. U.S. apartment floorplans have shrunk by nearly 10% over the last 10 years, and across the globe 66% of the population is projected to live in cities by 2050–cites that will be face unprecedented urban density. By 2017, lead researcher Hasier Larrea founded the company Ori to commercialize the technology for select developers–and tapped Yves Behar's Fuseproject to design the product. It was basically a motorized room divider that could mount a TV, store clothing, and roll out your bed. The oversized armoire could certainly stretch a room, but it was only sold to the commercial market, like condo developers.
Now, Ori is tripling its product portfolio and selling directly to consumers, too.
The first product on the list is the newly named Ori Studio Suite. It's really just a minor revamp of the Fuseproject-designed Ori system. This will continue to be a B2B product.
The second product is the Ori Pocket Closet. It's on sale starting today. It will ship flat-packed to your door for you or Ori to install within four weeks–or just time time for Christmas. The Pocket Closet is one or two shelving walls (priced at $2,640 and $3,450, respectively) that can expand to create a walk-in closet when you want it, and contract to close the closet when you don't. The shelves run on a motorized track–that's the robot part–that you can activate with the touch of a button, voice controls, or an app. Your clothes hang on a recessed bar that is not smooshed by all the opening and closing.
Why a walk-in closet? "What happened, in part of that process [of founding Ori] we started learning a lot. One of the things we learned was walk-in closets are one of the most wanted features in apartments nowadays," says Larrea. "High-speed internet is number one, walk-in closets are two. That's real data from multiple apartment studies."
In terms of footprint, Larrea says that the Pocket Closet generates 30 square feet by opening and closing itself–it's simple math, the six-foot-wide unit can open up five feet wide. (And given that real estate in many U.S. cities runs $1,000 per square foot these days, that savings translates to $30,000 in your home.) The closet also fits a 50-inch TV and hides a fold-out desk. In this sense, it's a multi-functional, space-conscious piece of furniture that's also capable of moving on demand.
The third product, which will go on sale to consumers in 2019 for an undisclosed price, is Ori's most ambitious project to date. It's a bed system that drops from the ceiling appropriately called the Cloud Bed. Designed by MIT professor Kent Larson (not Fuseproject), the queen- or king-sized bed lowers onto an accompanying couch and coffee table that serves as its platform. The arms of the couch become side tables, and the back of the couch becomes a headboard.
Aside from the newly announced products, Ori is also sharing a video that gives a peek as to where the company is headed next. It's an enchanting vision for the future of city living, with walls and ceilings that seem to bend to the user's will at any given moment. But exactly how feasible it is for one company to build all of these components–and convince the world's architects to design around them–is yet to be seen.
Which is why it's probably good that Ori is wooing real consumers at last, by creating its first products that can be sold to anyone in a tight apartment. Because, yeah, it really would be nice to have that walk-in closet.