What a strange election this has been. Earlier tonight, Fox News made the call that the Democrats will take control of the House of Representatives, a hugely consequential development that means new checks and balances on President Trump's power. But among plenty of Twitter users, there was a strange reaction to this momentous report from the most-watched cable news network in the country: Many people didn't believe it.
Worse than that, many tweeted that they thought the call was an effort by Fox News to purposely de-motivate voters on the West Coast and throw a wrench into the Dems' winning streak. "I have NO DOUBT that Fox News calling the House for Democrats is a ploy to get California Democrats to stay home," wrote musician Mikel Jollett in a since deleted tweet.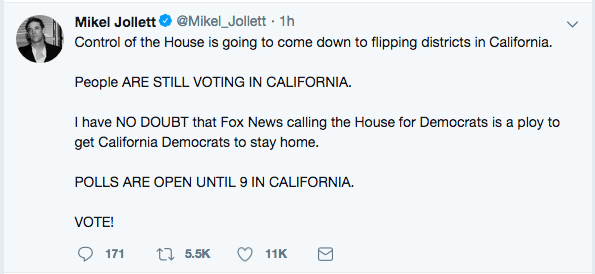 Now it turns out Fox News was right. Other networks, including NBC and CNN, have since projected that the House has indeed flipped, but the level of initial skepticism toward the Fox News report speaks to our partisan media split in the age of Trump, where information sources are irreconcilably divided along party lines.
Fox News's prime-time hosts—specifically Sean Hannity—have indeed become far too cozy with the president, so much so that the network had to come out and condemn Hannity's participation in a Trump rally yesterday. At the same time, the network's news division has always prided itself on staying independent of its bombastic opinion-makers. You may recall that moment in 2012 when Fox's decision desk correctly called the election for Barack Obama over protests by pundit Karl Rove.
What's different now is Trump, who relishes in calling mainstream media the "enemy of the people" while benefiting immensely from the most mainstream media of all: Fox News, whose biggest personalities are the president's loudest cheerleaders. In retrospect, maybe a little skepticism isn't a bad thing.