When Apple released the iPhone X in 2017, it positioned the phone's characteristic "notch," the sensors that impinge on its display, as part of the company's design identity. "You don't see at it as anything unusual or different, any more than the bite of the Apple [logo] looks wrong to be bitten out of the apple," Apple's senior vice president of Worldwide Marketing, Phil Schiller, told Mashable at the time.
Jony Ive described the phone as the product of a decade-long goal of creating an "iPhone that is all-display," implying that the prominent notch was unavoidable. The Google Pixel 3's own notched design and a slew of other notched Android phones seem to confirm that the design detail was here to stay across the industry.
Yet over the past year, phone makers in China and Korea have pushed the boundaries of smartphone design in an effort to attain truly edge-to-edge displays. Some of these notch-free designs are radical experiments, and others borrow from the not-so-distant past of flip phones. They suggest that the future of smartphone design is still very much in flux. Here's a primer.
Springs, magnets, and motors
Many of these new phones get around the notch by simply hiding the cameras and sensors in unusual ways.
The Chinese phone manufacturer Vivo, for example, released a phone called the Nex S with an impressive 91.24% screen-to-body ratio (for comparison, the iPhone X's ratio is 82.9%). It did so through a simple trick: The selfie camera is contained into a module that pops up from the phone. Meanwhile, an under-the-display fingerprint recognition system works across the bottom half of the screen:
Meanwhile Oppo, the country's top smartphone seller, debuted a phone called the Find X. Its designers achieved a 93.8% screen-to-body ratio by even more radical means: hiding the front-facing camera in a motorized mechanism that pops up from the top of the phone at the touch of a button.
A new phone recently announced by Xiaomi, the Mi Mix 3, has a similar design solution–except in this case, it takes inspiration from Nokia's old sliding phones. Thanks to embedded neodymium magnets, you can slide the hidden camera up to take a photo, to a satisfying "click" that hearkens back to an analog era. It starts at $475 in China.
Yet another slide-open phone, the Honor Magic 2 opts for an internal scissor-like spring-loaded device.
Finally, the Chinese company Nubia, a ZTE subsidiary, takes an entirely different route with a new phone called the Nubia X. The phone nixes the front-facing camera completely, opting instead to add a second OLED screen on the back of the phone. When you want to take a selfie, the phone's rear display will light up to take your photo with its dual-sensor high-definition camera.
This particular design move comes with unrelated bonuses–for example, you can set up a low-power face on the secondary display to show you a watch, your notifications, or other custom content when your phone is laying face-down.
What's more, eliminating the front cameras and adding a secondary OLED display actually simplifies the phone, which is lighter than the iPhone XS Max (181 grams vs. 208 grams) and has a bigger battery (3800mAh versus 3174mAh). Its cost? Just $473 in China.
A simpler solution
Will all future smartphones be outfitted with springs and motors? It seems unlikely. After all, these solutions aren't perfect. Ideally, there wouldn't be any moving pieces, which tend to become breaking points.
Samsung may ultimately be the first manufacturer to solve the notch once and for all. According to rumors, the company's forthcoming Galaxy S10 will utilize a new type of screen that uses a something called Sensor Integrated Technology. Samsung's display division showed it to twenty corporate customers last month in Shenzhen, China. According to a photo from the presentation, Samsung's display division managed to create an OLED display panel that has cameras underneath it.
We don't yet know how the technology works, but the display seems to allow cameras and sensors–like an ultra-sonic sensor that can make 3D maps of your fingerprints–to function from below the display. Meanwhile, a sound-on-display technology will produce sound without the need for a speaker grill.
Is the future foldable?
If Samsung delivers on these big promises, its notch-less phone will arrive in 2019–but the company may show off another promising display technology that could transform smartphone design even sooner.
Thanks to foldable OLED panels and hinge mechanism, a new generation of flip phones that unfold into mini-tablets are on the horizon. Next year, we may see as many as five new foldable phones from different manufacturers, including LG, Huawei, and Samsung itself. Apple is also reportedly working on a flexible phone, at least judging from recent patents. Meanwhile, Google and Samsung are working together on a special version of Android to accommodate these new folding phones.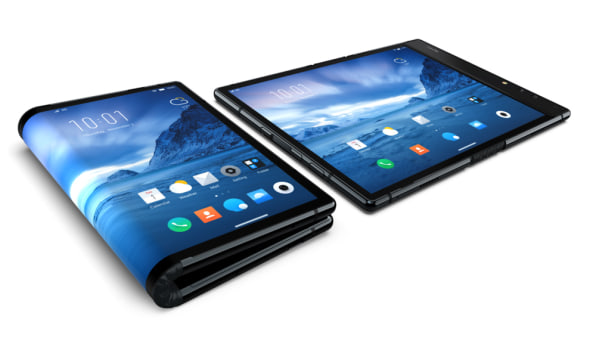 These phones may introduce entirely new ways of designing cameras and sensors into screens, but we still don't know enough to say exactly what the hardware and software challenges will be. Some phones may fold like a book, with screens on the inside. Others will have screens on the outside. And some, like Samsung's rumored folding phone, may have a smaller display on their "cover," which can be used to quickly perform most actions. Inside, a larger display will be used for media-rich applications, like watching movies, playing games, or working on documents and presentations.
Whatever form the smartphone of the future takes–and whether it conceals its sensors with motors, magnets, folding screens, or simply better under-screen technology–it's safe to say that we're steadily advancing toward the sci-fi vision of completely full-screen displays. Perhaps most tellingly, Apple itself is even working on ways to kill the notch. One day, we may look back on the notch as a short-lived design fad.