Drivers have been complaining for years that as Uber's valuation goes up, their earnings go down. The ride-hailing platform is now offering its most devoted and best-rated drivers an opportunity to not only make more money, but also pursue a college education–gratis.
The new program, called Uber Pro, is a four-tiered rewards system that enables drivers to earn 3.5%-6% more on rates as well as cash back at gas stations, and 25% off car repairs. The top echelon of drivers, ranked "platinum" and "diamond," have the opportunity to take classes at Arizona State University for free. Classes are online only, can be taken at any point during the week in order to fit into a driver's schedule, and can be used toward a degree.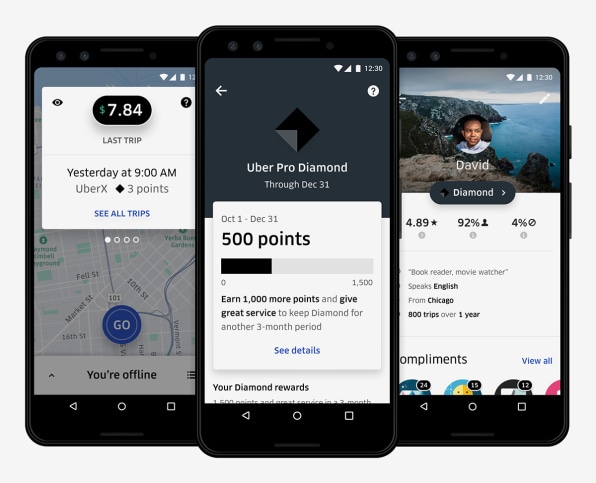 To qualify for this benefit, drivers must maintain a 4.85 rating for three months, complete 3,000 lifetime trips, and earn a minimum number of points, which vary by city and are garnered during each trip. Once drivers achieve a platinum or diamond status, they are eligible for six months of tuition coverage. If they lose that status, they will have a three-month grace period to finish classes. Drivers only need to drive eight hours per week to maintain their status once they reach the upper echelons of the program.
Uber Pro will initially roll out in Chicago, Denver, New Jersey, New Orleans, Orlando, Phoenix, Seattle, and Tampa. The company says more than half of drivers in pilot cities will qualify for the overall program, with more than 10,000 qualifying for free tuition. How many people this will ultimately reach is unclear. Uber has very high attrition rates, with 68% of drivers leaving the platform after six months, according to a recent study.
Since Dara Khosrowshahi has taken the reins as chief executive at Uber, one of his main imperatives has been to repair the company's relationship with drivers. That has taken form in its 180 days of change campaign, wherein the company introduced tipping to the platform and started to provide injury protection insurance to drivers. Uber also redesigned the driver app, which included a "surge map" highlighting all the areas where drivers could earn more. While many of these efforts were an improvement to the driver experience, many drivers still felt like the company wasn't listening to their biggest concerns.
When the new app launched, Khosrowshahi gave a keynote speech that had a middling reception. "He lost some credibility with drivers though by ignoring all of the major issues that drivers care about. Low pay, high expenses and Uber's growing commission due to upfront pricing are consistently at the top of the list for driver pain points and a new driver app isn't really what drivers have been asking for," wrote Harry Campbell, founder of the Ride Share Guy Blog, a site that extensively covers driver concerns and changes to apps like Lyft and Uber, following the announcement. Campbell has been vocal about driver expenses rising faster than rates for rides.
Again and again, drivers want to more value out of the platform. This latest announcement is a direct response to that complaint.