Design can feel apolitical when the focus is on building commercial interfaces, products, and services. But the New York-based Studio Rodrigo made a commitment to using its skills to get active in the political sphere after the 2016 election. Even though the studio's primary focus is on product design and strategy, its 15 designers have come together as a group to participate in direct actions and find ways to use their skills to promote progressive causes.
Here are four ways that Studio Rodrigo has integrated politics into its mission and mobilized its employees to get out the vote leading up to next week's midterm election.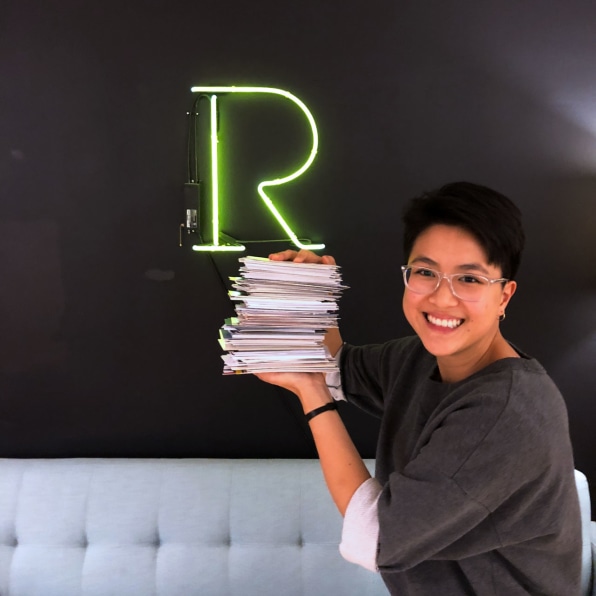 Spell out your values as a company
In the aftermath of the 2016 election, Studio Rodrigo founders Ritik Dholakia and Khoi Uong assembled their team to work on a statement of values. "We did not think that, as a company, we would have to publicly and forcefully state an even more core and fundamental set of values," they wrote on Medium. "But here we are."
The 20-point list includes affirmations that discrimination is wrong, immigrants are a positive addition to the country, women deserve equal pay and control over their bodies, and more.
It was an important exercise that reaffirmed the company's values. But the statement was just the beginning for Studio Rodrigo, which since then has embarked on a number of initiatives to actively fight for its collective beliefs.
Offer pro bono services to nonprofits
Over the last two years, Studio Rodrigo has offered its services pro bono to the voting rights nonprofit TurboVote, which aims to increase voter registration and help support people in voting. The designers created visual assets for the nonprofit's campaigns to convince people to vote in the off-season state elections in 2017, and then again for this year's midterms.
Along with the visuals the studio made for TurboVote, Dholakia encouraged the team to make other political posters as well. During the child separation crisis, Dholakia saw homemade signs decrying the policy in the windows of bodegas in Brooklyn, and it inspired him to create a similar poster, which now hangs in Studio Rodrigo's window.
"I think designers have a very unique skill set in terms of being able to create graphic communications that can influence people," he says.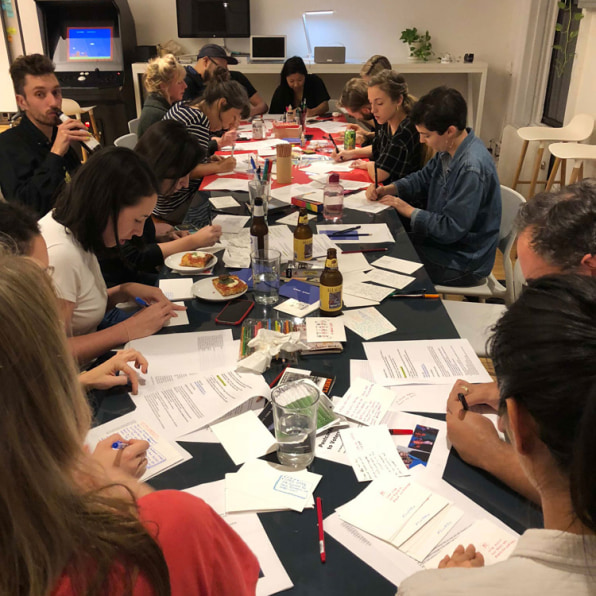 Host postcard writing parties
In the run up to the midterms, Studio Rodrigo has encouraged its designers to participate in more direct actions–for instance, the entire team went to a protest against Brett Kavanaugh during the height of the hearings. But they've also regularly hosted postcard writing parties every Monday after work. Studio Rodrigo caters dinner and encourages its designers, any of their friends, and the larger design community in New York to come by and write some postcards encouraging people to vote. The event is organized through the nonprofit Postcards to Voters.
The designers at the studio designed the postcards and wrote individual notes on the backs of 1,500 of them. These will be sent to voters in Florida, Georgia, Texas, and Ohio, encouraging people to head to the polls on Tuesday and vote, regardless of their political leanings. "It's like canvassing for shy people," Dholakia says.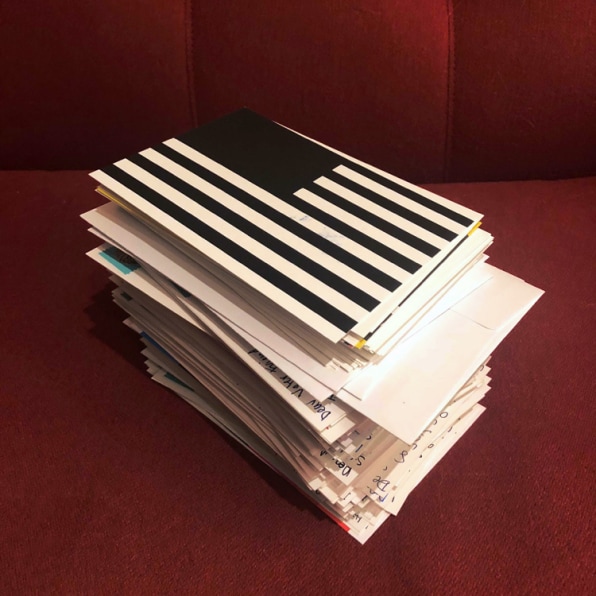 Put your money where your mouth is
Right after the 2016 election, Studio Rodrigo donated $7,500 to three different nonprofits, and gave each designer on their team $500 to donate to an organization of their choosing. In working pro bono for TurboVote, Dholakia estimates the studio used around $50,000 in resources. And in hosting weekly events and catering dinner for those who attended, the studio continued to show financial support for its political initiatives. There are other ways for people and businesses to support progressive causes, but Studio Rodrigo's choices actively put their money where its mouth is.
Why make such a commitment? "I think a lot of designers feel directly impacted by some of the rhetoric and policies, but whether you feel it personally or not, it has an impact on the work we do and our ability to do it," Dholakia says. "If we're not in places that value diversity and creativity and arts education and a multitude of voices, I think most designers implicitly feel that. [There's direct threats on] the nature of the work in the current political moment, whether that's things like immigration or having affordable healthcare so you can be a freelancer or start your own company."
But money isn't everything. Over the weekend, there's still more work to do that doesn't necessitate a financial commitment: "In the reality of get out the vote, it's the hard work of calling, texting, knocking on doors, driving people to the polls," Dholakia says. "All that matters."