At Apple's product launch in Brooklyn, Tim Cook introduced the new iPad Pro by calling the iPad the most popular computer in the world–based on the fact that yearly unit sales are larger than the total sales of the rest of the industry's Windows laptops. And the new iPad Pros indeed look more like powerful computers than ever, despite their newly svelte exteriors.
The basic facts–some but not all of which leaked in recent weeks:
The new model comes in two sizes: 11″ (replacing the previous 10.5″ version) and 12.9″. Both are thinner, with shrunken bezels, for 25% less volume overall
The Home button/Touch ID sensor is gone, replaced by a Face ID sensor (which works in both portrait and landscape modes) and iPhone X-style gestures
Both versions run the A12X Bionic, a version of the same super-powerful chip in the new iPhones, and offer the Neural Engine for on-device machine learning and graphics performance that Apple says is up to a thousand times (!) faster than the original iPad
They ditch the Lightning port for USB-C, which can drive big external monitors and even charge an iPhone
There's a new Pencil stylus that clings magnetically to the tablet's edge and charges while it's doing so, and lets you tap the side for button-type functionality
The optional keyboard is now a keyboard case with protection for the tablet's backside, and lets you choose two different angles; as before, it draws power from a connector on the iPad Pro
Storage options now max out at 1 TB rather than the previous 512 GB
The 11″ model starts at $799, the 12.9 incher starts at $999, and both are available for pre-order today and will be available on November 7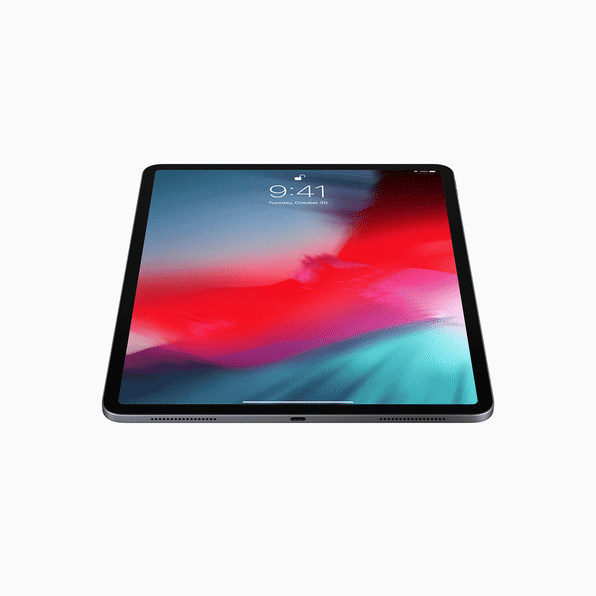 To show off what the new models are capable of, Apple provided a peek at an upcoming full-blown iOS version of AutoCAD, plus demos of Adobe's ambitious new Photoshop and a console-like rendition of NBA 2k.
More thoughts later, but for those of us who have used iPads as computers for years, these look like exciting upgrades. And it will be fascinating to see if they lead to a meaningfully wider swath of folks seeing Apple's tablet as a no-holds-barred device for serious creativity and productivity. We've sure come a long way from the original iPad introduction in 2010, when Steve Jobs emphasized the more passive content-consumption angle by kicking back in a comfy onstage armchair.