Apple has redesigned the MacBook Air for the first time since 2010, packing a larger, higher-resolution screen into a smaller body.
The 2018 MacBook Air has a 13.3-inch Retina display with 2732-by-1536 resolution, and the bezels around the screen are 50% slimmer than the old model. It's also 17% smaller than previous MacBook Airs, 10% thinner, and a quarter-pound lighter at 2.71 pounds.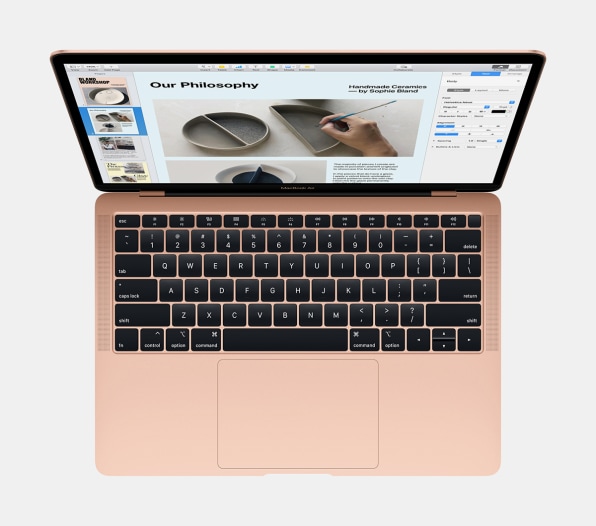 Meanwhile, Apple has brought over several other technologies from its MacBook Pro line. The new MacBook Air trades USB-A ports for a pair of USB-C ports, uses a "butterfly" keyboard design, and supports "Hey Siri" voice commands. But unlike the MacBook Pro, the new Air has a traditional function key row with a TouchID fingerprint reader in the top-right corner, rather than a Touch Bar. The trackpad is also 20% larger than previous version, and Apple says the speakers are 25% louder.
Now for the bad news: There's no $999 option on this new MacBook Air. The starting price is now $1,199, and that's with 8 GB of RAM, 128 GB of storage, and a 1.6 GHz Intel Core i5 processor. It's available for ordering today.
Although Apple has refreshed the MacBook Air with faster processors several times over the last eight years–most recently in 2017–the design hasn't changed until now, and the old 1366-by-768 resolution screen was more in line with what you'd find on a budget Windows PC. Nonetheless, Apple CEO Tim Cook said the MacBook Air has been a "beloved" laptop for consumers. A proper upgrade was long overdue.