If you're a fan of Clique Brand's popular women's blogs–including fashion-themed WhoWhatWear, home-themed MyDomaine, and beauty-themed Byrdie–you may have noticed that the websites no longer just recommend products from other companies. They now create products of their own. For instance, WhoWhatWear created a clothing collection for Target, and Target also launched an activewear line called JoyLab in partnership with Clique.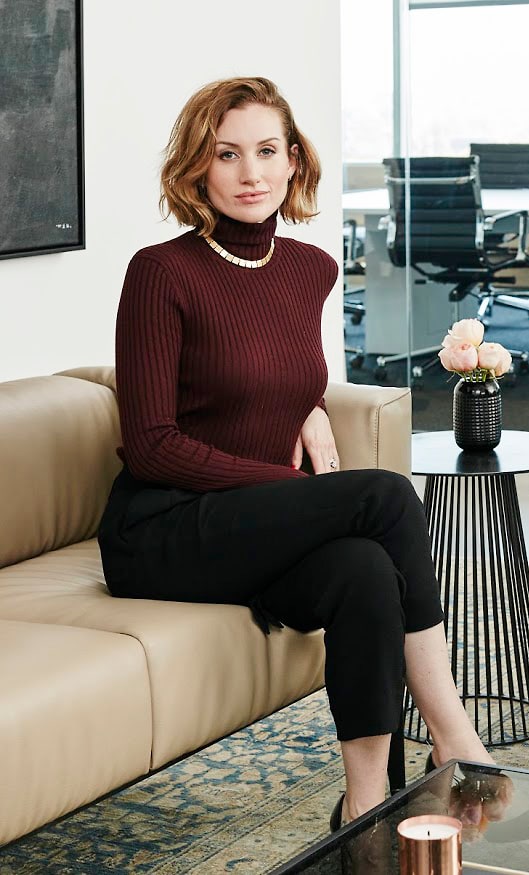 Well, there's more product coming from Clique, and it's going beyond clothing. Katherine Power, cofounder and CEO, says the company is getting ready to launch a new clean beauty line that will be sold online and also hit the shelves of retailers in Summer 2019. And Clique plans to roll out new product lines at such a fast clip, it is creating a new umbrella company called Offspring to house all of these new brands. "It's a holding company to support our unique business model," says Power, who will also be Offspring's CEO. "It will allow us to bring in investors down the road, who may be specific to this category of business, and separate from Clique, which tends to attract media investors. It's really to isolate business models that are quite different from one another."
Clique's business model really is unique. At a time when many media outlets are struggling with declining ad revenue, Clique has chosen to create its own alternative revenue streams in the form of products that are carefully tailored to the women reading its websites. Clique also makes money through affiliate links, as it recommends products on the site. Power says the media sites collectively refer the sales of 20,000 products a month at 300 different retailers. And the sites also have sponsored content, which is disclosed on the sites as advertisements.
Power says Clique will continue to maintain editorial integrity, so that editors and writers on the sites continue to write about topics and brands that interest readers without prioritizing Clique's in-house brands. "It's really our editors who choose what to plug," she says.
That said, Clique has a unique advantage as it creates products, because it has massive quantity of data about the women reading its various blogs. All of these insights will help shape what new brands and products Clique will spin off. As activewear became a trend, Clique used insights from its sites to determine the aesthetic, price point, and branding of its Joylab line. And more specifically, data helped Clique create a leopard print asymmetrical silk skirt that was a massive hit in its WhoWhatWear line. Insights from the website Byrdie have directly shaped the brand's upcoming, yet-unannounced beauty line.
Clique now has a robust team of staff members entirely devoted to product. Sally Mueller, Clique's chief brand officer, spent years as the director of brand partnerships at Target. Melanie Bender, former VP of marketing at fashion conglomerate Bailey44, will be the general manager of the stealth beauty brand. "We're using our data to understand where women's needs were not being met," Bender says. "We're creating something that is more accessibly priced, and cleaner. And there are a number of other differentiating factors that we're excited to share."
We'll have to wait and see what Clique has in store with its new beauty line. And who knows what other product lines the company has up its sleeve? Soon, Clique may use its data to create furniture, food products, maybe even workout studios.