A new augmented reality smartphone game blends the gameplay of Pokémon Go with lessons on Catholic dogma.
Follow JC Go! enables young players to travel real-world streets hunting not for catchable monsters but for Catholic saints and biblical figures. Available for iOS and Android, it also encourages players to pray when they pass by locations like churches and hospitals, reports the Catholic news site Crux.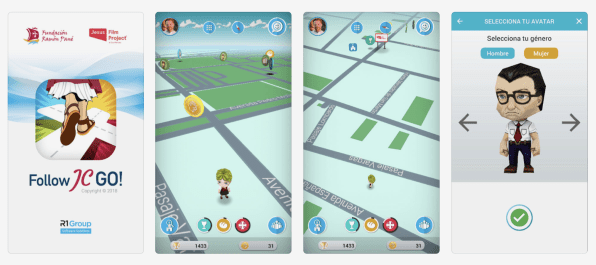 The game, developed by the Florida-based Catholic evangelical group Fundación Ramón Pané at a reported cost of $500,000, is currently only available in Spanish, but the organization plans to release it in English, Italian, and Portuguese soon.
It's also reportedly been given a nod of approval from Pope Francis, who sees it as a way to reach younger generations. The game was released as part of preparations for World Youth Day, a Catholic youth event set to be held in January in Panama.
---
Related: This AI will slap a bikini on your naughty bits
---
Instead of the Pokémon fighting and capturing elements found in the game, players can answer Biblical quiz questions to recruit the religious figures they encounter. The game also features virtual billboards playing messages about the Bible, Crux reports.
For those concerned about exactly what the foundation will do with the information it gathers on players' movements and religious thoughts, the game's privacy policy appears fairly restrictive in terms of how the Catholic group can use such data. Per law, the app requires users to certify that they're older than 13 years old, or to otherwise obtain parental consent.
The app is far from the first to blend popular video game styles with religious messaging. Christian games, while always a bit of a niche product, have existed since the early days of PC and console gaming.