Twitter has a passionate population of users, but many people are intimidated or just turned off by the service. Beyond issues relating to bots, harassment, and general misbehavior—which Twitter is working on addressing through an initiative it calls conversational health— the service's learning curve itself is a challenge.
"Starting a conversation or joining a conversation can be hard. I don't always know what I want to say, but I want to say something," says Sara Haider, director of product management at Twitter. She and Mike Kruzeniski, senior director of product design, shared examples of new initiatives at the Fast Company Innovation Festival in New York City this week.
"We want the best conversation for you coming to you as quickly as possible," Kruzeniski told Fast Company technology editor Harry McCracken. "Can you tell us what you're interested in? And [can] we quickly get you to that conversation?"
Haider and Kruzeniski admitted that Twitter is still figuring out how to make that possible. But now the company wants to invite more feedback from users as it tries new innovations. In that spirit, they shared some examples of internal experiments–features that may not necessarily make it into the wild–to provide an indication of Twitter's latest thinking. If any past muster with the Twitter employees who are currently trying them, they may be eventually rolled out to a subset of users to help the company decide whether to deploy them as standard features.
Conversation starters
One of these internal trial balloons surfaces tweets with questions or other conversation starters, such as, "Did anyone understand the last episode of #Westworld?"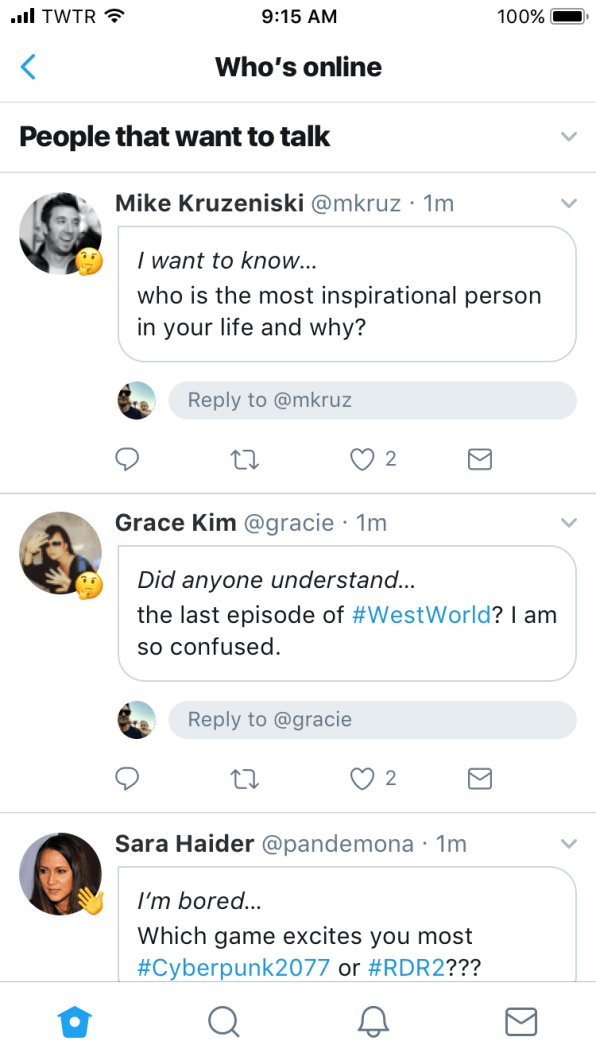 "The more people that can find conversations, jump into conversations, participate, the richer they are," said Kruzeniski. But a busy conversation introduces its own challenges, so Twitter is testing several many ways to make navigating conversations easier.
"We have an internal version of Twitter that lays out, in the user experience, long threads in a different way," said Haider. "It increases the density of the replies to a tweet and has some controls over expanding and collapsing sub branches of a tweet."
One idea Twitter is investigating is color-coding conversations, with tweets from people you follow in green and your own ones in blue. "If you're reading a very popular conversation . . . how can you quickly see like, oh, that's someone I know, I'm really interested in what they have to say on this," she said. It's also toying with indenting tweets to help make clear which ones are part of a specific conversation.
---
Related: Twitter is taking a new pass at making the news come to you
---
Listening to users
As famously happened with the hashtag, Twitter continues looking at user hacks to identify new features it might support. People have long "liked" tweets as a way to save them for easy access, so earlier this year, Twitter finally introduced a bookmark feature.
Now it's considering a status indicator. With Halloween approaching, for instance, people are once again changing their display name to a humorous "spooky name," such as replacing "Christina" with "Antichristina" or "Samuel with "Samu-hell."
"I thought that last year would be the year that it was over," said Haider. "But Halloween has come back, and everyone has got a spooky Halloween name."
Users are changing these display names all year round, for a number of reasons. Some changes reference current pop cultural or political topics, for instance. Others might represent someone's status, such as a conference they are attending.
One internal prototype of the Twitter interface has a "What's your status?" field where you can type in an update–separate from changing your display name. For instance, @Christina_237a could keep her display name of "Christina Smith," but could also have a status of "Antichristina Death" for Halloween. Next February 3, her temporary status might be "Super Bowl LIII" if she's watching and commenting on the big game—which would make a tweet such as "Yesssssssssssss!" make more sense.
Even changes as simple as changing the word-balloon icon you use to reply to a tweet to the word "Reply"—and allowing you to type your response inline, without being shuttled off to a new screen—might make Twitter a more approachable means of conversation. The company is trying those changes on for size, too.
Twitter is constantly trying out new ideas internally, but now it wants to pull back the curtain. "We're experimenting and testing out with being way more open about our product development process and inviting everyone in for feedback," said Haider.
Twitter being Twitter, it shouldn't have any difficulty getting lots of passionate opinions.