On a cool, sunny afternoon in mid-June, Jump founder and CEO Ryan Rzepecki is riding one of his company's bright red e-bikes down Market Street in San Francisco, thinking about the past. He's been a bicycle evangelist since the mid-2000s when he discovered that commuting around New York City made much more sense on the back of a bike than just about any other way. Back then, he was a grad student in urban planning at Hunter College. He started Jump in 2008–originally under the name Social Bicycles–while working a day job in the bike program with the New York City Department of Transportation.
"For eight years, I couldn't get any funding," he says. "No one cared." But advances in mobile technology, the explosion of dockless bike sharing in China in 2016 and 2017–and the influx of capital that followed–changed everything. "In the span of two or three months, suddenly everyone was interested. It was very validating that something I cared about was proven right."
Rzepecki moved to San Francisco this past January. In April, Uber acquired Jump for a reported $200 million. "This is the first time I've had a boss in 10 years," he says. Since the acquisition, it's become clear that Uber and its CEO Dara Khosrowshahi don't see Jump as an interesting side business, but rather as a key part of the company's pivot from ride-hailing giant to diversified mobility platform, as well as an integral piece of their vision for what cities will look like in the next decade.
"The goal is to make these ubiquitous, so they become a real alternative to transport in general, but especially car transport," Khosrowshahi tells me the following day as we walk among dozens of the bikes at the Jump warehouse on a downtown San Francisco side street. "In a city like San Fran, the weather being what it is, it's totally doable. We have enough cars. We have to get some bikes out there."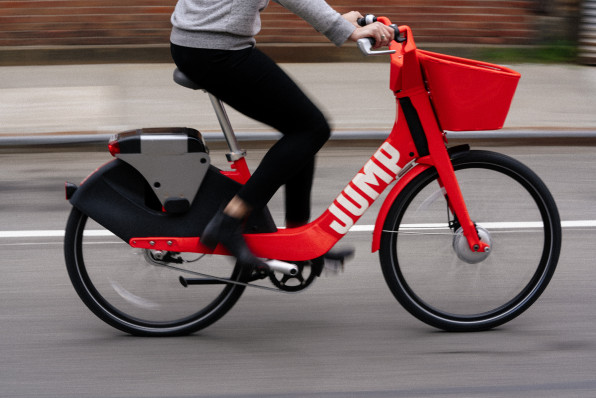 At the moment, Jump's pedal-assisted electric bikes are available through the Uber app in just 10 cities, and in most of those cities, the footprint is relatively modest. In San Francisco, the city just raised the cap on Jump's total number of bikes in operation from 250 to 500. But each bike is being used heavily–on average between seven and 10 times a day–mostly for short journeys.
"One of the most important factors that convinced me we've got to get Jump is that the average length of trip is 2.7 miles," says Khosrowshahi. "Thirty-five percent to 40% of Uber rides are 2.7 miles or less. So this product can sit right on top of the Uber product. My attitude is you can either cannibalize yourself, or someone else cannibalizes you."
So far, this theory has been at least partially borne out. Between February and July of this year, Uber users who tried Jump made 15% more trips on the Uber platform. The increase was fueled by e-bike utilization: Ride-hailing trips actually declined by 10% among these riders, and by 15% during regular commuting hours. One of the consistent knocks against Uber and other ride-sharing companies is that they've introduced a profusion of new cars onto already congested city streets. "This," says Rzepecki, "is a great chance to offload congestion, where a bike is actually more affordable, better, and faster for shorter trips."
Uber's goal is to make its app a one-stop shop for all urban transport, whether it's by bike, scooter, car, subway, bus, rickshaw, flying taxi, and whatever other mode comes along. According to Rachel Holt, Uber's head of new mobility, the company has "very aggressive expansion plans" for Jump, and they're not just limited to bikes. In early October, the first Jump scooters became available in Santa Monica, California, and the company expects to roll out e-bikes and scooters in more cities both in the U.S. and in Europe at an increasingly rapid rate over the next year.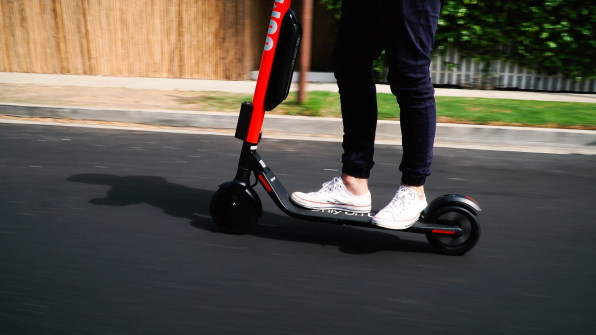 Bikes and scooters have the benefit of eliminating one of the most challenging economic elements of the ride-hailing model: the driver. They also have the potential to work synergistically with Uber's existing offerings. Holt mentions the possibility of offering free or low-priced bike or scooter rides in order to get users to locations where an UberPool ride can pick them up without going out of its way.
This all feeds into the larger role that Uber sees Jump playing in its future. As Khosrowshahi explains, "If you think about our business from a 10-year-plus standpoint, and if you think that we're the partner for cities in figuring out their transport grid, using a car for one person, for a short distance, is a really bad use of that car. So while it's in our financial interest in the short term for somebody [to] use an UberX, if you think about sustainable business, it's these short [bike and scooter] trips, more environmentally friendly, better for the city, that we should be doing."
The guy who first connected Jump and Uber is Andrew Salzberg, Uber's head of transportation policy, who knew Rzepecki from running into him at what Salzberg terms "nerdy transportation conferences." For 90 years, Salzberg says, cities have been built around accommodating cars. "Our vision is, 'Let's stop doing that,'" he explains. In Uber's view, cities should have, "more shared cars, less parking, less road space dedicated to vehicles overall. You shrink the footprint of cars, you can have wider sidewalks, parks on the side of the road, more bike parking." Bike lanes and public transport should be prioritized. These are not just more efficient ways of moving people around cities, they are more environmentally friendly, more economically viable, and promote a better quality of life. As Rzepecki notes, "We're beyond the point where bike lanes are some weird experiment, Communist plot, or European fantasy. In the past 15 or 20 years, it has become firmly best practice for cities to be taking away car lanes and adding bike lanes."
If there is something truly disrupting and revolutionary about Uber, it's not that the company is pushing taxis to the brink of extinction, it's that its long-term vision is betting on a seismic paradigm shift taking place in the U.S.–one that stands to disempower automakers, car dealerships, oil companies, parking garage owners, and many, many others. Post-World War II, the country's infrastructure was built around the ubiquity of automobiles. For Uber's vision to become reality, this must change. As Uber's director of new mobility Jahan Khanna puts it, "We think we're going to be able to take the most compelling shot the world has ever seen at replacing personal car ownership. We view that as a worthwhile goal. We need to start asserting in the minds of our customers that you don't need a car. Your cell phone has replaced your car."
Khosrowshahi sees it as his job to balance these kinds of lofty aspirations with the nuts and bolts that will make customers turn to Jump and Uber with increasing frequency. "If we can be that service that allows you to get anywhere in a city, cheaply and efficiently, that would be a win, no matter how it adds up," he says. "That's a service I think everyone in a city is going to want to use."