What if you didn't have to guess when food or leftovers go bad? What if, like the way you depend on Siri to cook and tell time, your Rubbermaid could essentially solve the puzzle for you?
Silo, a new countertop tech company, just revealed an innovative vacuum-sealing container system that does the work for you. The smart containers not only keep food fresher and longer (by sucking out the air), but it also includes a built-in Alexa that tags and tracks what it's holding. It offers notifications on when items might spoil, telling owners when to eat their food already. It even has a mobile app to manage your fridge on the go.
Basically, imagine you could simply say "strawberries" and your plasticware automatically knew how many days it could host your produce before it went bad.
The Silo system, which is both dishwasher and microwave safe, ensures that groceries and dinner leftovers last two to five times longer than your average Tupperware. It's substantial, considering that one-third of all food finds its way to the trash–that's 1.3 billion tons of food a year–often because people forget about what's hiding behind the ketchup bottle.
"Let's face it, nobody remembers what they put in the fridge two weeks ago," said Silo founder and CEO Tal Lapidot in a press statement. "We know that the only true way to enable you to enjoy your food for longer is if Silo remembers and manages your inventory for you."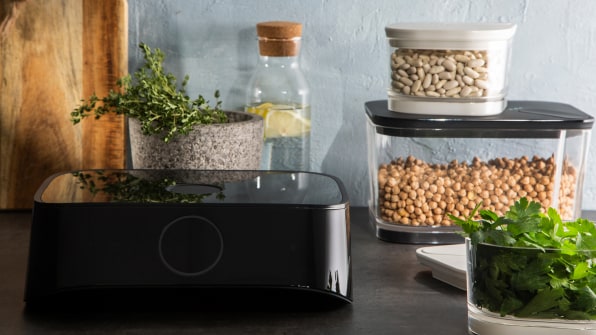 Founded in 2016, Silo was seed-funded by OurCrowd's AI-focused fund Cognitiv Ventures. The Israeli startup is now taking its revolutionary fridge system to Kickstarter for an early-bird price of $165 (plus shipping), with an expected delivery date of fall 2019. In just one day, the company reached its $80,000 goal with more than 300 backers.
"We wanted to create an experience so simple that you can use it every day and it will fit beautifully into your routine," says Lapidot. "Silo's technology provides everyone with the tools and information they need to reduce their food waste with minimal effort."