Dyson is known for products that move air from one place to another: vacuum cleaners, fans, dryers for your hands and hair. So why not enlist Dyson to simulate wind? That's exactly the idea behind a SoHo pop-up by four-year-old outerwear startup The Arrivals, which creates jackets and coats designed to be fashion-forward but also stand up to the elements.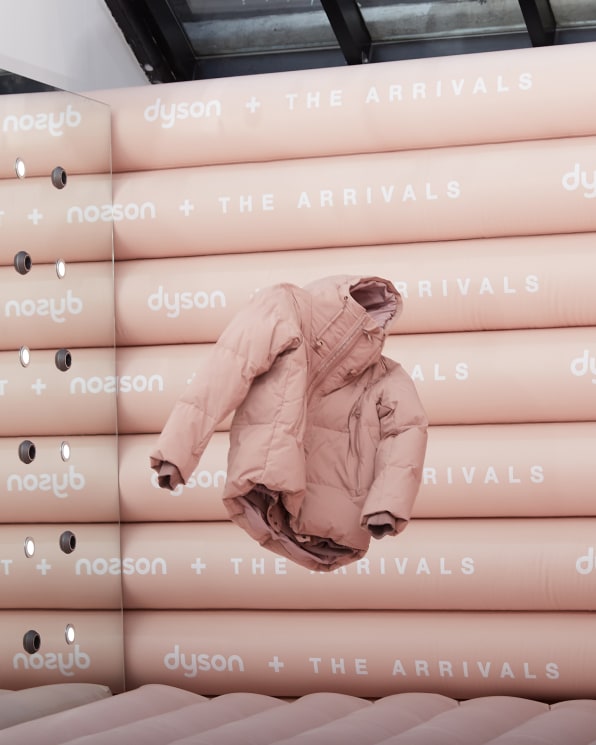 For years, Fast Company has reported on the decline in brick-and-mortar retail. But we've been observing many startups that are taking a stab at creating physical stores—except they're doing it in much more creative ways than we've seen in the past. This pop-up, for instance, resembles an art installation. The space is designed to look futuristic, like a high-tech wind tunnel combined with a bouncy house. Thirty Dyson Supersonic hair dryers have been set up, sending 13 liters of air into the tunnel every second.
This is the third year that The Arrivals has created a pop-up in time for the holiday season, but the startup's cofounder Jeff Johnson says that he is constantly weighing the benefits of digital versus brick and mortar. The digitally native brand sells the majority of its products through its website, but it has found that these in-person experiences are valuable because they boost sales. But ultimately, the in-store experience is important because it helps shape the brand's identity and allows customers to literally step into the brand's world, which creates a memorable experience that will stay with the customer for a long time.
The pop-up just opened on 67 Greene Street in New York, and will remain open until February 2019.