A team of data scientists at NYU Tandon, led by professor Damon McCoy, have been crunching all the data they can get about political advertisers on Facebook, Google, and Twitter. In a paper published on Monday, they describe a survey of ads published in a two-week period this past September (it should be noted that all three platforms have different criteria for what they consider "political"). What's clear is that the three companies' advertising programs combined create an extremely powerful advertising engine.
"We find that in total, ads with political content have generated at least 5.9B impressions and have cost their sponsors $116M and possibly up to 21B impressions and spent $403M on advertising with U.S. political content," the authors write. And while Trump is a major player in this, he's not the only one.
For instance, Texas Democratic Senate candidate Beto O'Rourke is the largest online political candidate advertiser "in terms of spending and impressions across all three platforms." The biggest advertiser as a whole, using this criteria, is the Senate Leadership Fund–a PAC working to expand the Republicans' majority in the Senate.
O'Rourke, who is challenging Ted Cruz in a highly scrutinized race, is going all-in on online advertising. During the two weeks when the researchers were collecting the data, he spent $683,000 and garnered at least 23.6 million impressions. Most of his ads were calls for small donations. It should be noted that his campaign, and no PACs, footed the bill for this digital barrage.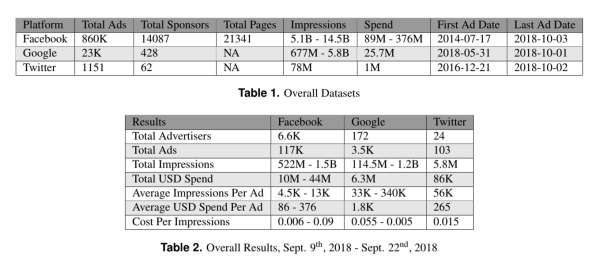 Another interesting thing is that, according to Facebook's numbers, Facebook and Instagram themselves are ranked as the top political advertising spenders. These were for get-out-the-vote campaigns, as well as publicized posts about election hacking. The paper's authors, however, discount these numbers because Facebook seems to have overcharged itself based on the number of impressions the posts garnered.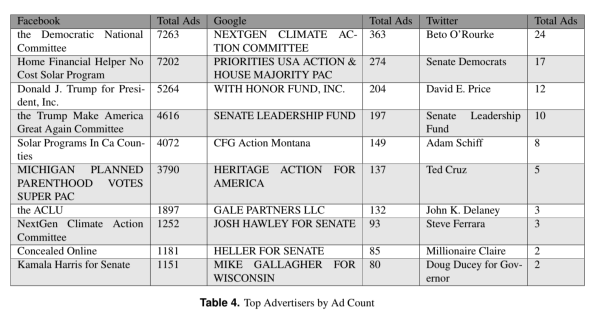 Overall, left-wing advertisers dominated both Facebook and Twitter; for Google, right-wing advertisers had the majority. The paper notes that Facebook by far had the most ads on its platform, but advertisers spent more on Google. This is likely because on Facebook campaigns can microtarget, which is less expensive than big national ad campaigns. Sixty-one percent of the political ad spending on Google was from PACs, which comes out to around $3.1 million. On Facebook, PACs represented 23% of the spend, which amounted to around $1.2 million.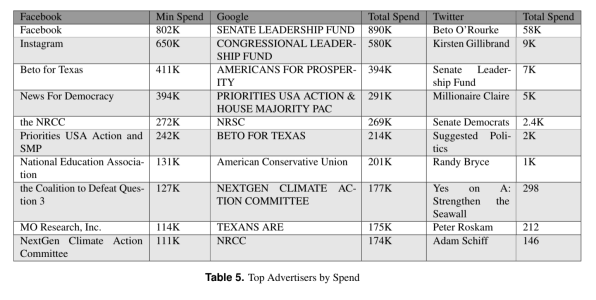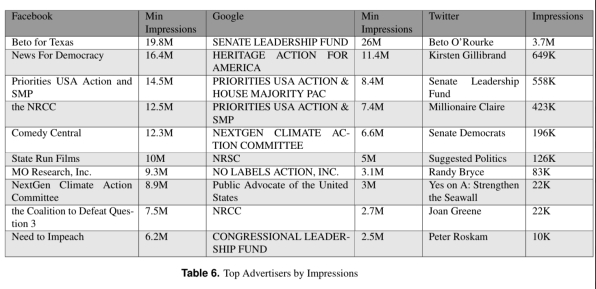 Of course, President Trump also used these platforms to blast voters with ads. The paper describes him as "by far the most prolific political advertiser on Facebook;" 85% of his Facebook ads were microtargeted at users. Facebook, unsurprisingly, was his preferred advertising platform, too. The researchers only found 27 Google campaigns from Trump and none on Twitter.
The paper, though a tiny peek into a behemoth apparatus, gives some context about how online political advertising is operating in the current political climate. As the midterm elections approach–and then 2020–this spending is likely to increase.