Discord hopes to claim a piece of the $29 billion digital PC game sales market by adding a store to its popular gaming chat app. The Discord Store Beta, which is launching today after a limited test run in Canada, mostly offers games from independent developers, though larger publisher THQ Nordic is on board as well. Subscribers to Discord's Nitro service will also get free games along with their current chat-related perks. (That service is getting a somewhat-optional price hike from $5 per month to $10 per month.)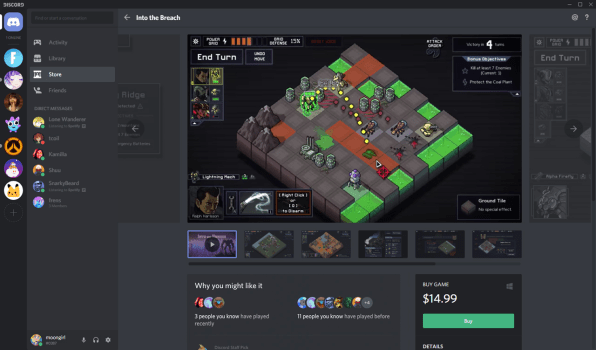 Today, the prevailing PC game platform is Valve's Steam, which may account for up to three quarters of downloadable PC game sales according to estimates from several years ago. (Valve, a privately-held company, does not disclose its own sales figures.) Over the years, publishers such as EA and Activision Blizzard have tried to challenge Steam's dominance with their own game stores, as have Microsoft with its Windows Store and Amazon with its Twitch Games service.
Discord's approach is a bit different because it operates a social layer that runs atop all PC gaming platforms. As such, it's becoming the first place PC gamers go before deciding what to play. For now, the Discord Store is fashioning itself as a tightly curated alternative to Steam's sprawling storefront, but it's not hard to imagine that changing if more publishers want to get involved.
Valve itself seems to have taken notice. In July, the company revamped its own chat features in hopes of keeping Discord at bay.