Humans are bad for the Earth. This week's devastating report from the UN's Intergovernmental Panel on Climate change made clear that climate genocide is coming, with hundreds of millions of lives at stake. If that news makes you want to crawl into a hole, or consider jumping ship to a Mars colony in the near but indeterminate future, think again: It turns out we're making the universe just as inhabitable, too.
At this given moment, there are nearly 18 million pounds of junk circling our planet, much of it detritus from old rockets and satellites. Those tens of thousands of pieces of trash are already costing us, causing a growing number of collisions with our digital communication infrastructure each year (including the satellites powering our GPS, 5G networks, and more), and they're densifying at a rate that could one day blockade us from safely sending anything off into space, let alone ourselves, in as few as 30 years.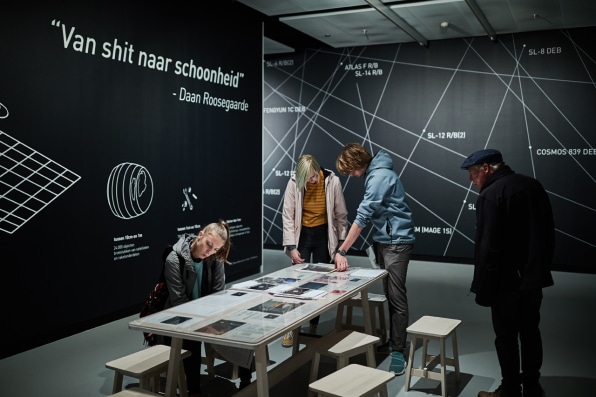 Space waste is an overlooked issue that Daan Roosegaarde–the Dutch artist-designer and engineer that brought us the world's first smog vacuum cleaner (then transformed its collected soot into diamond rings)–is hoping to bring more attention to with his latest project, the Space Waste Lab.
The project launched last week in Almere, the Netherlands, with a set of live performances featuring bright-green beams of high-focused LED light projected into the sky, pointing to actual pieces of space waste that are orbiting anywhere from 125 to 12,500 miles above the Earth. Each event was a real-time visualization of the junk that surrounds our atmosphere, in other words–an eerie take on stargazing for our dystopian age.
Roosegaarde hopes the large-scale artwork will serve as a call to action, and after witnessing the success of his studio's Smog-Free Tower–now installed in China, Poland, and the Netherlands, with a video about the project garnering more than 34 million online views from the World Economic Forum–he believes it's his responsibility to apply his skills to bring awareness to a sustainable cause.
"I became fascinated with the idea of cleaning up our landscape, our environment, and trying to humanize them again, and so began to think, maybe space waste can be an ingredient, maybe it's a building block to do something new."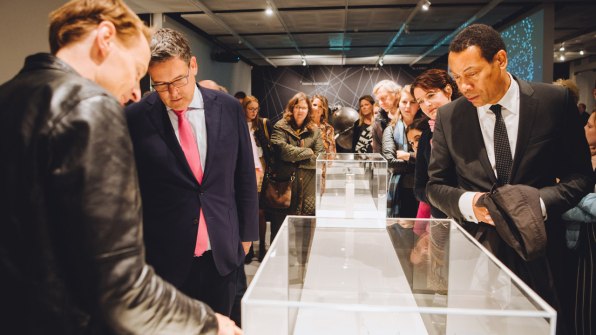 More than 8,000 people attended the Space Waste Lab launch, and the "alien beauty" of the LED beams moving across the sky garnered the attention of at least one local website that reported a UFO sighting with "two green, intersecting laser beams pointing into the sky," Roosegaarde says, with a laugh. "Just having people look up into the sky, being more curious–that's a start."
The light performances will continue twice a month through January 19 as the first phase of the Lab's long-term endeavor. At the nearby Kunstlinie Almere Flevoland arts center, an educational exhibit produced with European Space Agency experts shares further resources, including real pieces of space debris, and prompts visitors to investigate how the waste may be potentially harnessed and upcycled.
Moving toward a more circular economy will be necessary for a sustainable environment–and the model is already being adopted in some corners of industrial design to city planning. Roosegaarde believes it needs to be applied to solve the space waste issue, too. As part of the project's next phase, he'll be launching a symposium and multi-year research initiative dedicated to fixing and capturing space waste, and even use the reclaimed material to one day create a 3D-printing hub on the Moon.
"Right now, our economics center around money and time," Roosegaarde says. "We need to change that around to focus on clean air, clean water, clean space."
With digital communication satellites worth hundreds of billions of dollars, it's in our own interest to maintain and reuse the materials we send up into the sky: "If we could find a way to transform the debris into a building block to upcycle it, saving energy and money, it's as valuable as gold."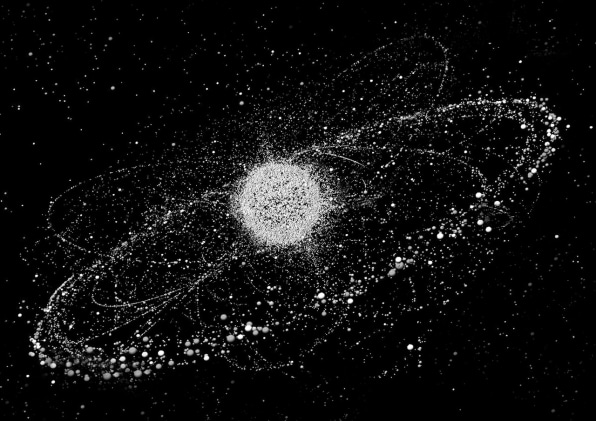 Up until two years ago, when the project first began, Roosegaard admits he wasn't aware of space waste, though he remembers the exact moment he learned of it. He had chanced upon an image on a colleague's desktop screen–"it was a lot of white dots, centered around one larger, bigger dot in the middle," as he describes it, "and looked like something of a Jackson Pollock painting." In fact, it was a data visualization of space waste currently orbiting the Earth, an unfathomable ecosystem of matter hidden from our naked eyes.
"That's the moment when I became intrigued. It held this kind of obscene beauty, on one hand, and yet struck me as absolutely sick, that we are polluting spaces even outside the Earth's atmosphere, and continue to do it," says Roosegaarde. "This is the first time we've started a project with a question, both for ourselves and to the audience, which is kind of scary, because as a designer, I lose control. And yet it's totally intriguing, because we don't know where it will take us."
"What we can do is try to begin correcting reality," he adds. "I'm not a mayor or a politician; I'm a designer and an engineer, and this is what I can do to help contribute to the solution. There's not a lack of money or technology in this world–there's plenty of both–but there's a lack of imagination, and guts, to redefine how we want our world to look like, and how we want to live in it."