We've all been there: You're in the middle of an argument with someone about whether Selena Gomez is singing about carrots or carats in her song "Good for You," or whether Elton John was crooning "Hold me closer, Tony Danza," and want to Google the lyrics. But then you stop because so many lyrics websites are basically dens of malware and adware.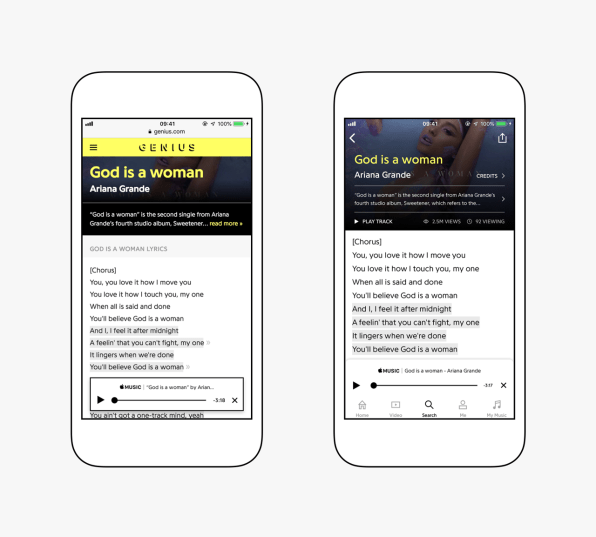 Well, thanks to a new collaboration, you no longer have to refrain from looking up song lyrics and winning your argument once and for all. Genius, the massive online database of lyrics and insights, is teaming up with Apple Music to play any song in full right from the song page, simply by signing into your Apple Music account. That means you can look up the lyrics, play the song, and then sing along accurately. (For the record: Selena Gomez was definitely singing about carrots. Don't @me)
The partnership also means that the Genius lyrics database will be available on Apple Music, so you can look up lyrics without worrying about your computer coming down with the digital equivalent of an STD.
"Being able to read lyrics and annotations on Genius while you listen along on Apple Music is a dream Genius experience," said Ben Gross, Genius's chief strategy officer, in a statement. "We're proud to make Apple Music our official music player, and we're doubly excited to bring Genius lyrics to their amazing platform."
The Apple Music player is currently available on Genius.com (desktop and iOS mobile web) and in the Genius iOS app.