Hedge-fund manager Bill Ackman of Pershing Square Capital and Israeli-born MIT Media Lab professor Neri Oxman are getting hitched. Ackman mentioned their engagement publicly for the first time at the Grant's investor conference in New York City Tuesday.
Ackman, 52, had been married for 25 years to Karen Ann Herskovitz before the two broke up in late 2016 and then divorced in 2017. Oxman, 42,  was formerly married to Argentine composer Osvaldo Golijov. In 2018, she was said to be dating Brad Pitt–but wasn't.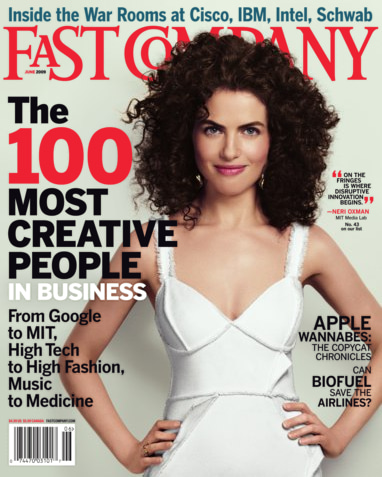 Oxman is one of the STEM world's most intriguing figures: Fast Company figured that out back in 2009, when she was one of our  Fast Company Most Creative People of 2009, and appeared on our cover. Oxman is part architect, part biologist, part fashion designer, and her work is almost impossible to pigeonhole into a single field or aesthetic.
"I used to be a Coke enthusiast," she recently told the New York Times, "but now I'm addicted to E. coli." She was explaining how the bacteria is actually extremely useful, and willing, in the synthetic biology lab.
At MIT, she led construction of a pavilion woven with thousands of silkworms. She built a home for bees for a time when the earth is no longer able to support the insects. Then there's the wearable intestine that generated energy from bacteria and the sun.
Oxman calls her discipline material ecology. It's a marriage of "computational design, synthetic biology and digital fabrication (otherwise known as 3-D printing) to produce compostable structures, glass objects that vary their optical and structural properties, and garments made from a single piece of silk fabric," as she described it to the Times.
Oxman will be presented with a Cooper Hewitt Design award for interaction design at a ceremony in New York City October 18th.
Ackman is a legend in the investing world. Activist investors like him and Carl Icahn have had enormous influence on the way public companies–especially troubled ones–are run. But Ackman's hedge fund, Pershing Square Capital, has had a rough few years amid a roaring bull market. Its assets totaled more than $20 billion in 2015 but dwindled to $8.2 billion as of March 2018. The fund says its year-to-date return return through the end of September is 15.8%, after returns of -4% in 2017, -13.5% in 2016, and -20.5% 2015. The S&P 500 is up 11% during roughly the same time period.
Ackman could use some good luck. Maybe love will bring it.